Digital Camera Buying Guide 2011
Techlicious editors independently review products. To help support our mission, we may earn affiliate commissions from links contained on this page.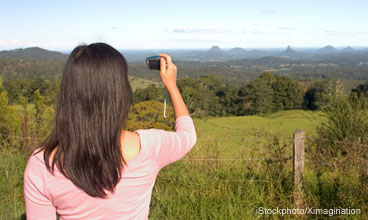 Updated June 2011
Whether you're shooting your child's birthday party, clicking images of friends at your local bar or taking pictures on vacation, having a high-quality digital camera will vastly improve your photos.
Thankfully, there are tons of great options that won't bust your budget. We'll help you understand what's really important for you to consider when buying, and which options are just an excuse to charge you more money.
Choosing Your Type of Digital Camera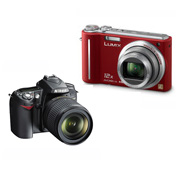 There are basically two types of digital cameras: compact and interchangeable-lens. Compact cameras are less expensive and more pocket-size portable. They range in features from point-and-shoot simplicity to photographically sophisticated. Interchangeable lens cameras, on the other hand, offer superior image quality, more creative freedom, faster performance, and a higher price tag.
It's worth noting that while it used to be "interchangeable-lens camera" was synonymous with "digital SLR," that's not true anymore. In the past few years, we've seen new models that use a simpler internal design to deliver a camera that's smaller than an SLR, but still lets you swap lenses. These include the Micro Four Thirds cameras made by Olympus and Panasonic, the NEX line from Sony and the NX series from Samsung. Pricewise, they're closer to SLRs than point-and-shoots, starting at about $600. Image quality is close to SLR levels, too.
There are two key trade-offs to consider when choosing between SLRs and compact interchangeable-lens cameras (CILCs). First is the optical viewfinder that lets you hold the camera up to your eye when shooting. That's a real benefit on a sunny day, when LCDs can be hard to see, and also helps keep the camera steady. Some of the new breed of CILCs offer eye-level viewing with an optional electronic viewfinder – basically a tiny LCD screen – but they're the exception rather than the rule, don't work as well as a true optical viewfinder, and are usually pricey (i.e., around $300 as an add-on accessory).
The other key difference is speedy operation, particularly when it comes to autofocus. True SLRs have an edge here, though it must be said that the latest CILCs are closing the gap. Still, if you're shooting your soccer-playing kids charging down the field, you'll have better luck with an SLR.

Important Features

How Many Megapixels?
A camera's resolution is measured in megapixels. But, like many things in life, bigger isn't necessarily better. Every camera on the market today has plenty of resolution for normal picture taking. And when you start upping the megapixel count in a compact camera, you're squeezing an awful lot of light sensors into a very small space, which can actually translate to a lower-quality picture, most notably in the speckled, noisy appearance you'll see in solid-color areas. Unfortunately, choosing one camera over another simply based on a higher megapixel count is a losing strategy.
Selecting the Right Lens
Your camera's lens will have the largest impact on the quality of your images (outside of the skill of the photographer, that is). Nikon and Canon are known for their lens quality, but other manufacturers often include equally high-quality lenses from respected lens makers such as Leica, Carl Zeiss or Schneider-Kreuznach. Look for these names while shopping.
The lens also provides zoom power for those close-ups of smiling faces or far-away action. In this case, bigger really can be better, with some caveats. You'll find basic compact cameras offer zooms in the 3x to 5x range, which is fine for routine shooting. Cameras that are nearly as small but priced a bit higher now come with lenses in the 12x to 18x zoom range, which gives you more freedom to frame a shot from a distance – a scene in a school play, for example. Finally there are the megazooms, offering paparazzi-style close-ups at 30x and beyond. These zoom lengths require a larger, less portable camera, though.
The trade-offs as zoom gets longer, beyond price, are required light levels and wide-angle coverage, which is true whether you;'re shooting with a compact or an interchangeable lens camera,. The number to keep an eye on for low-light photography is the maximum aperture, which is listed as f/something. A typical camera with a modest zoom will have a maximum aperture around f/3.5. A more expensive lens gets you down to f/2.0 or even lower, making it much easier to shoot non-blurry photos without a flash. A longer zoom translates into a higher maximum aperture. And when you start getting into the f/4.5 range, handheld indoor shooting without a flash becomes very difficult.
The other key lens spec, which affects how many people you can fit in a group shot, and how wide your landscape photos can stretch, is the low end of the focal length spectrum. Look for manufacturer specifications under "focal length" for the "35mm equivalent." The lower the number of mm, the wider the shot. 28mm is perfect for wide group shots and landscapes, while 35mm-38mm is fine for regular photos.
One final note: ignore anything you read about digital zoom. It simply enlarges the photo by blowing it up, something you can easily do at home on your computer. In fact, we recommend you turn off the digital zoom on your camera when taking pictures.

Display
At this point, both compact and interchangeable lens cameras have LCDs on the back that let you see what you're aiming at before pressing the shutter. These vary widely in quality. Resolution is one distinguishing characteristic – here, higher numbers are consistently better, presenting a clearer representation of your photo both when shooting and when playing it back. Brightness is another challenge, since a dim LCD screen is hard to see on a sunny day. Some manufacturers use coatings to try and tame mid-day glare, with varying degrees of success.
Another potential display advantage is a screen that's hinged so it can be pivoted to different angles. This not only lets you shoot comfortably with the camera held overhead or down low, it can also be a good way to defeat glare.
Why You Need Image stabilization and High ISO Speed
Unless you're a robot, your hands will have some level of shake while holding your camera. This can become a serious issue in low light situations, when the shutter speed has to slow down to create a proper exposure. It can also be magnified by high-zoom lenses. Optical image stabilization reduces or eliminates this blur. If you're looking at a camera with a 5x zoom or higher, you'll definitely want this feature.
ISO is a technical way of measuring how sensitive your camera's sensor is to light. The higher the ISO, the faster the shutter speed will be. The faster the shutter speed, the less blur in your photo. Most cameras have a top ISO rating of at least 800, which is fine for normal indoor and outdoor use. For better low-light shots, ISO 1600 or higher will help, though at these levels you may start to see a lot of image noise (stray bits of color) introduced--so don't expect miracles when you take "a shot in the dark".
Picture Taking Speed
A photo is a permanent record of a split second in time – and if your camera's too slow, the split second you capture won't be the one you wanted. There are two considerations here. One is the time that elapses between the moment you press the shutter and the moment the camera takes the picture. This is called shutter lag.. This used to be a major differentiating factor between different camera models, but in recent years shutter lag has grown shorter and the gap between cameras has narrowed.
The second camera delay problem is the time the camera needs to get ready between shots. If you have kids, a slow camera will guarantee missed shots (See 6 Ways to Speed up a Slow Camera). These speeds can vary significantly from camera to camera and , annoyingly, they're not included in the manufacturers' performance specs. Ideally, you can get a few moments of hands-on time to fire off some test shots in the store – if the camera's slow, you'll know it quickly. A good camera reviewer will also point out problems if they exist.
One last speed bump – the camera's "burst" or "continuous shooting" mode. This tells you the maximum number of shots the camera can take per second, without flash. A high burst rate can be a lifesaver if you're trying to catch a baby's fleeting expression, or just the right moment when little Casey is at bat. These figures are available for most cameras, and while you'll have to take the specific number with a grain of salt, they're a reasonable basis for comparison.

Taking Good Videos
Nearly all digital cameras today, of both the compact and interchangeable-lens variety, can also take movies. The quality won't equal a standalone camcorder, but it's often surprisingly good. While there are still some cameras on the market limited to capturing video with 640 by 480 resolution (the same as standard-definition TV), the current trends is high-definition video recording, even on modestly priced cameras. You'll find both high-def video standards represented: the very sharp 720p that's used in HD broadcasts all the way up to Blu-ray disc quality Full HD, at 1080p. It's worth noting that even if a camera can shoot at higher definition levels, you can almost always shoot lower-res as well, which makes uploading much easier.
And make sure you follow our 10 Ways to Improve Your Home Movies.
Optional Features

Face detection: If you've ever taken a photo with the background in beautiful focus and your spouse's face an unrecognizable blur, you'll understand why you need face detection. Cameras with this option are smart enough to recognize faces and focus on them, even if they're not in the center of the frame or the closest object to the camera. Some cameras do this automatically, others have special modes. In a higher-end model, you can even select your subject or differentiate between kids and adults. And with touch-screen cameras, you can generally tap on the face you want in focus to select it.
Autofocus Tracking: With this feature, once you select your subject, the camera will automatically keep it in focus until you take your picture. When paired with face detection, cameras can also "remember" the person you're tracking, reacquiring a lock even if he or she leaves the frame for a few seconds.
Smile detection: A camera with smile detection finds a face, and only takes the photo if the person is smiling. The first cameras with this feature arrived in 2008 and the technology still needs some improvement.
Wi-Fi wireless image transfer: Cameras with built-in Wi-Fi can automatically download your photos to your computer or upload them to the Web when you're traveling. It's a convenient feature for travelers, though you may need a special account if you're planning to upload photos from a public Wi-Fi hotspot.
GPS: When a GPS receiver is built into your digital camera, the coordinates of the spot where you press the shutter are saved with each picture. Called "geotagging," this obviously isn't a necessity, but can be fun for your vacation images. Some photo sharing Web sites, such as Flickr, let you view your photos as icons attached to a map.
HD Output: Every camera lets you view your images on your TV. But only some have the output jack (HDMI) that enables you to take advantage of an HDTV's full resolution. Surprisingly, even some cameras that shoot in HD won't let you play back the results directly from the camera, a major oversight. If you plan on viewing your images regularly on your HDTV, this feature should be on your checklist.
Touchscreen: Some digital cameras with extra-large displays let you navigate menus with a touchscreen instead of buttons. Whether or not this is an advantage is a matter of personal preference. Some of us love the smartphone-like control scheme, some are more fingerprint-phobic and find physical buttons easier to handle quickly. If possible, try out a touchscreen model you're considering to see if the screen reacts quickly and easily to your finger movements, and the on-screen menu system makes sense.
Our Picks: Point-and-shoot Cameras
Entry Level: Under $200
Today's entry-level digital cameras have all the basics you'll need for taking great pictures. What you're giving up are manual controls and, in some cases, the ability to take high-quality video. While the features you'll find in entry level cameras will be very similar, quality varies. Our picks have been highly rated by both consumers and professionals.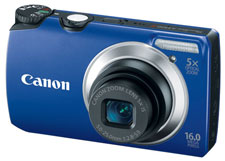 Canon PowerShot A3300IS

A basic camera with good image quality and simple controls, the 16-megapixel A3300IS has a wide-angle 5X optical zoom lens (28-140mm equivalent) with optical image stabilization and a 3-inch display. It also takes high-def 720p video.
Price: $158.95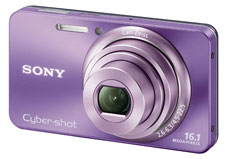 Sony Cyber-Shot DSC-W570

This very compact 16-megapixel camera delivers a fast f/2.6 Carl Zeiss 5x zoom lens (25-125mm equivalent), 720P high def video and cool panoramic shots with a single click of the shutter.
Price: $159.99
Mid-range: $200 - $350
As camera prices have fallen in recent years, mid-range cameras have gained increasingly impressive features, including longer zooms, wide-angle coverage, fancier LCD screens and full HD video recording.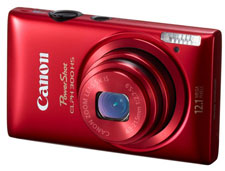 Canon PowerShot ELPH 300 HS

A featherweight 4.97 ounces and kind of adorable (we're partial to the rich red model), this 12.1-megapixel Canon is perfectly portable but still packs plenty of muscle under the hood. There's a wide-angle 24-120mm equivalent lens, ISO sensitivity up to 3200, and full 1080p video recording. Controls are strictly point-and-shoot, but you get lots of programmed scene modes and filters if you feel like playing with settings.
Price: $225.99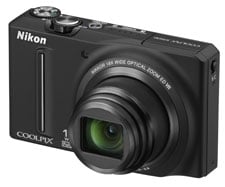 Nikon Coolpix S9100

Big zoom, small package is the story for this 12.1-megapixel Nikon, with an 18x 15-450mm equivalent lens on a body that's just 1.4 inches thick. The 3-inch LCD is exceptionally high-res, with 921,00 dots where most compacts are still stuck at 230,000. The camera responds speedily when you zoom, focus and shoot, and the resulting shots are impressively sharp, with warmly saturated colors. And when the video bug bites, the S9100 is ready with full 1080p HD capture.
Price: $329.00
High End: $350 plus
As you'd expect, the highest-priced point-and-shoot cameras are fine photographic performers, but in this top tier you can expect something more, whether that's exceptional low-light performance, rugged weatherproof design or a megazoom wide-angle-to-telephoto lens.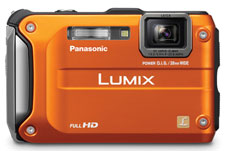 Panasonic Lumix DMC-TS3

An extremely rugged 12.1-megapixel camera that's waterproof all the way down to 40 feet, freeze-proof down to 14 degrees F, shock-proof to 6.6 feet, dust-proof – in a word, family-proof. You get a 4.6x zoom lens (28-128mm equivalent), and while there are no manual controls, Panasonic's Intelligent AUTO system does a good job adjusting to the current shooting conditions. You get full HD video and, in a nice addition to the road-warrior TS3, a built-in GPS, so you can pinpoint the spots chronicled in photos.
Price: $318.42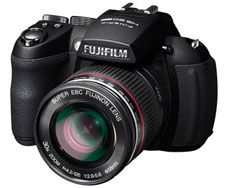 Fujifilm FinePix HS20

The hero feature here is the lens, an extraordinary 30x monster that goes from very wide (24mm equivalent) to super-telephoto (720mm equivalent) in an instant. The big, SLR-style body is very comfortable, effective optical image stabilization lets you handhold even long-distance shots, and there's even a hot shoe if you want to add an external flash. The HS20 also shoots full HD video, 1080p video – just remember to bring a tripod if you're planning to use the maximum telephoto settings.
Price: $424.95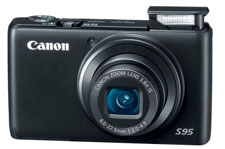 Canon PowerShot S95

A sophisticated little camera, the S95 is particularly suited for low-light photography: the 3.75x zoom lens (28-105mm equivalent) has a maximum aperture of f/2, and Canon stuck with a reasonable 10-megapixel resolution to keep image noise to a minimum. The high-res LCD is beautiful, the manual controls are nicely designed, and image quality for both stills and 720p video are exceptional.

Price: $399.95
Our Picks: Interchangeable Lens Cameras
You don't have to be an experienced photographer to use an interchangeable lens camera. Auto mode is always available to make the decisions, and even point-and-shooters benefit from the responsiveness and superior image quality these higher-end cameras offer. If you start to feel a bit more adventurous, manual adjustments are available to tailor the camera settings precisely to the situation at hand.
All of our picks in this category comes with a lens, and include optical image stabilization either built into the body or the lens.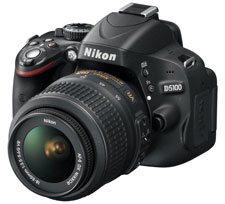 Nikon D5100

It took Nikon a while to get SLR video right, but with the D5100 they kick it up a substantial notch, with full 1080p HD movies, a jack for an external microphone, and full-time autofocus while shooting video, not found on other SLRs. Of course, job one is shooting stills and the 16.2-megapixel D5100 does a wonderful job, with ultrafast autofocus and no noticeable shutter lag. A welcome added feature is the beautiful high-res screen that swings away from the camera body and pivots for shooting at all kinds of interesting angles.
Price: $849
with a 18-55mm f/3.5-5.6 AF-S DX VR Nikkor Zoom Lens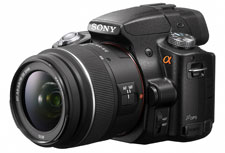 Sony Alpha a55

Sony broke the rules of SLR camera design with an unconventional translucent mirror design for the 16.2-megapixel a55 that enables lightning-fast autofocus, a blazing 10-frames-per-second burst mode, and continuous autofocus when shooting 1080-resolution video. The unusual innards mean you don't get an optical viewfinder, but the electronic eye-level version is first-rate, and the rear LCD is beautifully sharp and pivots for off-angle viewing and glare avoidance.
Price: $799.00
with a DT 18-55mm F3.5-5.6 zoom lens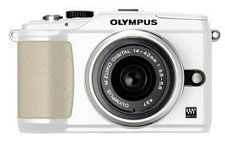 Olympus E-PL2

This retro-looking compact interchangeable-lens camera weighs just over a pound, making it easier to schlep than a conventional digital SLR. The 12.3-megapixel E-PL2 provides a dual-menu system that lets beginners and experienced photographers customize the shooting experience to their skill levels. And unlike most CILC cameras, the provided 3x zoom lens autofocuses silently when shooting 720p video, so you don't get nasty grinding noises on the soundtrack.
Price: $549.00
with a M.ZUIKO DIGITAL 14-42mm 1:3.5-5.6 II zoom lens
Discussion