Digital Picture Frames
Techlicious editors independently review products. To help support our mission, we may earn affiliate commissions from links contained on this page.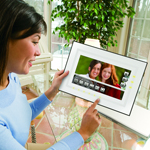 Cameras and photo-storage went digital some years ago, so it only makes sense that displaying them would too. Gone are the cheap-looking plastic frames. Today's digital photo frames look like any regular frame you'd buy at a photo shop, but offer the capability to display thousands of your photos, and even videos. Here's what to consider.
Frame Size
The first thing to consider when shopping for a frame is size. They're available in everything from key-chain sized 1.5 inchers to massive 22 inch displays appropriate for mounting on a wall. A 7 or 8 inch frame is generally a good choice. It's large enough to see photos clearly from a short distance, but small enough to put on a table or a desk without consuming too much space.
Resolution
After settling on a size you'll need to consider resolution. The larger the display, the higher resolution you'll want. For a 7 to 8 inch model, settle for no less than 640 x 480, though 800 x 600 or 800 x 480 (the widescreen equivalent) is preferable.
Shape: Widescreen or Regular
Some frames are widescreen, like an HDTV. However many point-and-shoot cameras cannot take pictures in this format, which can result in either black bars on the sides of your photos or images that are cut off the top and bottom. Of course some of this will naturally occur, as you display vertical images in a horizontal frame or vice versa.
Loading Pictures
You can buy frames with photos preloaded from services, like Snapfish, save pictures onto a memory card and insert it into the frame, hook the frame up to a computer and copy pictures onto the frame or send them to the frame wirelessly, via a Wi-Fi connection. Once Wi-Fi is set up, the frame can pull photos directly from a photo-sharing site or computer.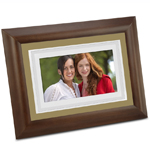 Kodak EasyShare W820 ($230) Looking more like a regular photo frame than a gadget, this 8-inch widescreen (800 x 480 resolution) comes packed with advanced features such as audio and video playback, invisible touch controls on the border and built-in Wi-Fi. With 512 MB of internal memory, it can hold about 300 full-size images; plus it has two 6-in-1 card readers for adding extra storage. It even has interchangeable faceplates so you can match the frame to the decor in your room.
Buy Now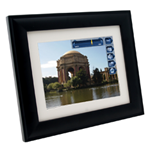 Pandigital 8-inch Digital Photo Frame with PanTouch ($150) This reasonably priced 8-inch frame has 800 x 600 resolution, video and audio playback, touchscreen controls and a remote control. It lacks Wi-Fi, but has 512 MB of internal memory, which can hold about 300 images (or 3,200 resized with included software), and a 6-in-1 card reader, which can read almost any type of picture card your camera uses.
Buy Now
Discussion