Heart Rate Monitors
Techlicious editors independently review products. To help support our mission, we may earn affiliate commissions from links contained on this page.
While juggling kids' schedules, career aspirations and general domestic chaos, it's nearly impossible to find more than 30 minutes a few times a week to work out. The good news: That's all you need. The key to making this time effective is to strap on a heart rate monitor (HRM), which is the only true way to make sure you're challenging your body (read: burning serious fat and calories) without pushing it past its limits.
In this Guide
Choose a Monitor
Essentially, you have three options: A heart rate monitor that uses a chest strap; a photo-optic monitor that reads heart rate via your fingertips; or one that's built into a shirt.
Chest straps are the most accurate (nearly as accurate as EKGs used by docs). They pick-up electrical signals from the heart and instantly display the info on your watch's face. While some people claim they don't even notice the chest strap, others can't stand the way it feels while they work out.
Photo-optic monitors measure your pulse when you place two fingertips on sensors on the face of the watch. The big plus is that you don't have to wear a chest strap, which many people (especially those with larger chests) find uncomfortable. The big negative: They're not as accurate as chest straps. Additionally, photo-optic-based watches can't give a constant reading—only on-demand—so it's nearly impossible (not to mention dangerous!) to take a reading when you're working super hard. A good choice for casual walkers and occasional joggers, but more serious athletes should stick with a chest strap.
Relatively new to the heart rate monitoring scene are shirts and sports bras that monitor heart rate—sans bulky strap. These tight fitting workout duds measure your beats via conductive fibers woven into the chest area of the shirt or bra. An unobtrusive transmitter that snaps onto the garment sends beats-per-minute wirelessly to a compatible (and generally sold separately) watch. While the technology is sound and convenient, they key to accurate readings is to make sure the shirt or bra is on the tighter side. Oh, and make sure you unsnap the transmitter before tossing the sweat-soaked top in the wash… we learned that one the hard way.
Get the Most Bang for Your Beat
The key to successfully using a heart rate monitor is to determine your target heart rate zone and stay within those limits during your workout. No worries if the math part of your brain is cobweb-ridden (ours too!), it's a simple equation. Just subtract your age from 220 to get your maximum heart rate. Now, aim to stay within a target range that's 60 to 90 percent of that number*. Whether you prefer to hit the pavement, join a group fitness class or hop on your favorite cardio machine, aim to do it three times a week for 30 minutes, and spend as much time as possible in your target range.
* It's always important to talk to your doctor before starting a new fitness program.
Our Picks: Heart Rate Monitors
Entry Level: $30 to $100
These monitors include only basic functions, which makes them simple to use. Generally, these entry-level models track heart rate (via a chest strap or fingertip monitor), which can be reviewed on the face of the watch during your workout. You can also expect to get basic timer functions: stopwatch, lap-timer and countdown timer, for example. A few models allow you to review average and maximum heart rate summaries post-workout.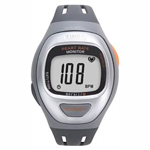 Timex Easy Trainer Analog Heart Rate Monitor ($60) The included chest strap continuously tracks and transmits your heart rate as you workout. Post-workout, a summary screen displays your activity time, average heart rate and maximum heart rate.
Buy Now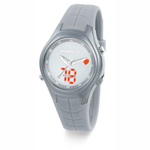 Sportline TQR 725 ($80) Most sports watches look, well, sporty. But this HRM is sleek and has hands so it doesn't look out of place when paired with a business suit. To check your heart rate, simply hold two fingers on the watch's sensors near the face of the watch. Within seconds, red numbers appear below the hands, indicating your current heart rate. There's no timer function, but the HRM does have a second hand—so you're covered if you want to do a few quick sprints.
Buy Now
Advanced: $100 +
Designed to suit the everyone from the aspiring athlete who works out multiple times a week to a super hard-core Iron Man competitor, these heart rate monitors give you loads of information about your workout and heart rate, so you can tweak your workout and get impressive boosts in performance as safely and quickly as possible. Features include: Programmable HR zones (an audible alert lets you know if you're too high or low), calories burned, fitness tests, maximum heart rate, average heart rate, countdown timer, lap timer—all of which can be uploaded to your computer (wirelessly or via USB).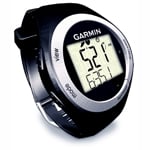 Garmin Forerunner 50 ($100) In addition to your heart rate, keep tabs on training time, pace (via a foot pod that attaches to your laces), distance, lap pace, lap time, average and best pace, and calories. When the Forerunner gets within range of your computer, all of this info is wirelessly transferred so you can store and analyze your progress—including average and maximum heart rate—using Garmin Connect. The foot pod and chest strap monitor are included.
Buy Now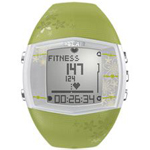 Polar FT40 ($165) Take this chest-strap-style HRM's fitness test (you sit quietly for 5 minutes while it measures your heart rate), and it automatically sets target heart rate zones based on your level. As you work out, it tracks your current heart rate and maximum heart rate, and alerts you if you're out of the ideal zone. Post workout, you can upload all of your workout details to your computer. Use Polar's online personal trainer, exercise journal and community to track your progress, connect with other women with similar goals and stay motivated.
Buy Now
Stand-Alone Monitors
Hate the chest strap? Try a stand-alone monitor to pair with your heart rate monitor watch.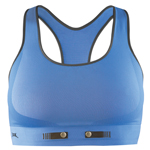 NuMetrex Heart Rate Monitor Sports Bra ($50) Conductive fibers woven into the bra automatically sense heart rate and a tiny transmitter sends the info wirelessly to your watch.
Buy Now
Discussion