Robotic Lawnmowers
Techlicious editors independently review products. To help support our mission, we may earn affiliate commissions from links contained on this page.
Is the last thing you want to do with your free time mow the lawn? Then you may be interested in a robotic, automatic lawnmower that does all the work for you.
These products are fairly simple to use; you just outline the areas your mower needs to go with pegs or wires to help it avoid demolishing your daylilies. Beyond freeing up more time to lounge in the hammock, the real benefits of robotic mowers are that they're quieter (in the 60-80 decibel range, compared to 90-100 decibels for a standard mower) and they're more eco-friendly than gas mowers.
Robotic mowers are battery powered, so there are no emissions. They also mulch and leave the grass clippings on the lawn, which provides fertilizer as the clippings decompose (this happens quickly), prevents moisture from evaporating, which conserves water, and keeps bags of grass out of landfills.
If the thought of an autonomous device with blades sharp enough to cut grass roaming your lawn causes alarm, rest assured. Robotic mowers shut off immediately if tipped or lifted, and they move slowly enough that their touch-sensitive bumpers warn the mower of the presence of rigid objects more than 3-6 inches tall (depends on the model). There's also a child lock, and many come with an anti-theft alarm (including all models below).
Our Picks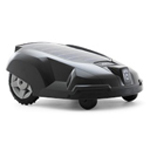 Husqvarna Automower Solar Hybrid ($2,999) A large integrated solar panel enables this mower to use less energy than conventional mowers. It will also return to its base station for charging when the sun isn't strong enough to keep it going. The mower covers 0.65 of an acre and works on lawns with a 35-degree slope.
Buy Now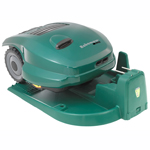 Friendly Robotics Robomow RM400 ($1,799) An edging mode allows the mower to cut a bit beyond the wire and at an angle to give you that sharp, finished edge. A remote control lets you steer the mower from one wired area to another, or mow a strip of grass. The mower will automatically return to the included base station for charging until the next time it's schedule to mow your lawn. A rain sensor prevents mowing on rainy days. The mower covers 0.1 of an acre.
Buy Now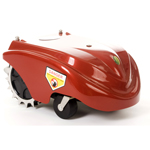 Lawnbott Evolution LB3500 ($3,449) You can manage up to four separate mowing areas, including pre-programming the mower to go over sidewalks or walkways onto new patches of grass. After its runtime of 3-4 hours, it returns to its base to recharge. The mower covers up to 1.5 acres and works on lawns with inclines of up to 30 degrees. A rain sensor prevents mowing on rainy days.
Buy Now
Discussion