10 Free Android Apps Everyone Should Download
Techlicious editors independently review products. To help support our mission, we may earn affiliate commissions from links contained on this page.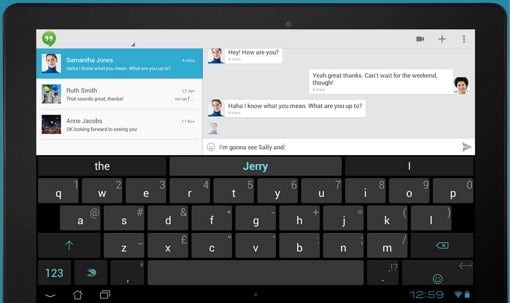 Every time I get a new Android smartphone or tablet, I install certain apps right away, before I even really start to play with the device — apps I use every week, if not every day, on the Android gadgets I test as well as the ones I own. For your benefit, I've narrowed down the list to 10 free Android apps I can't live without.
SwiftKey Keyboard
Because most stock keyboards aren't that great, SwiftKey is often the first app I download on a new phone or tablet. SwiftKey's prediction engine, which offers suggestions for words as you type as well as the next word you need, is based on the words you use most. It learns from your everyday input as well as from your email, social media accounts, blog RSS feeds and other sources (if you connect them). If you have more than one Android device or decide to upgrade, you don't have to start over with the learning. Swiftkey can store this data in the cloud and sync it across multiple devices.
SwiftKey saves typing time in multiple ways: Swype-like trace-to-type, shortcuts, long-press for alt characters and a dedicated number row on top if you want it. This is one of the most customizable keyboards I've used, with multiple color themes, the ability to change the size of keys and even the ability to split or push the keyboard to one edge or the other — great for phablet use.
Price: Free on the Google Play Store.
AccuWeather
Of the seemingly million weather apps for Android (including the one that probably came with your phone, complete with animated widget), AccuWeather offers you one solid reason to ditch them and download it instead: MinuteCast.
MinuteCast tells you the weather at this moment exactly where you're standing or in whatever zip code you enter — not the forecast for the whole city, the forecast for right where you are right now. MinuteCast is especially useful during storms. Want to know when it will start raining, when it will stop or when it will let up enough for you to dash home? This app will tell you.
Price: Free on the Google Play Store.
TrustGo
Android boasts some decent built-in security measures for keeping your data safe and finding a lost phone, but they don't address the other major mobile security threat: malware. TrustGo adds that protection plus advanced security features such as capturing images of a person trying to crack your security code, sounding an alarm to help you find a misplaced device and wiping the device remotely. Of all the free security apps available, TrustGo provides the most features for free.
Price: Free on the Google Play Store.
Firefox Mobile
Firefox is our top web browser pick for your personal computer as well as your mobile devices. Google Chrome is great and comes preloaded on Android devices, but thanks to its large library of add-ons, Firefox is worth an extra step to download and install. Chrome doesn't support extensions on Android, but Firefox users can add Adblock, a cookie cleaner, flash video downloaders and hundreds more tools.
Beyond that, Firefox Mobile is fast, clean and attractive, with an interface that syncs bookmarks, passwords and other data between all your browsers for seamless desktop-to-mobile use.
Price: Free on the Google Play Store.
Yelp
Google Maps is turning into a decent restaurant and business suggestion app, but Yelp still has Google beat in terms of sheer data. Yelp's millions of user reviews are only one reason I use this app almost every day. New businesses show up on Yelp faster, and drilling down searches to a specific area brings up more results with a ton of reviews. Plus, I love Yelp Monocle, an augmented reality feature that shows ratings and business names on top of a real-time view from your camera.
Price: Free on the Google Play Store.
TuneIn Radio
As soon as I got a smartphone, I ditched my alarm clock. The feature I missed most after making the switch was waking up to my favorite radio station. That's one of the reasons I like TuneIn Radio.
TuneIn Radio can access any station with an online stream, and you can choose to wake up to that station via the app's alarm. While you listen, TuneIn brings up information about the song and artist or the program, which you can save. You can also use TuneIn to search beyond traditional radio for podcasts.
Price: Free on the Google Play Store.
Evernote
Most note-taking apps work fine for jotting down quick ideas and shopping lists, but Evernote offers so much more. Even if you think you need something simple, you'd be surprised how a more comprehensive app can change your daily habits. I'm a fan of receiving reminders about my notes, so I know to follow up. When I can't write or type fast enough, audio notes save the day.
The best feature is the page camera. Take a snapshot of printed or handwritten pages, and Evernote scans them for words that it then indexes to show up in searches.
Price: Free on the Google Play Store.
Pocket
Flipping through news using Flipboard, Blinkfeed, an RSS reader or Pulse is fine when most of the articles and posts are short enough to read in a minute or less. But for long reads, you want an app that strips away distractions (like ads) to offer an ebook-like reading experience that lets you immerse yourself in the words.
That's why I love Pocket. Saving articles from your browser is easy, and Pocket automatically syncs all your stored articles for offline reading. Read them when you're ready, even if you're on a plane or a subway car. The reading experience is great, giving you control over the text's font, size and background.
Price: Free on the Google Play Store.
Kingsoft Office
Downloading a document from email for reading or editing can be a pain if the office suite you're using messes with the formatting, isn't designed as well for small screens as for large ones or can't save in the most popular file formats. Most preloaded office suites are a pain, so I always replace them with Kingsoft.
On top of Kingsoft's qualities as a good document editor, it connects to cloud services like Dropbox and Google Drive to allow you to edit and sync without opening another app. It can save to Microsoft Word, Excel and PowerPoint formats as well as in PDF format.
Price: Free on the Google Play Store.
DuoLingo
Learning a new language doesn't come easily for everyone, especially adult beginners. But there comes a time when knowing basic phrases and greetings is useful: when you're traveling abroad, moving into a mixed-culture neighborhood, trying to meet that cute guy or girl who only speaks Italian ...
DuoLingo can help prepare you for basic conversation in just a few months via fun exercises you do occasionally. You don't have to deal with the commitment of a class or spend hundreds of dollars right from the start.
Price: Free on the Google Play Store.
Discussion