21 Best Apps for Business Travelers
Techlicious editors independently review products. To help support our mission, we may earn affiliate commissions from links contained on this page.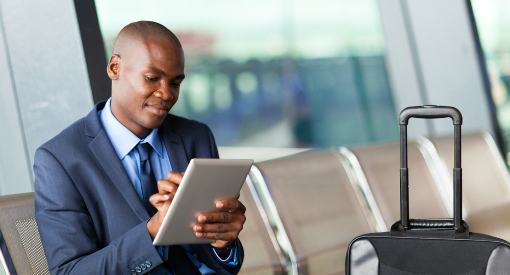 The days of paperless travel are upon us, with digital boarding passes, e-confirmations and online travel booking on the upswing. Business travelers need little more than a smartphone or tablet to manage anything from signing contracts to logging expenses and work hours.
These apps do it all, from checking you in to your flight, getting a legally binding John Hancock on those forms, and finding the nearest Wi-Fi, ATM and food stops.
Breeze through travel
Organize your bookings
One of the original must-have travel apps, super-itinerary-maker TripIt pulls together confirmations for hotels, flights and other bookings, combing your email for anything resembling a reservation or sending confirmation emails to your personal email address so that reference numbers are close at hand wen you need to check in. The paid Pro version offers real-time alerts for flight changes, help finding alternative flights and a fare-tracking service that lets you know when you may be eligible for fare refunds.
Price: Free on iTunes and Google Play; $0.99 for the premium version (no ads) on iTunes and Google Play; $4.09 per month subscription for Pro (premium features)
Board by smartphone
PassBook, a surprisingly underused built-in feature of iPhones running iOS 6 and up, automatically saves boarding passes and hotel confirmations from apps including United Airlines, British Airways, Starbucks, Hotels.com and Starwood Hotels. Hit "Find apps for Passbook" to load the ones you use; after that, any bookings you make will automatically land here, to be easily retrieved and scanned for check-in or boarding.
The Android equivalent is PassWallet. Samsung users can download Samsung Wallet from Google Play or the Samsung App Store.
Breeze through the airport Along with showing you the latest status on your flight and gate number, GateGuru displays info about the airport you're in, giving you the low-down on where to eat, drink and score free Wi-Fi. The Travel Stats tab shows how many miles you've flown, which airports you've visited and how you rank compared to other GateGuru users. Indispensable for frequent travelers to make the most of a layover.
Price: Free at GateGuru
Get more work accomplished
Scan with your smartphone
Instead of painstakingly angling your phone's camera just so, load up Scannable and point it in the general direction of the document to be scanned. It uses contrast levels to figure out what you want scanned, then automatically scans the image, straightening and whitening for a professional-looking document. Multiple pages can be scanned one by one and collated into a single PDF, then sent via email or saved to your Evernote account.
Price: Free at Evernote
If you're a OneDrive user, Microsoft Office Lens lets you scan business cards, contracts, photos, diagrams and other workday minutiae to be deposited into your OneDrive account for later organizing. Choose from one of three image types (photo, document or whiteboard), point your phone at the item to be scanned, hit the shutter and save the scan. Unfortunately, you can't yet scan multi-page documents, but the app is a handy way to save hard-copy information to your cloud storage.
Price: Free at OneNote
Digitally sign documents
Not all digital signatures are created equal. Though you may have used an image of your scanned signature to "sign" some documents, most legal experts don't recommend this less-than-legally-binding method for important documents. For high-level contracts requiring a digital signature, use an app like CudaSign, which allows you to trace your signature with a finger using legally recognized eSign technology. Upload documents from email attachments, Dropbox or the camera roll, and add fields for customers to input extra info. CudaSign is encrypted with bank-level security and works with forms from Salesforce, Microsoft Dynamics, Office 365 and more.
Price: $1 per user per month or free trial at CudaSign
Another app for legally binding, secure e-signatures, HelloSign offers the added benefit of integration with Google Apps; documents sent via Gmail for signing have an additional "Sign" icon for one-click access. Documents can also be pulled from Dropbox, Box, Evernote and OneDrive and edited with your company's logo. Like Cudasign, HelloSign is encrypted with bank-level security.
Price: Free for three signatures a month or from $13/month at HelloSign
Edit and collaborate
If you're a Google Drive user, you know that Google Docs is an indispensable way to create and edit documents on the go. You can access any file in your Drive and make changes that can be picked up across all your devices. Like the desktop version of Google Drive, you can invite people to work on the same document, with or without an internet connection.
Price: Free at Google
Make notes and oversee projects
For individual users, Evernote is a brilliant free digital notebook for memos, research and thoughts plus ways to categorize it all. From a business slant, features include the ability to share notebooks with multiple collaborators and oversee a workspace consisting of dozens of notebooks and collaborators.
Price: Free for individuals or $8 per user per month for business users at Evernote
Create graphic reports
If you're working on a report or presentation, the beautifully minimal Pages is the go-to for iPad. The app supports multi-touch gestures to zoom and move around the page, with 60 templates for text, images and graphs and support for Microsoft Word. There's a tracking option to record changes with comments and highlight features when working on a collaborative document. If your colleagues use iDevices, you can AirDrop them the document; otherwise, send a link, which always links to the most recent version.
Price: $11.99 at iTunes
Locate conveniences on the go
Find the ultimate meal
If you have a food craving, FoodSpotting will fulfill it. Instead of finding food by restaurant, search by dish. Want dim sum in Hong Kong or fish and chips in London? This app will point you in the direction of the restaurants that serve the best versions, as decided by reviews from other diners.
Price: Free at FoodSpotting
Get your bearings
Need an ATM, a parking garage, a gas station? AroundMe finds the nearest services based on your GPS location, giving you map directions, contact details, website details and Foursquare tips.
Price: Free at AroundMe
Translate the local lingo
Word Lens, which was recently purchased by Google, scans foreign text and translates it into your home language. At the moment, the app supports English, German, Spanish, French, Russian, Italian and Portuguese. Download the app for free with an English/Spanish conversion; for a limited time, the other language packs are free to download too.
Price: Free at Quest Visual
Navigate a new city
Figuring out the bus system in a new city is right up there with navigating a maze blindfolded. HopStop is particularly useful when you arrive in one of the 68 major metropolises it supports, offering bus, subway and walking routes for getting from here to there, along with schedules and transit maps. Cities supported cover North America, Europe and Australia.
Price: Free at HopStop
Hail a cab
Sometimes cabs are the only alternative—and that's when Uber, now active in 66 countries, comes into its own. In cities where public transport may not be all that, an Uber ride usually arrives in good time. Thanks to the cash-free payment system, you won't even need any local currency.
Price: Free at Uber
Stay organized
Make your data go further
The Facebook-owned Onavo Extend can save you money on data bills by compressing the sites and emails you access. Adjust the image quality you want to view (a lower image quality saves you more data), and view reports on how much data you've saved. Yes, information about your data use does get shared with Facebook, but its uses are strictly practical—for example, telling who is using what mobile services and how to optimize data such as ads for viewing on mobile devices.
Price: Free at Onavo
Score free Wi-Fi
When you're outside the United States, you probably don't want to use your data plan at all. WiFi Finder scans for nearby Wi-Fi hotspots using your phone's GPS, so you don't need be online to find Wi-Fi. Its database covers 144 countries with over 145,000 logged hotspots in the iOS app and 550,000 in the Android version and the ability to filter results by what type of facility the hotspot is located in—say, a restaurant, hotel or coffee shop—and whether it's free or paid.
Price: Free on iTunes and Google Play
Convert between currencies
If you're country-hopping, you'll need a handy guide for converting shekels, rupees or euros back to the greenback. XE Currency is a no-nonsense way to sort it out, with a table for adding currencies you want to convert to your home currency. You can also add a currency widget to your iOS notification center or Android home screen with live-updating rates.
Price: Free at XE
Record travel expenses
Even if you're not a convert to IFTTT, the app that links your various web accounts to automate actions, Do Button is unbeatable for saving your business trip expenses. Download the Do Button app, load the recipe for "Save receipts to Dropbox", and fire it up to snap pictures of your receipts, which get saved to a specific Dropbox folder. Send the link to Accounts to recoup your costs.
Price: Free at IFTTT
Track work versus play
Most of us mix business with pleasure, and that's just fine. But if you're getting paid by time spent on work, it's worth downloading Hours to note how much time you're spending per project (or networking cocktail event). Set timers by activity or project, including leisure time, and then tap a particular task each time you switch. Reports on the time spent on each project can be exported and shared via email.
Price: Free for iOS at Hours Time Tracking
Android users can go for aTimeLogger, which has a less modern interface than Hours but similar features. The app offers tons of preset categories such as internet, transport and entertainment. Simply tap to start timing. Reports can be generated for date ranges to view the proportions of time spent on different activities.
Price: Free at aTimeLogger
What apps are indispensable for your business trips? Let us know in the comments.
[Businessman with tablet image via Shutterstock]
Discussion