6 Fashionable Ways to Recharge Your Phone On the Go
Techlicious editors independently review products. To help support our mission, we may earn affiliate commissions from links contained on this page.
If there's one thing everyone can agree on–no matter whether we use an iOS or Android device–it's that the batteries on our gadgets don't last nearly as long as we want them to. But carrying cables around is cumbersome and extra battery packs for a charge on the go tend to be bulky, awkward and downright ugly. But don't give up hope for your battery life just yet. There are stylish accessories out there that will help you keep gadgets going without being an eyesore.
Recharging purses
UrbanJunket Power Trips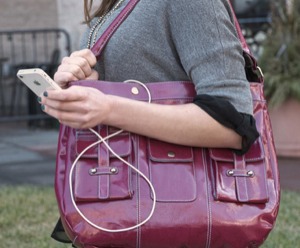 UrbanJunket offers stylish, durable charging bags that come in a range of colors and sizes—from purse sized to large enough to lug your laptop. But these go beyond just hauling your stuff: the battery pack included with each bag will recharge any device by USB or micro USB and has enough juice to charge your smartphone twice. All you have to do is remember to carry your charging cable... and to plug the purse into charge regularly.
Charging power: About two full smartphone charges
Price: $228 to $268 at urbanjunket.com or starting at $185 on ebags.com
Everpurse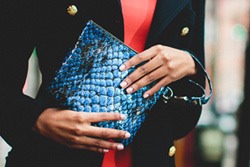 This svelte clutch-style charging bags from Everpurse comes in bright colors and stylish patterns—and it's small enough to fit inside your existing purse. But the real advantage of Everpurse is that you don't need cables: when you put your phone in its charging pocket, it's charging! To charge Everpurse, just set it on its charging pad when you get home—by the time you pick it up again it will be good to go.
On the downside, Everpurse only supports a limited number of devices: currently the iPhone 4, iPhone 4S, iPhone 5 and Samsung Galaxy S III. If you're looking to charge other devices (like a tablet), you'll want to look elsewhere—but Everpurse just can't be beat for convenience.
Charging power: About two full smartphone charges
Price: $189 to $319 on everpurse.com
Portable battery packs
Powerocks Magicstick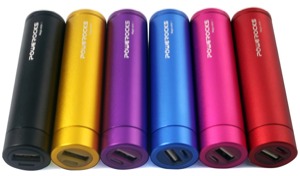 The Magicstick is a 2800mAh portable battery pack that's about the size of a tube of lipstick and comes in a variety of colors and patterns to suit any taste. Its small size means it fits easily into any bag you might carry (or even a pocket) and will charge any device by USB or micro USB, which includes most smartphones and tablets. You'll have to remember to carry your charging cable, but, you won't find anything better for the price.
Charging power: About two full smartphone charges
Price: $24 on Amazon
HyperJuice Mini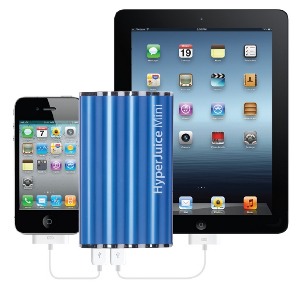 If you're a real gadgeteer and have need for more charging power than other options provide, the colorful HyperJuice Mini may be the answer. It's a bit larger than the average smartphone, but its powerful 7200mAh battery will recharge your smartphone 6 times or your tablet once. The HyperJuice Mini even has two USB ports, so you can charge two devices at once—though, again, you'll need your charging cables. And the Mini meets our style criteria, with an aluminum case that comes in 10 different colors.
Charging power: About six full smartphone charges
Price: $100 at Amazon
Mophie Juice Pack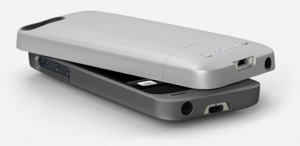 While everything else on this list requires you to carry an extra device, Mophie adds extra battery power built into a protective case that you keep on your phone. And while you might think this would turn your slender iPhone 5 into a bloated device worthy of 1980s cellular technology, Mophie's battery cases are slim and minimalistic. You can get Mophie for iPhone 4, iPhone 4S, iPhone 5, HTC One and Samsung Galaxy S III. Different styles and color options are available for different devices, but all offer about a full extra charge for your phone.
Charging power: About one full charge, depending on the model
Price: $80 to $150 on Amazon
Car chargers
Tylt Band car charger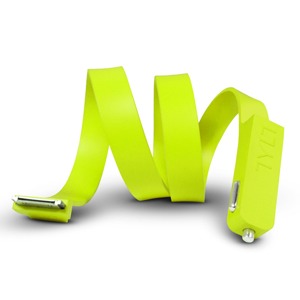 You might think car chargers are all alike: ugly plastic things that you hide away in the glove compartment when you're not using them. But the Tylt Band is a brightly colored, flexible band (hence the name) that can charge your phone or other device by Apple 30-pin connector or micro USB—you won't need an extra charging cable for these, as the cable's built right in to the device! And if your gadget doesn't charge by either of those, the Tylt Band has a USB plug so you can charge any device that charges by USB so long as you have the charging cable.
Charging power: Since it runs off your car battery, we'll just say "a lot"
Price: $40 on tylt.com, $28 on Amazon
No matter how many gadgets you carry or how long you need to keep them powered up, we think one of these will be just the ticket for charging that's both simple and stylish. So happy charging!
Discussion