4 Apps for Healthy Eating
Techlicious editors independently review products. To help support our mission, we may earn affiliate commissions from links contained on this page.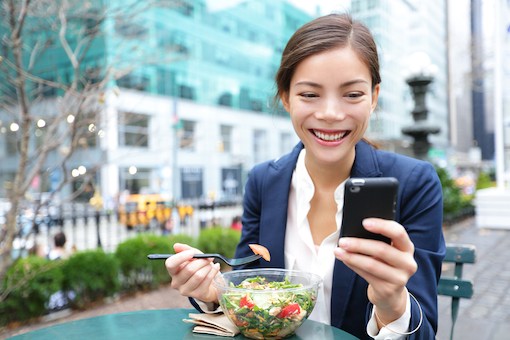 The holidays usher in the most challenging time of year for people trying to make healthy food choices. Calorie-laden food and drinks are the star attraction at every holiday gathering. With the advent of sweater season, it's easy to eat what we'd like and still hide it well until next spring. If you want to avoid the stress of showing skin next summer, though, it's wise to watch what you eat now.
It's just plain smart to be mindful of what you're eating, and there are plenty of apps to help give you a reality check of what you're putting in your body during all of the merriment. From social networking to scanning barcodes, here's some fun tools to support your quest to eat healthy over the holidays and beyond.
Fooducate
Put the smartphone you're carrying around to good use the next time you're at the grocery store. Fooducate leverages your phone's camera to quickly scan the barcode on food items you're looking to purchase or eat, and quickly grades the food from A through D, based on the health content of the item.
Additional notes about that food are provided, including alternative healthier choices that you could be buying instead. For instance, my Ghiradelli Dark Dream chocolate bar received a D+; however Fooducate noted that it was also a good source of iron (bonus!) and then recommended alternatives including a banana.
Overall, the clean design of the app makes finding the info you need easy to read, and provides some alternative healthy choices. The app is free and available for both the iPhone and Android platforms with in-app purchases that give you special information for those with allergies and gluten intolerance.
Price: free with additional in-app purchases on iTunes and Google Play
Meal Snap
The premise is simple, use your mobile device to take a picture of the food you're eating with Meal Snap, and the app will determine the rough amount of calories for it. Each meal can be tagged when you eat it (lunch, evening snack, etc), along with any notes that you want to post. You can then share out your meal on Twitter, Facebook and Foursquare if you so choose.
We recommend scanning pictures of individual items/plates as it can take up to a minute for Meal Snap to determine what it's looking at and calculate a range of calories. While testing the app, we took a picture of a plate of cupcakes and MealSnap had trouble identifying it (perhaps others don't eat entire plates of cupcakes?), but then snapped a pic of a single cupcake and it returned an appropriate amount of calories. This is an easy to use and clever app that can make you more aware of the calories you consume on a daily basis. Meal Snap is available on Apple devices for $0.99.
Price: $2.99 on iTunes
Pic Healthy
MedHelp in conjunction with GE healthyimagination brings you the crowdsourcing equivalent of healthy eating with this purely social app. Take a photo of what you're eating, rate its healthiness, and then share it out for your friends and family to see. They can either support your healthy eating choice, or boo your poor decision by voting on what you ate.
You get points when your friends or family rate your meal as healthy. Or, you can earn honesty points for owning up to eating something "bad" and rating the food appropriately. Similar to Instagram, you can follow and rate other member's food choices or make note of a particular picture of a meal that you like.
Price: free on iTunes and Google Play
Weight Watchers
While often thought of as a dieting site, this app makes understanding your food choices easier by tracking your daily food consumption and assessing how much of the good and the bad that you're eating on a daily basis. There's a community aspect to the app so you can see how others are doing and feel a sense that you're not tracking your food alone.
For those of you with iPhones updated to iOS 8, the app can draw from the integrated Health app for activity and movement tracking. This replaces you having to manually enter your daily physical activity. For all users, you must be subscribed to Weight Watchers Online to use the app's weight loss tools.
Price: free on iTunes and Google Play
[This post was updated 11/30/2104]
[woman eating with smartphone via Shutterstock]
Discussion