Apps to Keep Your Family Organized
Techlicious editors independently review products. To help support our mission, we may earn affiliate commissions from links contained on this page.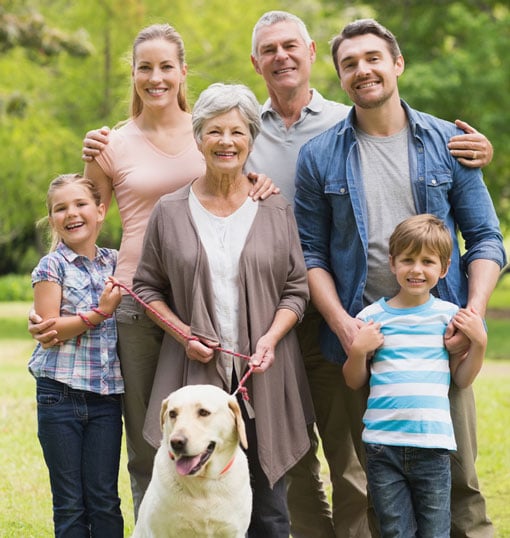 Appointments, medications, game schedules, chores — to make a household run smoothly, you need a safe place to store and share information. That's where apps come in handy.
I found apps that fit every family from traditional nuclear families—parents and kids living under one roof — to grown children taking care of parents to divorced parents with joint custody to people who want to track their pet's care. Plus, there are specialized apps for playdates, carpooling and chores. Check out my picks below.
For families with young children
Cozi
Cozi lets you keep everyone's calendar in one place. Each family member is assigned a color, so it's easy to see who's busy and who's free at a glance. And you can make appointments for anyone in your family and sync appointments with Outlook. There's a very robust reminder system, with the ability to send text and email reminders, as well as a weekly digest. In addition to calendaring, you can share shopping lists and to-do lists with family members, plan meals and create a family journal, which everyone can contribute to.
For $29.99 per year, Cozi Gold members get an ad-free experience, shared contacts, calendar change notifications and a birthday tracker, among other features. The subscription is good for the whole family.
Price: free at iTunes, Google Play, Amazon Appstore and Windows Store (for Windows Tablets and PCs)
AboutOne
AboutOne knows that there's a lot more to keeping your family organized than keeping a family calendar. The service goes beyond with easy ways to store medical information and your home inventory, share pictures, notes and videos and save important documents—receipts, college applications and family member care sheets. And, you can manage everything with the AboutOne app on your iOS, Android, Windows Phone or Windows 8 device.
The basic service is free and comes with 1GB of document storage, room for 6 family members and contacts and emergency management. For $5 per month you get 5GB of data, 10 family members and, when available, a family calendar that syncs with popular calendar programs.
Price: Free at iTunes, Google Play and Windows Phone app store
Two Happy Homes
Managing the lives of busy children between two homes can be challenging. But Two Happy Homes makes it a little easier with a communication and organization service built specifically for co-parenting. Parents keep a joint calendar and contact list, can send private notes and share medical information, documents and pictures. There's even a place to track and pay expenses online.
The basic service is free and includes the calendar, notes, expense tracking and 10 contacts and documents. For $14.98 per month, you get unlimited documents and contacts, plus medical information sharing, and payment of expenses through PayPal.
Carpool Kids
Coordinating carpools can be stressful, but Carpool Kids makes it easy. Set up one-time or recurring events, assign a driver and add kids to the car. If there are changes, updates can by pushed to everyone through the app or email. If you want to set up more than one carpool at a time, there's a $4.99 yearly subscription fee.
Price: free in iTunes or on Carpool-Kids.com
InstantPlaydates
Who's free to go to the park right now or meet at the museum on Saturday? InstantPlaydates lets you easily schedule playdates with your Facebook friends. When you're heading to the park, you broadcast your availability and how long you'll be there. Or, you can check to see who's currently available.
Price: Free at iTunes or on InstantPlaydates.com
You Rule Chores
You Rule Chores ($3.99 on iTunes) makes it easy to set up a chores and rewards list. Throughout the day, kids can check off their chores and earn coins to gain rewards. Kids can choose from a great selection of avatars and level them up with new powers and gadgets as they complete chores. A quick glance at the opening screen of the app shows how many chores are left for each child, making it into a competition to see who gets them all done first. A good choice for Android is iRewardChart ($3.99 on Google Play and iTunes), which has a similar chore and rewards system, but no fun characters or weekly competition.
For adult children taking care of parents
When parents need the help of their adult children, caretaking can become a family affair. CareZone helps ease the way with a free service that lets family members share care. The CareZone Senior app has a journal to record what's going on, notes for day-to-day communication, a place to store important documents and a shared to-do list. Medication dosages, doctor's visits and prescriptions can be easily tracked. And, there's one shared contact list and calendar. Better yet, everything can be tracked on your smartphone.
Price: Free at iTunes and Google Play
For pet parents
Keeping on top of feeding, grooming exercise and medical care of a pet requires organization. Pet Master Pro keeps you organized with easy tracking features for medications, vaccinations, insurance and even microchip information—invaluable in any emergency situation. In addition, you can manage appointments with the groomer or dog walker.
Price: $2.99 at iTunes or $4.99 at Google Play.
[extended family with dog via Shutterstock]
Discussion