Which Carrier Has the Best Family Smartphone Plan?
Techlicious editors independently review products. To help support our mission, we may earn affiliate commissions from links contained on this page.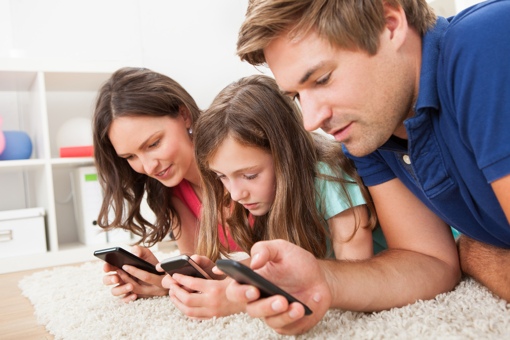 If you have a family, you likely don't need me to tell you how expensive mobile phone bills can get. It's not unusual for a family of four to pay $200 or more for service and still find themselves squeezed for data at the end of the month. Streaming video, streaming music, uploading and viewing pictures on Facebook and Instagram – all that data use adds up quickly.
The good news, though, is that your family can get service with a major U.S. carrier at a rate far lower than that if you're willing to shop around, bring your own device or purchase a new phone without a subsidy. Both Verizon and AT&T currently have great deals with reduced line access fees for families. Sprint, meanwhile, has a plan where up to 10 extra lines won't cost you anything.
So can you land a better deal than you're getting now? It all depends on your family's unique circumstances. Read on, consult our charts and find out for yourself (or check here for our picks for the best individual smartphone plans)!
But first, before you shop …
Before you start shopping based on price, it's important to remember that there are other highly important aspects to cell coverage. Not all networks are created equal – Verizon and AT&T generally have the best nationwide 4G LTE coverage and speeds, though T-Mobile's data speeds have been improving significantly in metro areas. We recommend you compare carriers' coverage and speeds in your specific location by visiting opensignal.com.
You'll also want to consider exactly how much data you and your family will use in a month. If you currently have smartphone service, you can sign in to your account online and check your last few months' of data usage. Otherwise, note that the average American uses just under 2 GB of mobile data per month. As a rule of thumb, you should avoid plans that offer significantly less than this per person unless you're especially price sensitive. High amounts of video calling (720 MB/hour), 4G LTE video streaming (350 MB/hour) and audio streaming (60 MB/hour) could necessitate even larger plans. Thankfully, almost all carriers will let you go back and adjust your data allotment at any time if changes need to be made.
What carrier has the best deal?
Right now, the best family plan wireless deal is being offered by Sprint. The Sprint Family Share Pack offers a family of four a 12 GB shared data bucket for just $90 per month. There are no additional line access charges for the company's family plans (up to 10), so a family of five or six can split the same 12 GB and pay the same $90 monthly fee. If you have a huge family, going with Sprint will likely lead to paying the lowest price per line. The big catch here is that you need to be a new Sprint customer to get the deal, and the pricing is only good through March 31, 2016. After that, you'll have to pay an extra $15 per line.
If you're adamant about sticking with Verizon or AT&T because of their superior nationwide networks, both carriers are currently offering line access discounts for large families. A family of four will pay $130 per month for 6 GB of shared data on a Verizon More Everything Plan; the same family will pay $135 per month for a 7 GB AT&T Mobile Share Value Plan (with data rollover). To get that pricing, though, you'll need to bring your own device, purchase/lease new ones at full price or be otherwise outside a two-year contract. Additional lines cost $15 per month at each carrier.
Want to see how all the plans from the top carriers stack up, side-by-side? Check out the comparison charts below.
Least Expensive Family Plans with Some High-Speed Data Plus Unlimited Talk & Text
AT&T
Verizon
Sprint
T-Mobile
MetroPCS
US Cellular
Plan name
AT&T Mobile Share Value Plan*
MORE Everything Plan
Sprint Family Share Pack

T-Mobile Simple Choice Family


Family Plan
Shared Data Plan
Amount of 4G data included

300MB

500MB
12GB

10GB plus Data Stash, 2.5 GB per line****

8GB, 2GB per line
300MB
Additional Line Fee
$25**
$25**
$0***
$10, adds 2.5 GB per line
$40, adds 2GB per line*****
$40
Hotspot included
Yes
Yes
Yes
Yes
No, $5 per month per line add-on
No
Monthly Price
$120**
$120**
$90***
$100
$160
$180******
– Prices & Data Allowances Valid as of Feb. 23, 2015
*with AT&T Next, Bring Your Own Device, Full retail upfront or contract terms fulfilled, you can get 7GB of data to share between 4 people for $135 per month
**with Verizon Edge, Bring Your Own Device, Full retail upfront or contract terms fulfilledyou can get 4GB of data to share between 4 people for $155 per month
***for new customers through 3/31/2016. Existing customers pay $150 per month total ($15 per additional line).
****After 1/2/2016, 2.5 GB of 4G LTE data per line automatically reverts to up to 1GB of 4G LTE data per line
*****maximum of 5 lines
******you can get 3GB of data to share between 4 people for $210
Least Expensive Family Plans with 6GB+ of High-Speed Data Plus Unlimited Talk & Text
AT&T
Verizon
Sprint
T-Mobile
MetroPCS
US Cellular
Plan name
AT&T Mobile Share Value Plan
MORE Everything Plan
Sprint Family Share Pack

T-Mobile Simple Choice


Family Plan
Data Share Plan
Amount of 4G data included

7GB plus rollover

6GB
12GB
10GB plus Data Stash, 2.5 GB per line****
12GB
6GB
Additional Line Free
$15*
$15**
$0***
$10, adds 2.5 GB
N/A
$40
Hotspot included
Yes
Yes
Yes
Yes
Yes
No
Monthly Price
$135*
$130**
$90***
$100
$115
$220
– Prices & Data Allowances Valid as of Feb. 23, 2015
*with AT&T Next, Bring Your Own Device, Full retail upfront, or contract terms fulfilled
**with Verizon Edge, Bring Your Own Device, Full retail upfront, or contract terms fulfilled
***for new customers through 3/31/2016. Existing customers pay $150 per month ($15 per additional line).
****After 1/2/2016, 2.5 GB of 4G LTE data per line automatically reverts to up to 1GB of 4G LTE data per line
*****maximum of 5 lines

[Image credit: family using smartphones via Shutterstock]
Discussion