Best File Backup Solutions
Techlicious editors independently review products. To help support our mission, we may earn affiliate commissions from links contained on this page.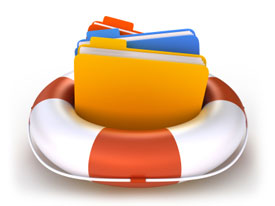 You've probably seen the commercial: A family's home is devastated by fire. A heroic National Guardsman locates a photo album (symbolizing the most valuable material family possession), wipes it off, and hands it to the grateful survivor.
If this resonates with you in the slightest, you may want to insure the safety of your own digital photo files against disaster. And while were at it, what about your family videos? And your tax information? And all those other irreplaceable work and personal files? We don't need a nightmare scenario to make regular, comprehensive backup the right move.
The sad truth is, hard drives crash. Like all mechanical devices, they wear out. Storing all your photos and files on your PC's hard drive is like speeding down the wrong side of a freeway — it's not a matter of will you crash, it's simply a matter of when. The older your hard drive is, the more likely it will go down, taking all your irreplaceable digital memories with it.
Of course, you're not the only one living dangerously digitally. According to the Photo Marketing Association, just 39 percent of digital camera owners back up their pictures — and this likely includes those who define "backing up" as simply transferring their shots from an SD card to their PC.
Here are three quick, cheap and easy methods for backing up your priceless digital visual files: an online storage service, an external hard drive, or recordable DVD or Blu-ray discs. And these aren't mutually exclusive either-or choices; rather, they're complementary, because each method offers advantages in particular situations and because your files are pants you want to hold up with both a belt and suspenders.
Plus, each of these methods is relatively inexpensive; a belt-and-suspenders approach will ensure that your life's memories and work won't be erased by the capricious nature of technology, or by nature itself. Don't wait for a hard-drive crash or an act of God to teach you a sad lesson about backing up the digital moments of your life.
SOLUTION 1: ONLINE STORAGE
Store your photos, videos and other important files where fire and water can't get at them — on a remote server by way of an online storage Web service. Online server sites offer a no-muss, no-fuss, no-bother solution — relatively speaking. You can sign up with an online photo storage site, pay a nominal monthly fee (anywhere from $5 to $15 a month, depending on how much storage you need), and then choose which folders or individual files to upload.
After the upload process is finished, your pictures will be stored on what's called a "cloud" server: computer drives metaphorically located in the virtual sky, but, in actuality, a vast data-farm full of secure servers offering security and backups upon backups to ensure the continued fidelity of your files.
How much photo storage do you need? Right-click on your photo folder, and scroll down to "Properties" to see how much space the files take up. Now double that amount, and you're looking at the minimum cloud space you'll want.
Cloud Features
The growing number of cloud storage sites offer more than storage and more than sharing. For instance, many of the better sites provide:
Remote access: Get to your files from any PC with Web access, Internet-connected HDTV or Blu-ray player, or via a cellphone.
Desktop application: Download a desktop application to automate file uploading and management, and to schedule the time that your backups occur.
Bulk uploads: Instead of having to choose individual files, you can upload the entire contents of a folder.
Versioning: Store both current and past versions of files so you can go back in time and retrieve earlier versions if you make changes you regret.
File format/OS agnostic: Better cloud sites don't care if you're on a Windows PC, Mac or Linux, and won't discriminate about what files you can upload.
Sharing options: All files you upload are password protected, but you'll have a variety of sharing choices, such as making certain files or folders completely public or accessible to those you list or to whom you give permission by sending them a link, just like on photo sharing sites.
Security: The better services offer 128-bit SSL security, which requires a password for access.
The Best Online Storage Sites
Here are our top picks for cloud storage sites, based on their combination of price, storage capacity and features. The pricing listed is the least expensive plan.
SugarSync
Our favorite photo and files site automatically syncs any changes you make to your files, regardless of their location. In other words, you save an edited picture or a document on your computer, and the changes are made to the copy stored on the SugarSync servers. SugarSync's Magic Briefcase feature allows you to save files to a desktop folder and have a copy automatically stored on any other PC or Mac with the SugarSync software installed. The best part, though, is that you can set some folders to sync and others simply to back up, without online distribution. Recently SugarSync added sync and backup for photos taken with your iPhone or Android phone, along with file sync for iPhone, iPad, Android and BlackBerry. They've also sweetened the deal for those with modest backup needs (or folks who want to take a test drive before committing): you can get a full 5GB account at no charge.
30 GB: $5 per month or $50 per year
KeepVault
Unlike other services, you can back up an unlimited number of Windows computers to one account (sorry Mac users). And it provides continuous coverage, backing up your files every time you make a change rather than waiting for a set time. If you prefer to maintain a local backup along with the files stored in the clouds, KeepVault will keep a simultaneous copy on a USB storage device. If you want to remotely access your files as well as back them up, though, you'll have to step up to a Pro account.
40 GB: $46 per year
Pro 20 GB: $82 per year
DropBox
This is the service we use for our work files. It provides real-time back-up and the ability to go back to older versions of a file. Delete a file by mistake on your computer? Until you've gone online and deleted a file a second time, you can still get it back. You can also share your "public" folders by sending others a link, which is a great way to distribute photos to friends and family. Free apps for iPhone, iPad, BlackBerry and Android let you access stored DropBox files from your phone, and sync photos and videos you take up to the Dropbox.
2 GB: free
50 GB: $9.99 per month
Carbonite
This site is the simplest backup solution we reviewed. No complicated per-gigabyte pricing schedule, no fancy services. Just a flat annual fee for all the storage space you need for a single PC or Mac, with a desktop application that constantly updates and backs up your files. Backed-up files can be accessed online from any computer, or via iPhone, Android or BlackBerry smartphone.
Unlimited storage: $55 per year
Picasa
Owned and run by Google, this photo-editing and sharing site gives you the option of storing your photos at full or compressed resolution via a desktop application or directly through the web site. You get just 1 gigabyte of photo storage free, but the jump to a full 20 gigabytes comes at a ridiculously low annual price.
20 GB: $5 per year
Video Storage
Online video storage is far more complex than it is for photos. First, of course, is the sheer size of HD video files: an hour of video consumes about one gigabyte. Transferring files from your camcorder to your PC is time-consuming in the first place, and uploading them to a server in the clouds can take hours.
One new service, MiMedia, specializes in tackling this daunting task. They provide software to back up files online, whether they contain video, photos, music or simply data. You can play back media files directly through the web site or via an iPhone or iPad app, letting you access home movies when you're far from home. The key advantage here, though, is that the company will send you a USB hard drive at your request, with a return UPS label, so you can save files to the disk and send it rather than endure hours or even days of online file transfer.
5 GB: $5/month or $50/year, larger capacities available
SOLUTION 2: EXTERNAL HARD DRIVE
Since hard drives crash, why back up to more of them? It's called redundancy. The theory behind this is that multiple hard drives won't crash simultaneously, and data lost from one drive can be replaced by backed-up data on a parallel drive. What makes this system so attractive is that external hard drives are CHEAP. You can buy a one-terabyte (1,000 GB) external hard drive from suppliers such as Seagate, Buffalo, Clickfree, LaCie, Iomega or Western Digital for well under $100 (just a few years ago, $100 could only buy you 250 gigabytes). Isn't the safety of your personal files worth $100?
Nearly all external drives include free automated backup software. Once you set the backup parameters — which files you want updated, how often you want the backup to occur and at what times — the entire process happens behind the scenes without you even thinking about it.
The latest trend in external drives is making the content stored on your external drive accessible via the Web or from any other computer on your local area network. These networked hard drives add about a 20 percent premium above the regular price.
Overall, one brand of drive isn't inherently "better" than another. Which external hard drive you choose is mostly a matter of narrowing down choices based on capacity, connecting jack types, networking capability, capability of backup software included, hardware or operating system compatibility, and, of course, price.
SOLUTION 3: BLU-RAY or DVD
Cheaper but more labor intensive is burning your files to blank DVDs or Blu-ray discs — many PCs now include a built-in Blu-ray recorder as a high-end option, though external drives still start at around $200. Here's how much you'll be able to cram in to a single disc:
Blu-ray (25 GB)
7,500 10-megapixel pictures
5 hours of HD video onto a single 25-gigabyte Blu-ray blank, about
DVD (4.7 GB)
1,500 photos|
1 hour of HD video
Depending on how many pictures you have, one Blu-ray disc may be all you need.
But don't trust your memories to the cheap, bargain DVDs you bought on sale at the local drug store. These DVDs are cheap for a reason — they're crap. Inexpensive Blu-ray discs and DVDs have a silver reflective layer. Silver oxidizes, sometimes in as little as six months. This creates black spots on the disc, which means dropouts in your pictures and video, and loss of your data. A better investment is to buy archival blank Blu-ray discs with pure gold reflective layers, available from Delkin, and gold DVDs from Delkin, Verbatim and MAM-A. Anyone else selling "gold" blank Blu-ray discs or DVDs likely mixes the gold with silver. Good, but not best.
Once you burn your photos and other files to Blu-ray discs or DVDs, don't leave them strewn about the house. Put them in a fireproof safe or a safe deposit box like any other family heirloom. And for family photos, storing an extra copy in your safe deposit box, or at a relative's house doesn't seem like overkill.
Discussion
New Articles on Techlicious