Best Tech Gadgets for a Day at the Beach
Techlicious editors independently review products. To help support our mission, we may earn affiliate commissions from links contained on this page.
Heading to the beach or pool? There's no need to leave your tech behind. You can listen to music, read a book, take pictures and keep in touch with the help of water-resistant cases and products.
The key to keeping your gear safe is checking their water-resistance rating, or IP code (Ingress Protection rating), to determine just how water-safe it is. It's the second number after "IP" that you'll want to check for water resistance. Something that's splash resistant will have a rating of 4, 5 or 6. For a product that will survive a brief dunk in the pool, you'll want a rating of at least 7. And, for continuous use underwater, look for an IP rating of 8.
Once you have the proper protection in place, you'll be able to really relax. So check out my picks for making your tech beach or pool ready.
Best water-resistant case options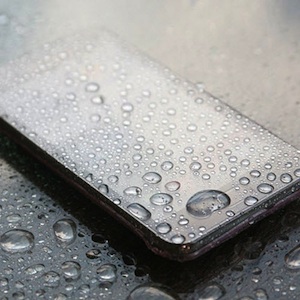 For occasional underwater use, I like iOttie's line of IPX8 classified waterproof skins for iPhone 4/4S/5, Samsung Galaxy S3/S4 and Samsung Galaxy Note 2. The thin, plastic-film skins ($19.99 for 2 on iottie.com, $14.99 on Amazon) come with five sealing tapes and leakage indicators. Additional sealing tapes are available for purchase.
For a more rugged option, check out the Frieq Universal Waterproof case ($11.99 on Amazon). The durable plastic pouch fits smartphones up to 5.3-inches and is IPX8 certified for use down to 100 feet.
Best water-resistant tablet/e-reader options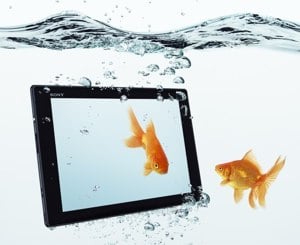 Hands down, you'll get the best reading experience in sunlight on an eReader with an e-ink display. My favorite is Amazon's Paperwhite ($119.00 on Amazon), which you can protect with a splash-proof case like the TrendyDigital WaterGuard Plus case for small tablets ($15.99 on trendydigital.com or $19.99 on Amazon).
If you're looking to do more, check out Sony's water-resistant Xperia Tablet Z ($499.99 on sony.com or Amazon). The ultra-thin 10.1-inch Android tablet is rated for submersion down to 3 feet for up to 30 minutes. That means it will handily survive a dunk in the pool and even allow you to take underwater photos with its 8MP camera.
Best water-resistant listening options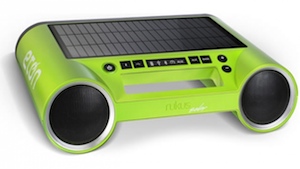 There are quite a few water-resistant Bluetooth speaker options out there, but the sound quality and built-in solar panels on the Eton Rukus Solar ($149.99 on etoncorp.com or $99.99 on Amazon) tip the scales for me. And, of course, built-in Bluetooth means it can be paired to work wirelessly with your protected smartphone or tablet. The Rukus Solar is rated a splash-resistant IPX4.
For personal pool-side or beach listening, I like the Klipsch Image S4i Rugged headphones ($99.99 on klipsch.com or $79.00 on Amazon). While not submersible, you won't have to worry if they get a little wet, and they sound great.
Best water-resistant camera options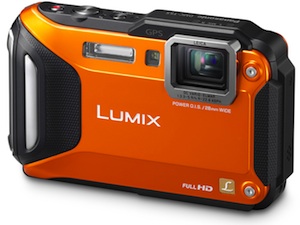 There's no getting around the fact that sealing your smartphone in a skin or case will affect image quality. Capturing great underwater photos requires stepping up to a waterproof camera. My current favorite is the 16MP Panasonic Lumix DMC-TS5 ($399.99 on panasonic.com or $348.00 on Amazon). Not only does it take sharp shots down to 43 feet, it has built-in Wi-Fi for instant sharing.
For outdoor sports enthusiasts, you can't go wrong with one of the GoPro Hero3 models. The entry-level White Edition ($199.99 on gopro.com or Amazon) will be sufficient for most people with its high-quality 5MP camera, full HD video capture, built-in Wi-Fi for sharing and waterproof housing rated to 197 feet deep. But the high-end Black Edition ($399.99 on gopro.com or Amazon) is truly impressive with a 12MP camera capable of shooting at 30fps in burst mode, Wi-Fi remote control and enhanced low-light performance.
Ready to hit the beach or pool? Now your tech gadgets will be, too.
Discussion