Digital Camera Buying Guide 2013
Techlicious editors independently review products. To help support our mission, we may earn affiliate commissions from links contained on this page.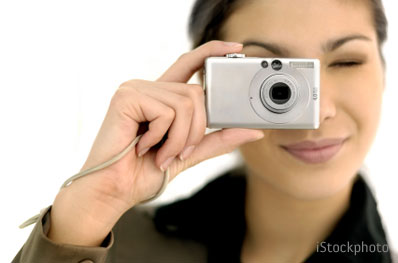 Every year smartphone cameras get better and better, which makes buying a standalone camera seem like less and less of a necessity, even for people who love taking pictures. Yet even the best camera phones (the HTC Droid DNA, for instance) are still limited in important ways. If you want to take pictures that you can print at large sizes without looking grainy or you want to work in low or harsh lighting situations, you need at least a quality point-and-shoot.
On the other end, there are those who are out for great pictures who might want to go further with their photography skills but don't have the money for a digital SLR. You don't have to spend your entire savings on a camera to get high quality or the ability to change lenses.
In this buying guide we'll help you understand which options and features are most important for what you want to accomplish and offer suggestions ranging from budget all the way up to high-end models for enthusiasts.
Our Picks: Point-and-shoot & Compact Cameras
Prices valid as of 3/24/2013
Budget: Under $100
Budget point-and-shoots are a step up from smartphone cameras for not a lot of money. However, at this price point don't expect to find a slew of features or many models that offer manual control. Key features to look for are optical zoom and stabilization, fast shutter speeds, HD video recording and compact bodies.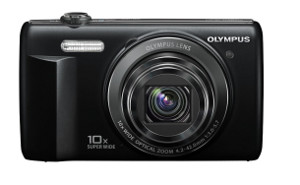 ✔Editor's Choice: Olympus VR-340
A stand out among budget cameras, the MP VR-340 boasts a metal body and a higher optical zoom than most in this price range. It takes reasonably sharp and color-rich images and 720p HD video both up close (with Macro mode) and far away, thanks to the 10x zoom and image stabilization. Intelligent Auto mode offers the best settings for those who don't know their ISO from aperture and Program mode gives those who know what they're doing deeper control. Once the battery runs down, you can charge it from your computer. The VR-340 is not the fastest shooter, so it's not the best for capturing sporting moments. But if you're looking for a small, inexpensive camera for vacations, it will serve you well.
Price: $129.99 on getolympus.com, $99 on Amazon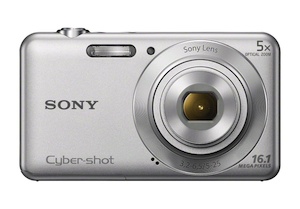 Sony Cyber-shot DSC-W710
Though the 5x optical zoom on the 16MP Cyber-shot W710 isn't massive, it will give you some extra reach when trying to frame far away subjects. Optical stabilization helps pictures come out sharp. The few features include face detection and panorama and are easy to access and understand, thanks to the simple controls and interface. Image quality is a step up from a camera phone and very good for a budget shooter.
Price: $99.99 on sony.com, $98 on Amazon
Entry Level Cameras: Under $250
In this price range you'll start to see more cameras with megazoom capabilities ranging from 10x up to 20x, as well as more controls and settings for capturing the perfect shot. Image quality goes up dramatically and you'll be able to shoot higher quality video. Wi-Fi connectivity and GPS also start to appear, but beware: these features drain battery life.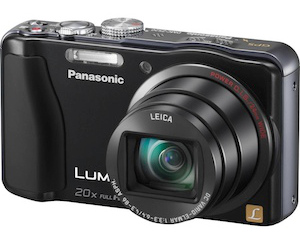 ✔Editor's Choice: Panasonic Lumix DMC-ZS20
Balancing light weight and a small body with excellent optics is one of Panasonic's strong points, and this Lumix model is the perfect example. The ZS20 14.1MP camera sports a 20x zoom Leica lens that will get you good, stable close up shots from far away. It delivers excellent photos, bright colors, and little noise even in low light. The intelligent Auto settings make it easy to snap pictures without fuss, but if you want more control the ZS20 has plenty of manual settings on offer. You can capture 1080p 60fps videos and record in high quality AVCHD for watching on the big screen or MP4 for web sharing. Battery life isn't the best, thanks to a touchscreen LCD on the back and built-in GPS for geotagging, but rest of the camera's standout features more than make up for it.
Price: $349.00, $245 on Amazon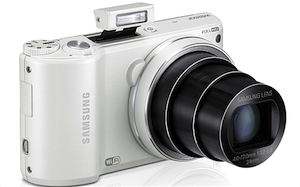 Samsung WB250F Smart Camera
This camera has everything you'd want in a mid-range shooter, from a megazoom lens (18x) to 1080p video capability to good auto and manual control. Samsung adds one significant feature on top: Wi-Fi connectivity. The company's smart camera line keeps getting better, bringing better optics and good image/video quality to the table alongside easy wireless sharing. You can upload directly to social networks or send pictures right to your phone for even more sharing and editing options. The 14.2MP camera also includes some features found on Samsung's smartphones, like Best Face mode to eliminate that one person ruining shots by having their eyes closed. Also fun: Motion Photo creates animated GIFs on the fly.
Price: $229.99 on samsung.com, $229.00 on Amazon
Mid-range Cameras: $300 - $400
Mid-range cameras have much better lenses in addition to megazoom and larger sensors to let in more light. Look for cameras with intelligent/smart Auto functions as well as manual control, aperture priority, and shutter priority. You'll find high quality, high resolution LCDs on the back that don't wash out in sunlight, viewfinders (optical or electronic), image stabilization and the ability to take pictures or video in high quality formats, such as RAW and AVCHD.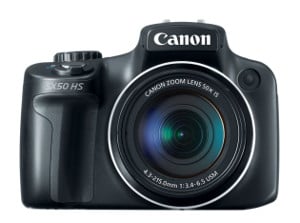 ✔Editor's Choice: Canon PowerShot SX50 HS
With this camera you move out of the compact point-and-shoot range and into larger bodied cameras with more DSLR-like features and qualities. The most impressive feature of the 12.1MP SX50 HS is its 50x wide angle zoom lens. 50X is a lot of zoom for such a small camera and to get the equivalent on a DSLR or even a Compact Mirrorless Interchangeable Lens camera will set you back a lot more money. And the camera's high-quality image stabilization means you can pull off far away shots without a tripod if you must. The camera also excels in low light and night shooting. Plus, we like the combo of an electronic viewfinder and screen on the back that swivels out for capturing shots at difficult angles.
Price: $449.99 on usa.canon.com, $389.00 on Amazon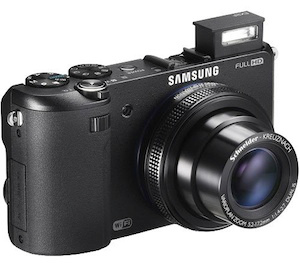 Samsung EX2F
A little bulkier than most compact point-and-shoots, the EX2F makes up for the extra size with extra features that will make getting the perfect shot easier. The rear display swivels out so you can frame the shot perfectly even if the camera isn't right in front of you. Though the 3.3x zoom is modest, the f/1.4-2.7 aperture captures a lot of light for very rich and detailed pictures. You'll appreciate this even more when recording full HD video. Like most of Samsung's cameras, the EX2F comes with Wi-Fi on board for sending pictures directly to email and social networks or connecting to Samsung phones for image transfer.
Price: $449.99 on samsung.com, $349.00 on Amazon
High-end Cameras: $400 and up
Why bother with a high-end point-and-shoot when you can get a Mirrorless Interchangable Lens Compact camera at around the same price or for just a few hundred more? The biggest reason is size. These cameras can still fit in (admittedly big) pockets and their lenses telescope back into the body, making them easier to carry and pull out in close quarters. Look for cameras with a wide optical zoom range, large apertures that let in more light, a combo of intelligent Auto and manual controls and extras such as Wi-Fi connectivity and GPS geotagging.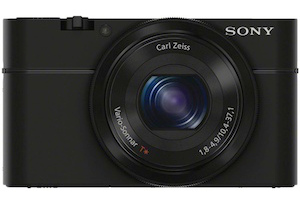 ✔Editor's Choice: Sony Cyber-shot DSC-RX100
The RX100 has a lot to live up to given that you can buy plenty of decent interchangeable lens cameras for the same price. Thing is, those cameras don't fit into a pocket and can't be whipped out at a moment's notice–this Cyber-shot can. Sporting an excellent f/1.8 Carl Zeiss lens and a big 20.2MP sensor, the RX100 produces images that will change what you think is possible with a compact camera. It performs well in all conditions even when light is harsh or low and is fast on the trigger.
Price: $649.99 on sony.com, $648 on Amazon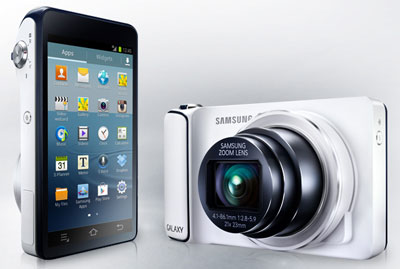 Samsung Galaxy Camera
Combining the software of a smartphone with the hardware of a point-and-shoot isn't a new idea, but it can be said that Samsung is the first company to pull it off this well. The Galaxy Camera runs on the same version of Android that you'll find in the Galaxy phones. It also connects to mobile data, just like a phone. You can download apps, upload pictures to just about any photo service you can think of right from the camera, and you can easily connect it to a second screen for showing off pictures and video with no wires required.
The quality of the photos is a little low for a camera at this price, but consider that you're not just paying for the optics, but the smartphone guts and connectivity as well. The 4G version of the Galaxy Camera is available from AT&T and Verizon Wireless. You don't have to sign up for a monthly contract to get the data plan (or sign up for the data at all). As of this publication, Samsung has announced a Wi-Fi-only version but has not offered a price. It's bound to be less than the 4G version, at least.
Price: $499.99 on AT&T or $549.99 on Verizon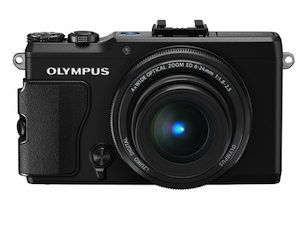 Olympus XZ-2
The XZ-2's 12MP sensor, 4x zoom lens, image processor and fast auto focus speed combine for impressive photo quality from a camera this compact. The 28-112mm equivalent lens is super fast at f/1.8-2.5 and the resulting pictures have minimal noise, accurate tone and look really good at full size. However, don't look to this camera if you're uncomfortable out of auto mode. This is more for people who know how to work manual settings to their advantage.
Price: $599.99 getolympus.com and Amazon
Our Picks: Entry-Level Mirrorless Interchangeable Lens Cameras
Mirrorless Interchangeable Lens cameras (MILC), sometimes called Compact Interchangeable Lens cameras (CILC), have the same or similar guts as digital SLR models but without the mirrors inside that make DSLR bodies so bulky. MILCs also tend to be less expensive than DSLRs while offering similar high-end performance and options. Look for built-in flashes, electronic viewfinders, LCDs with multiple positions, speedy shutters, and good Auto functions to back up manual controls.
We feel that MILCs are the best choice for someone stepping up to an interchangeable lens camera for the first time. They provide the best combination of size, weight and features. However, we know some of you are looking for entry-level DSLRs and we'll have another story to address these full-size cameras.
All of our picks in this category comes with a lens, and include optical image stabilization either built into the body or the lens. Prices valid as of 3/24/2013.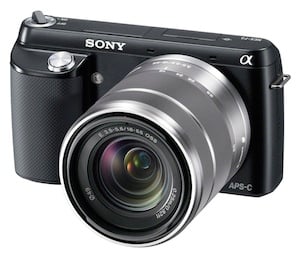 ✔Editor's Choice: Sony Alpha NEX-F3
The Alpha NEX series of cameras straddle two worlds. They have the sensors of DSLR cameras but compact bodies reminiscent of point-and-shoots. The large lenses signal their serious semi-pro nature, though small pancake lenses are available, too. The NEX-F3 proves why compact mirrorless cameras are a great idea. The 16.1MP APS-C image sensor (same as found in most DSLRs) and high ISO settings mean pictures detailed enough to print large without having to put in a lot of effort. The lens and sensor balance a wide range of contrasts automatically, but you still have access to the full range of manual controls (even when shooting video). Images come out sharp and balanced with rich color. The LCD in the back flips up all the way to make self portraits easier. We also like that the built-in flash can be tilted up for softer light bursts.
Price with 18-55 mm Lens: $499.989 on sony.com, $498 on Amazon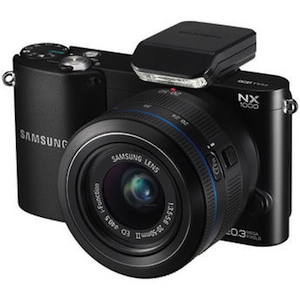 Samsung NX1000
A camera with the features and functionality of a DSLR in a smaller body and with Wi-Fi connectivity? Sign us up.
The NX1000 has a 20.3MP sensor and comes bundled with a sharp zoom lens that produces great pictures in all lighting situations. Including night shots. It's not the fastest camera available, but the ability to send pictures and videos directly to social networks and smartphones makes up for it a little.
Price with 20-50mm Lens: $449.00 on BH Photo Video.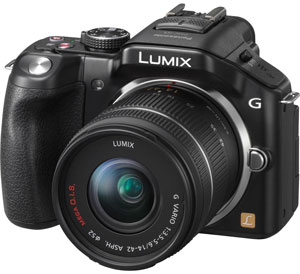 Panasonic Lumix DMC-G5
Overall, this Lumix isn't as compact as most other compact mirrorless cameras, but that extra bulk makes for a comfortable grip and good balance. The "little DSLR" feel it has going on isn't just for show. This is a great camera for beginning photographers who want the ability to step up as they learn manual controls but also want great pictures as they learn. The intelligent Auto function lives up to the name and the autofocus is fast, so getting great output doesn't require a lot of meddling. The DMC-G5 includes both a built-in flash and electronic viewfinder, cutting down on the accessories you have to buy and attach.
Price with 14-42mm Lens: $799.99 on panasonic.com, $498 on Amazon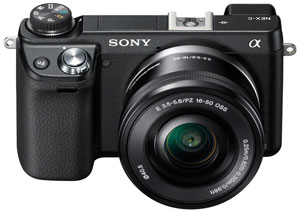 Sony Alpha NEX-6
Stepping up to the high-end for entry-level/enthusiast cameras adds significantly to the price, but the extra money is worth it for people chasing great image quality and versatility. The NEX-6 offers excellent performance and speed bolstered by a 16.1MP APS-C sensor (same size as DSLRs). The kit lens has a good built-in optical stabilization system that reduces shaking and blur in images (including panoramas) and movies.
In addition to great photo quality, the videos is produces are excellent, and can be recorded in AVCHD Progressive or MP4 format. To top it off, Sony also included Wi-Fi connectivity for direct upload or connecting to the company's smartphones to transfer images. The implementation isn't as good as what Samsung offers, but is good to have as an alternative. The flash and electronic viewfinder are both tiltable and the LCD in back swings out, so no matter what position or angle you want you'll be able to frame a great shot.
Price with 16-50mm Power Zoom Lens: $999.99 on sony.com, $998.00 on Amazon
Choosing Your Type of Digital Camera
There are basically three types of digital cameras: compact/point and shoot, mirrorless interchangeable lens/compact interchangeable lens (MILC or CILC), and digital SLR. Compact cameras are less expensive and more pocket-size portable. They range in features from point-and-shoot simplicity to photographically sophisticated. Interchangeable lens cameras, on the other hand, offer superior image quality, more creative freedom, faster performance and a higher price tag.
Both MILC and DSLR models are technically "interchangable lens" cameras, since they allow owners to attach different lenses that range from short, non-zooming pancake lenses to long telefoto lenses for far away subjects. The MILC category is newer, and you'll find the cameras referred to by other names as well, such as Micro Four Thirds (Olympus and Panasonic). That's because the different companies utilize different technology and internal designs, but the overall result is the same: compact cameras with large sensors and powerful options that are capable of taking photos that approach or rival the quality of DSLRs for far less money. You can find decent MILC models for as low as $500.
There are two key trade-offs to consider when choosing between SLRs and MILCs. First is the optical viewfinder that lets you hold the camera up to your eye when shooting. That's a real benefit on a sunny day, when LCDs can be hard to see, and holding the camera to your eye helps keep the camera steady. Many new MILCs offer eye-level viewing with an optional electronic viewfinder – basically a tiny LCD screen – though they aren't always standard, so cost extra to buy (i.e., around $300). Plus, they don't work as well as a true optical viewfinder.
The other key difference is speedy operation, particularly when it comes to autofocus (important when snapping pictures of fast motion, such as soccer and other sporting events). True SLRs have an edge here, though MILCs are closing the gap.
Important Features
How Many Megapixels?
A camera's resolution is measured in megapixels. But, like many things in life, bigger isn't necessarily better. Every camera on the market today has plenty of resolution for normal picture taking. And when you start upping the megapixel count in a compact camera, you're squeezing an awful lot of light sensors into a very small space. The more sensors you pack into a same-size space, the less light reaches that sensor, which can actually translate to a lower-quality picture, most notably in the speckled, noisy appearance you'll see in solid-color areas. Unfortunately, choosing one camera over another simply based on a higher megapixel count is a losing strategy.
Selecting the Right Lens
Your camera's lens will have the largest impact on the quality of your images (outside of the skill of the photographer, that is). Nikon and Canon are known for their lens quality, but other manufacturers often include equally high-quality lenses from respected lens makers such as Leica, Carl Zeiss or Schneider-Kreuznach. Look for these names while shopping.
The lens also provides zoom power for those close-ups of smiling faces or far-away action. In this case, bigger really can be better, with some caveats. You'll find basic compact cameras offer zooms in the 3x to 5x range, which is fine for routine shooting. Cameras that are nearly as small but priced a bit higher now come with lenses in the 12x to 18x zoom range, which gives you more freedom to frame a shot from a distance – a scene in a school play, for example. Finally there are the megazooms, offering paparazzi-style close-ups at 30x and beyond.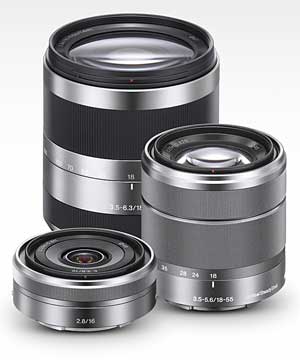 The trade-offs as zoom gets longer are required light levels and wide-angle coverage, which is true whether you're shooting with a compact or an interchangeable lens camera. The number to keep an eye on for low-light photography is the maximum aperture, which is listed as f/something. A typical camera with a modest zoom will have a maximum aperture around f/3.5. A more expensive lens gets you down to f/2.0 or even lower, making it much easier to shoot non-blurry photos without a flash. A longer zoom translates into a higher maximum aperture. And when you start getting into the f/4.5 range, handheld indoor shooting without a flash becomes very difficult.
The other key lens spec, which affects how many people you can fit in a group shot, and how wide your landscape photos can stretch, is the low end of the focal length spectrum. Look for manufacturer specifications under "focal length" for the "35mm equivalent." The lower the number of mm, the wider the shot. 28mm is perfect for wide group shots and landscapes, while 35mm-38mm is fine for regular photos.
One final note: you can largely ignore anything you read about digital zoom. In most cases it simply enlarges the photo by blowing it up, something you can easily do at home on your computer. There are some new enhance digital zoom technologies, like Panasonic's Intelligent Zoom or Sony's Clear Image Zoom, which can improve picture quality if you can't get the image otherwise. In fact, we usually recommend you turn off the digital zoom on your camera when taking pictures.
Display
At this point, both compact and interchangeable lens cameras have LCDs on the back that let you see what you're aiming at before pressing the shutter. These vary widely in quality. Resolution is one distinguishing characteristic – here, higher numbers are consistently better, presenting a clearer representation of your photo both when shooting and when playing it back (more than 400K pixels for a 3-inch display is considered good). Brightness is another challenge, since a dim LCD screen is hard to see on a sunny day. Some manufacturers use coatings to tame mid-day glare, with varying degrees of success.
Another potential display advantage is a screen that's hinged so it can be pivoted to different angles. This not only lets you shoot comfortably with the camera held overhead or down low, it can also be a good way to defeat glare.
Why You Need Image stabilization and High ISO Speed
Unless you're a robot, your hands will have some level of shake while holding your camera. This can become a serious issue in low light situations, when the shutter speed has to slow down to create a proper exposure. It can also be magnified by high-zoom lenses. Optical image stabilization reduces or eliminates this blur. If you're looking at a camera with a 5x zoom or higher, you'll definitely want this feature.
ISO is a technical way of measuring how sensitive your camera's sensor is to light. The higher the ISO, the faster the shutter speed will be. The faster the shutter speed, the less blur in your photo. Most cameras have a top ISO rating of at least 800, which is fine for normal indoor and outdoor use. For better low-light shots, ISO 1600 or higher will help, though at these levels you may start to see a lot of image noise (stray bits of color) introduced – so don't expect miracles when you take "a shot in the dark".
Picture Taking Speed
A photo is a permanent record of a split second in time – and if your camera's too slow, the split second you capture won't be the one you wanted. There are two considerations here. One is the time that elapses between the moment you press the shutter and the moment the camera takes the picture. This is called shutter lag. This used to be a major differentiating factor between different camera models, but in recent years shutter lag has grown shorter and the gap between cameras has narrowed.
The second camera delay problem is the time the camera needs to get ready between shots. If you have kids, a slow camera will guarantee missed shots (See 6 Ways to Speed up a Slow Camera). These speeds can vary significantly from camera to camera and, annoyingly, they're not included in the manufacturers' performance specs. Ideally, you can get a few moments of hands-on time to fire off some test shots in the store – if the camera's slow, you'll know it quickly. A good camera reviewer will also point out problems if they exist.
One last speed bump – the camera's "burst" or "continuous shooting" mode. This tells you the maximum number of shots the camera can take per second, without flash. A high burst rate can be a lifesaver if you're trying to catch a baby's first steps, or just the right moment when Fido catches the ball midair. These figures are available for most cameras, and while you'll have to take the specific number with a grain of salt, they're a reasonable basis for comparison.
Taking Good Videos
Nearly all digital cameras today, both the compact and interchangeable-lens variety, can also take movies. The quality won't equal a standalone camcorder, but it's often surprisingly good. You'll find both high-def video standards represented: the very sharp 720p that's used in HD broadcasts all the way up to Blu-ray disc quality Full HD, at 1080p. It's worth noting that even if a camera can shoot at higher definition levels, you can almost always shoot lower-res as well, which makes uploading much easier.
And make sure you follow our 10 Ways to Improve Your Home Movies.
Optional Features
Face detection
If you've ever taken a photo with the background in beautiful focus and your spouse's face an unrecognizable blur, you'll understand why you need face detection. Cameras with this option are smart enough to recognize faces and focus on them, even if they're not in the center of the frame or the closest object to the camera. Some cameras do this automatically, others have special modes. In a higher-end model, you can even select your subject or differentiate between kids and adults. And with touch-screen cameras, you can generally tap on the face you want in focus to select it.
Autofocus Tracking
With this feature, once you select your subject, the camera will automatically keep it in focus until you take your picture. When paired with face detection, cameras can also "remember" the person you're tracking, reacquiring a lock even if he or she leaves the frame for a few seconds.
HDR
HDR, or high dynamic range, refers to a mode in which the camera takes three images—one over-exposed, one under-exposed and one at regular exposure—and merges them together to reveal more detail in all areas of the image. It's great for images where there is very little or no movement, like landscapes or posed portraits.
Smile and blink detection
A camera with smile or blink detection finds a face, and only takes the photo if all the people are smiling and/or if all the subjects eyes are open.
Wi-Fi
Cameras with built-in Wi-Fi can automatically download your photos to your computer, email them or upload them to web services like Facebook, Picasa or YouTube. It's a convenient feature for travelers. Some cameras will also pair with your smartphone for remote operation.
GPS
When a GPS receiver is built into your digital camera, the coordinates of the spot where you press the shutter can be saved with each picture. Called "geotagging," this obviously isn't a necessity, but can be fun for your vacation images. Some cameras and photo sharing Web sites, such as Flickr, let you view your photos as icons attached to a map.
HD Output
Every camera lets you view your images on your TV. But only some have the output jack (HDMI) that enables you to take advantage of an HDTV's full resolution. Surprisingly, some cameras that shoot in HD won't let you play back the results directly from the camera, a major oversight. If you plan on viewing your images regularly on your HDTV, this feature should be on your checklist.
Touchscreen
Some digital cameras with 3-inch or larger displays let you navigate menus with a touchscreen instead of buttons. Whether or not this is an advantage is a matter of personal preference. Some of us love the smartphone-like control scheme, especially for touch to focus. Others find physical buttons easier to handle quickly. If possible, try out a touchscreen model you're considering to see if the screen reacts quickly and easily to your finger movements, and the on-screen menu system makes sense.
Discussion