Four Great Bluetooth Speakers Under $100
Techlicious editors independently review products. To help support our mission, we may earn affiliate commissions from links contained on this page.
Whether I'm throwing a party, working out, playing with my little ones or plowing through chores, music elevates the experience. But you don't have to take my word for it, research has shown that music can help you concentrate, run faster, relieve stress and even positively impact long-term illnesses like heart disease and cancer.
So how do you bring more music into your life? An easy solution is to pair a Bluetooth speaker with a smartphone or Bluetooth-enabled music player, like an iPod nano. There are tons of speakers to choose from, so I've weeded through the options and selected four inexpensive models that all sound great and bring a little something different to the table.
Clock Radio: Soundfreaq Sound Rise
This attractive clock radio features dual alarms, FM Digital radio and the option to wake gently to gradually increasing volume with your alarm of choice—music, radio or buzzer.
There's a USB power port for recharging your smartphone, a 30-pin Dock connector for iOS devices and, of course, support for Bluetooth audio streaming. Sound is generated by two speakers and a woofer.
Price: $99.99 on soundfreaq.com.
Water resistant: Hipe Waterproof Wireless Bluetooth Shower Speaker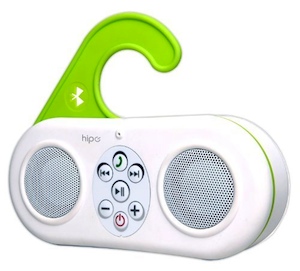 Hang the Hipe Waterproof Wireless Bluetooth Shower Speaker off your shower head or place it poolside. Either way, you'll be able to send your tunes from your smartphone from a safe distance via Bluetooth.
The durable speaker can't be fully submerged, but it is built to withstand powerful jets of water, per its IPX6 protection rating. Both black and white models are.
Price: $69.99 on Amazon
.
Smartphone/tablet stand: Carbon Audio Zooka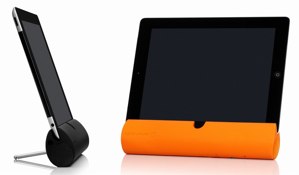 Whether you're using the Zooka as a standalone speaker or as a handy stand to hold your smartphone or tablet, you won't be disappointed in the sound. There are two separate drivers that fire sideways to create an impressive sense of depth, given the Zooka's size. There's a variety of bright poppy colors—it comes in teal, red, purple, pink, orange, navy, green, gray and black.
Price: The Zooka starts at $99.95 on caronaudioinc.com or $85.60 on Amazon
.
Stereo-capable: SuperTooth Disco 2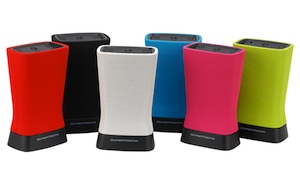 With two drivers and a high-efficiency bass reflex system in the back, the 16-watt Supertooth Disco 2 delivers big sound in a small package (4.25 x 7.16 x 2.75 inches). And, if you're willing to spring for two, you can pair two speakers—one taking the right channel sound and the other the left channel—to deliver room-filling stereo sound. Comes in red, white, pink, blue, green and black.
Price: The 16-watt Supertooth Disco 2 $99.00 on supertoothstore.com.
Discussion