The Best Over-Ear and On-Ear Headphones
Techlicious editors independently review products. To help support our mission, we may earn affiliate commissions from links contained on this page.
Headphones that sit on or over one's ears are making a comeback after losing ground to smaller, lighter in-ear buds. While this type of headphone is bulkier and less easy to stash in a pocket, their virtues outweigh this inconvenience. On-ear headphones are great at blocking out noise, over-ear models add comfort to that, and neither will fly off your head at the first sign of a yanked cord.
What to look for
Comfortable designs that fit on your head and ears naturally without too much adjusting
Long cords
In-line controls and mics, preferably ones that work with a wide range of smartphones and not just iOS devices
Balanced audio that doesn't favor one level of range (ex: bass) too much over the others.
Prices valid as of May 15, 2013.
✔Editor's Choice: V-Moda Crossfade M-100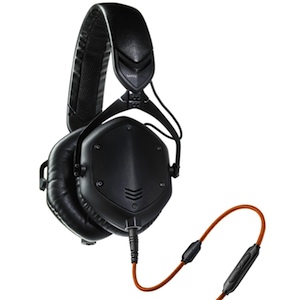 High-end headphones aren't just for audiophiles and people who endlessly debate the difference in quality between analog and digital. A good pair will enhance the quality no matter the source -- smartphone, MP3 player, fancy amplifier -- so that even the average music lover will notice and appreciate the difference.
The Crossfade M-100 is a great pair of over-ear headphones and they're easily worth the admittedly high price. You'll experience balanced and well-rounded audio across the gamut of musical genres; no Hip-Hop, bass-heavy preference here. And it does all this while sporting a seriously attractive design.
Style: Over Ear
Controls: In-line one button, mic; compatible with all phones. Optional in-line three button, mic; compatible with iPhone
Noise cancelling: Analog Noise Isolation
Wired: Detachable cord with optional boom mic and sharing cable available
Loudness: 103 dB
Price: $310 on v-moda.com, $295 on Amazon
Entry Level: JVC HAS160B Flats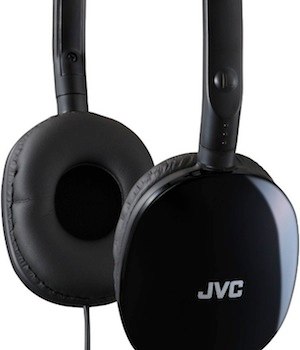 Is there really much difference between headphones that cost less than $20? At that price you don't expect to find great sound quality or durability. That's why the JVC Flats are such a pleasant surprise.
For around $13 you get a comfortable pair of on-ears with a balanced sound profile. It's not Beats quality, of course, but far better than you'd normally get at this price point (and a notch above most headphones that come with a new phone or MP3 player).
Style: On-Ear
Controls: None
Noise cancelling: None
Wired: Non-detachable cord
Loudness: 103dB
Price: $19.95 on JVC.com, $12.99 on Amazon
Mid-range: 808 Studio Headphones HPA88BKG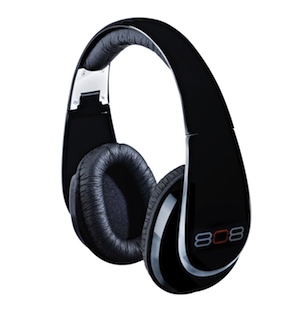 Another pair of relatively inexpensive headphones with the performance of a pair that costs far more. The 808s can stand toe-to-toe with $300 cans when it comes to audio quality, though the build is somewhat less premium. The design is elegant and simple instead of outwardly flashy and the adjustable over-ear cups provide comfort for long listening sessions.
Style: Over Ear
Controls: In-line one button, mic; compatible with Android, iPhone
Noise cancelling: Passive Isolation
Wired: detachable tangle-free cords; one with control, one without
Loudness: 105 +/- 3 DB
Price: $89.99 on 808headphones.com, $35 on Amazon
Mid-range: SOL REPUBLIC 1601-30 Master Tracks Over-Ear Headphones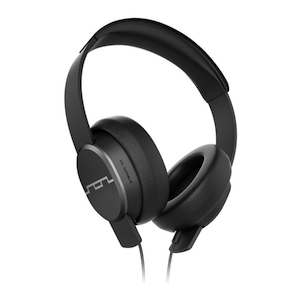 The first over-ear headphones from Sol Republic retain the great audio quality of the company's other models as well as the flexibility. Each part of the package -- headband, drivers, cord -- is interchangable, so you can mix colors and styles (or replace just one element if it breaks).
The cord includes audio control and a mic, so you don't have to take them off to take a call. The over-ear cups are comfortable and help isolate the ear from outside sounds. Audio is well-balanced no matter what genre of music you listen to.
Style: Over Ear
Controls: In-line three button, mic; compatible with iPhone
Noise cancelling: Passive Isolation
Wired: Detachable cord
Loudness: Not provided
Price: $199 on solrepublic.com and Amazon
High-end: Sennheiser Momentum Headphones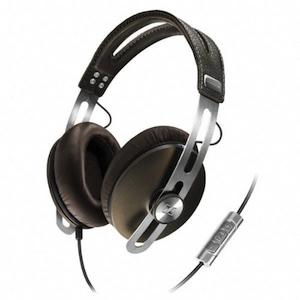 Even if you're not a hard-core audiophile you're probably familiar with the Sennheiser brand and the high quality that generally goes with the company's products. So it's no surprise that these Momentums sound amazing and envelop you in rich, rounded, clear audio that brings out the best in the tracks you listen to. What we like beyond that is how they feel.
The ear cups feature soft hair-sheep skin leather and a cushion underneath that will allow you to wear these for hours without complaint. The combination of leather covering on the headband and industrial chic stainless steel earcup sliders gives the headphones a luxury aura that follows you right into the listening experience.
Style: Over Ear
Controls: In-line three button, mic; compatible with iPhone
Noise cancelling: Passive Isolation
Wired: Detachable cord
Loudness: 110 dB
Price: $350 at en-us.sennheiser.com and Amazon
Need more help deciding which pair of headphones is right for you? Check out our story on how to buy headphones.
Discussion