The Best Photo Book Sites
Techlicious editors independently review products. To help support our mission, we may earn affiliate commissions from links contained on this page.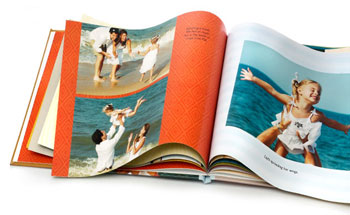 My mother took lots of photos of us when we were growing up, but few made it into her beautifully designed albums. And it's those albums that now tell the stories of us as a family.
Fast forward to my family and you'll find that I don't fill albums with printed photos—I create photo books. Fortunately, photo book sites have attractive templates you can use to fill your books, so they require a lot less artistic talent and time to produce a good result.
First, the process of compiling photos for a book is easy. Many sites will pull photos in from Facebook and other sites where you're already sharing your photos, as well as from your computer.
Once you have your photos, most photo book sites can auto-fill your book based on when and where you took your photos. You choose a template that complements your photos—summer vacation, trip to Europe and many, many more—and the site does the rest.
You can then go in and tweak the pages to highlight the most important pictures. And if you want to include old photos or a menu, receipt or postcard, you can simply scan them and treat them like any other photo. The results are quite remarkable.
If you do have the time and talent, it just gets better from there. You can change the fonts and page backgrounds (including your own photos or scans of documents), add embellishments and resize, crop and edit your photos right on the page. The resulting books are beautiful and truly one of a kind.
There's also flexibility in pricing. You can go all out for a hard-cover book with acid-free archival paper and a photo wrapped into the cover, which will start around $20. Or, you can get a small, color, 20-page softcover book for less than $6. It all depends on its purpose—a thank you gift for a memorable weekend or your family's archival photo album.
Here are my favorite places for making photo books:
Walgreens
For a low-cost option with plenty of design flexibility, you'll want to check out Walgreens. For $6.99, you can get a 4.5-by-6-inch softcover Brag Book, with 20 color pages, a photo cover and layout options. For $5.99, there's a 2-by-3-inch Mini Photo Book with single photo pages—no captions—and a photo and title on the cover. The printing is done by Snapfish, and the finished product is high quality. You can always use Snapfish directly, but it doesn't offer these two low-cost options.
iPhoto
Mac users can use iPhoto to create photo books starting at $3.99 for a 3.5-by-2.6-inch book (3-pack only). The software has all the layout bells and whistles, including face recognition for quickly and easily sorting through your photos. Plus, there's a smart auto-fill based on date and time, your ratings and face detection. And, you can always change the book type, size and color with just one click at any time.
Blurb
If you're looking to create the ultimate coffee table book or album, you can't beat Blurb. This site is all about book publishing and provides tons of custom options. In particular, I like the fact that you can lay out your book offline, a big time saver, especially for those with slower connections. And if you want to give others the option of buying a copy for themselves, you can easily share your book without giving them all your photos.
Shutterfly
At $12.99 for its entry-level book, Shutterfly may be a little pricier than the others on my list, but you get a huge variety of auto-fill and custom options to choose from. Shutterfly also lets you switch between book sizes and styles at any point, letting you create multiple versions at different price points.
Discussion