The Best Photo Editing Apps
Techlicious editors independently review products. To help support our mission, we may earn affiliate commissions from links contained on this page.
Look around the next time you're at a soccer game, park or even a family wedding. Chances are a lot of the photos are being taken with a cell phone's camera, not a regular camera. More and more, people are also editing their photos on their smartphones as well. There are apps for both for traditional editing tasks, like cropping and adjusting brightness, and for applying fun and artistic effects, like sepia or cartoonization.
Here are some of our favorite apps for iOS and Android devices. Just one bit of advice. Always start by getting the picture you want, before experimenting with effects. You can always undo those you don't like.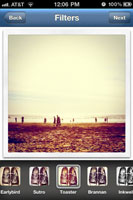 Instagram
Primarily a photo sharing app, much like a Twitter for photos, Instagram lets you share with groups of friends and view their feeds. But it also includes basic image editing and some fun filters and effects. Plus you can upload your creations to Facebook. A downside is that images are down-sized. Free on iTunes.
Snapbucket
The popular photo-sharing site Photobucket recently launched this mobile app for both Android and iPhone, and not surprisingly, it excels at sharing. It offers basic editing , filters and effects in an easy interface. Photos can be saved and posted to social sites, with captions. Free on Android Market and iTunes.
Picplz
Like its closest rival Instagram, Picplz is mainly about sharing, and offers all the basic editing and effects tools. It excels in sharing, even offering a Dropbox option. Free on Android Market and iTunes.
Fotolr Photo Studio
Fotolr is a nifty image editor that has most of the features you would want for on-the-fly sharing. Aside from the basic editing tools and creative filters and effects, it includes several creative makeover tools like "acne removal". They're not for creating a professional headshot, but for having a laugh with your friends. Free on iTunes.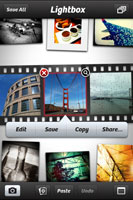 Camera+
This elegant app offers the basic tools you need: editor for cropping/adjusting the image, filters for applying cool effects, and sharing. The Facebook integration lets you add a caption with the upload. $1.99 on iTunes.
FX Photo Studio
In addition to the standard repertoire of editing tools, this robust photo tool offers some professional-level tools like masking and gamma adjustment. The nearly 200 effects and filters have sliders for easily adjusting the degree of the effect. If you love to tinker, this is the app for you. $0.99 on iTunes.
Vignette
If you love special effects, Vignette delivers. There are 84, including retro and vintage styles, toy camera effects (LOMO, Diana and Holga), photobooth, as well as a bunch of interesting film effects, like double exposure and cross-process. It is designed to apply those filters during picture-taking, but they can be applied from the gallery too. Unfortunately, it doesn't save your original images.$4.04 on Android Market.
PicSay Pro
PicSay Pro version is one of the most robust photo apps, with a full suite of capabilities from start to finish. It stores your original un-edited photo, and applies edits to a copy, as it should. There's even a version for Android tablets. $4.28 on Android Market.
Discussion