The Best Laptop Under $500 - Fall 2014
Techlicious editors independently review products. To help support our mission, we may earn affiliate commissions from links contained on this page.
With a fourth-generation Intel Core i5 processor, 8GB of RAM, 1TB hard drive and full-sized keyboard, the Aspire E15 has plenty of power to last many years.
A search for laptops under $500 turns up a wide range of choices, starting with smaller, netbook-like hybrids and moving up to full-size, mainstream PCs with a budget price tag. Assuming you want a full-featured PC, chances are that you're looking for either a small, ultra-portable, low-power secondary machine or a full-sized computer that's basic yet reliable. Since the criteria for each are different, a final choice comes down to one thing: Which laptop is the best value for my money?
To evaluate the best laptops under $500, I didn't just look at price; I also considered performance, design, brand reliability and reviews from professionals and consumers. A handful of promising contenders emerged, including the Acer Aspire E15, the Lenovo Yoga 2 11, the Acer Aspire Switch 10 and the Asus Transformer Book T100.
If you're looking for a laptop to use as a main computer, my top pick is the 15.6-inch Aspire E15. But if you're in the market for a small machine, the 10-inch hybrid tablet Acer Aspire Switch 10 gets the nod. Both do well in the areas that matter most: smooth and speedy performance, sturdy and streamlined design, comfortable keyboards and good battery life. However, they are very different machines meant for different workloads.
The Acer E15: Best laptop as a main computer
When shopping for a budget 13- to 15-inch laptop to use as your main computer, you'll have to make some compromises: plastic casing instead of metal, HD displays instead of full HD or Retina-like resolution (often without touchscreens), slightly heavier and thicker designs instead of feather light and sleek. Most of these are acceptable trade-offs for the price; when it comes to internal hardware and performance, you should accept the least compromise possible.
During my initial search for sub-$500 laptops, I found solid models from HP, Dell, Asus and Lenovo that are as easy on the eyes as they are on the wallet. The models with the highest ratings ran on less powerful AMD or Intel processors (Core i3, Celeron, Pentium). Most also offered less RAM than my top pick. While this can be acceptable in a budget laptop, you should always get the most powerful processor and largest amount of RAM you can afford.
Solid power and performance
This is the primary reason why the Aspire E15 is my pick for top mainstream laptop. The $499 model (E5-571-56UQ) is powered by a fourth-generation Intel Core i5 processor with 8GB of RAM, which should keep it speedy for several years, even as programs and websites become more complex and take up more resources. The E15 also comes with a 1TB hard drive — not an SSD (another compromise), but large enough to hold a sizable media collection as well as all your documents and other files.
The E15 performed smoothly in my tests, switching between dozens of open tabs in Chrome and Firefox without lag while streaming music in the background. HD videos played without lag or hitching, and the system's integrated graphics handled less intense games just fine. The E15 ran spreadsheet macros at a respectable rate for a laptop with a spinning hard drive, opening even large Word documents in seconds.
The E15 has plenty of ports, including VGA, Ethernet and three USB ports. The only thing you might expect to see that isn't here on this model is an optical drive.
Full-sized keyboard and energy-saving monitor
Another area where you shouldn't compromise too much (even on a tight budget) is a laptop's keyboard. A good external mouse can replace a less than stellar touchpad, but if you need an external keyboard, you lose the point of using a laptop. The Aspire E15 has a standard Acer keyboard with square, island-style keys that spring up as you type and don't require heavy fingerfalls to register. Because this is a 15-inch system, you get not only get a full-size keyboard but a full number pad to the right as well.
The comfortable typing experience is matched by a responsive but not overly sensitive touchpad. It's wide and tall, giving you enough area for executing gestures to bring up Windows charms and making up somewhat for the lack of a touchscreen. If you spend most of your time in desktop mode, you'll barely miss using touch.
For a laptop with a 15.6-inch display, the E15 is relatively light (5.5 pounds) and just 1.2 inches thick, so it slides into backpacks and briefcases easily. Most people keep laptops this size on their desks, but the E15 is not so heavy that it's a pain to take on trips or to class. When you do, expect to get six to seven hours of normal use. I tested the E15 on the balanced power setting with the screen at 75% brightness, and I didn't need to plug in until past the six-hour mark. With energy-saving features active, it should last even longer.
The screen is one of the E15's weak points. At this price, I don't expect an extremely high resolution, but 1366 x 768 feels low for a display of this size. Other than that, the colors, saturation and brightness are all eye pleasing, and you can set the screen at almost any angle without seeing any distortion of colors or contrast.
Options, options
Acer promised that the Aspire E laptop line would be all about choice, and you're likely to find several configurations in stores and online. They're all mostly identical on the outside but give you a choice of different processors (both Intel and AMD), non-touch or touchscreen control, matte or glossy displays and a few different colors. I recommend the Aspire E5-571-56UQ, currently $499.99 on Amazon, with the best balance between price and performance.
There are a few E15 models that cost less and have less powerful hardware. I don't recommend a model with anything less powerful than an Intel Core i3.
Reviews are limited, but good
The E15 is new, so there aren't many reviews out yet. The majority of owners who reviewed it on Amazon left positive feedback, citing its speedy performance, lightweight design and large amount of RAM and hard drive space for the price. The only major gripe is the lack of optical or DVD drive, which came as a surprise to some due to a misleading product shot.
The Acer Aspire E15 may be a budget laptop, but it is not cheap. Even at $499, you won't have to compromise on performance or power, nor will you have to settle for a bulky, heavy, ugly machine.
The Acer Aspire Switch 10: Best portable laptop
Acer Aspire Switch 10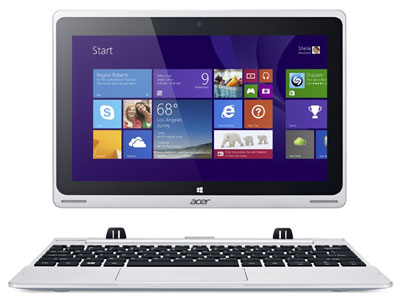 As light as the Aspire E15 is for its size, it's still not the kind of computer you want to carry with you for long periods of time. If you're looking for an affordable and portable laptop, try the $379 Acer Aspire Switch 10. This 10.1-inch tablet hybrid runs full Windows 8.1 with a keyboard dock that turns it into a laptop with a simple snap.
The hybrid convertible tablet market is full of worthy contenders right now, including the 10-inch Asus Transformer Book T100 for $379 and the 11.6-inch Lenovo Yoga 2 11 for $499. While the Switch 10's performance is slightly better than both in all but one area, what won me over is the keyboard dock's versatility and superior typing experience.
As with most hybrids, the Switch 10's screen/tablet portion attaches to the keyboard dock to make a clamshell laptop. It can also attach backwards for presentation mode or tent mode, similar to the Lenovo Yoga 2, which has a 360-degree hinge. I'm a fan of the Yoga's design and versatility, but at 11.6 inches, I find it too big to use effectively as a tablet. The Switch 10 detaches from the keyboard to become a true slate.
Comfortable keyboard and robust processing power
Still, you'll likely spend most of your time using the Switch 10 as a laptop with the dock attached. The keyboard is classic Acer, made small enough to fit with the 10.1-inch display. The square keys are not cramped or undersized, providing enough space between keys to keep you from accidentally hitting two at the same time. That's the biggest advantage the Switch 10 has over the Transformer Book T100's surprisingly cramped and uncomfortable keyboard; otherwise, these two hybrids are very similar, both in design and internal hardware.
The Switch 10 has a newer processor and thus earns slightly higher scores in benchmarks, but both perform about the same when executing real-world tasks. The Intel Atom processor is faster than you might expect if you associate this brand with netbooks from three years ago. The Atom doesn't choke streaming HD video any more, and it handles switching between dozens of tabs and a handful of running programs without becoming sluggish. However, the Atom processor is not designed for intense usage such as graphics-heavy games, compiling code or video editing beyond a quick trim.
Battery life is light
The Switch 10 falls short of the T100 in battery life, lasting about five to six and a half hours on a single charge. The T100 can last up to 12. Acer equipped the Switch 10 with a very lightweight A/C adapter, so carrying it is not a burden; the Transformer T100 can charge off the same micro-USB cord as your phone.
If you're more interested in the tablet side of the experience and don't think you'll use the keyboard much, the T100 is a good pick, but if you're looking for a laptop first and tablet second, the best keyboard experience matters — so go with the Switch 10.
The Acer Aspire Switch 10 with 32GB of internal storage is available on Amazon for $309. If your budget allows, I suggest the 64GB version, currently $389.00 on Amazon.
Discussion