We may earn commissions when you buy from links on our site. Why you can trust us.

Boston Acoustics Duo-i plus Brings Style and Sound to Any Room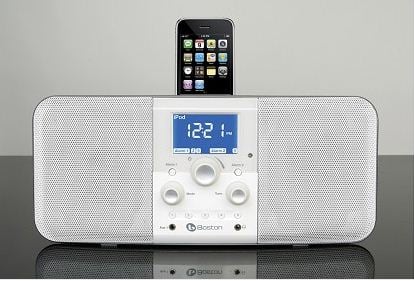 The Boston Acoustics Duo-i plus is another addition to the crowded tabletop iPod dock/clock radio category, which includes the Bose SoundDock 10 (See Bose SoundDock 10 Delivers Simple, Stunning Sound), Logitech Pure-Fi Dream and JBL On Time 400iHD. In fact, it's actually an upgrade to the original Duo-i—with a shiny, high-gloss finish in white or black and the ability to fully accommodate an iPhone, allowing calls to come through while music is playing. (The original Duo-i wasn't fully compatible with the iPhone unless in "Airplane Mode.")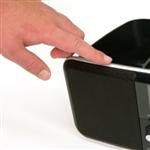 In addition to iPhone and iPod connectivity, you'll also get AM/FM stereo radio and an alarm clock that wakes you to music from your library, a radio station or just a simple alarm sound. And to add simplicity (and cater to the laziness in all of us) just touch any part of the aluminum trim around the face of the product to trigger the snooze function.
I got one to try out and immediately put it in my kitchen. Though some people might use it in the bedroom (with the clock-radio function and all), I love having something that will play my iTunes library, Rhapsody-to-Go and Pandora from two, high-performance 3.5-inch speakers while I cook, clean and generally take care of my two boys. I'm in the kitchen—awake—a lot more often than in my bedroom. Throw in local radio stations for my daily news fix and I'm thrilled (there's room for 15 presets—10 FM and five AM).
Don't have an iPod or iPhone? You can also use one of the two auxiliary inputs to play your music from another media device. Or, if you're game, watch your iPhone/iPod content by connecting the Duo-i plus to your TV with a composite wire from the video output port on the back in the unit. It may seem like too much work, but I promise, it's a simple operation.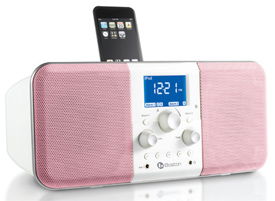 It's not small, but the Duo-i plus fits nicely into the corner of my counter and is a well-designed product. With just three rubber knobs and perforated metal grilles, I don't have a hard time looking at it. Mine is white, but if you want to match it to a specific décor, you can purchase an optional metal grille in a variety of colors for just $15.
A pint-size remote control is also included, but I don't really have a need for it. The Duo-i plus is so easy to use, I just switch it on or off, or from iPhone to radio, with the push of a button. Best of all, my iPhone automatically charges in the dock, so I leave it in there even when I'm not using it. My husband and I have an ongoing battle over who can first plug their charger into the one available socket in the kitchen, so this helps immensely.
But in addition to its ease of use, what really makes the Duo-i plus worth the $250 price tag is the well-rounded stereo sound and clean bass—which isn't a surprise, knowing Boston Acoustics's reputation.
---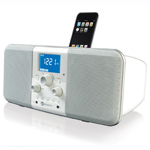 Boston Acoustics Duo-i plus ($250): Buy Now at Amazon.com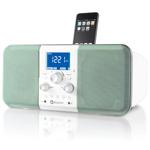 Boston Acoustics Duo-i plus color grille ($15): Available in chili, moss, caramel, olive (shown on radio), chocolat, glacier, rose bud, pearl gray and onyx.
Buy Now at BostonAcoustics.com
Discussion