Disney Epic Mickey: Must-Have for Fans Despite Some Flaws
Techlicious editors independently review products. To help support our mission, we may earn affiliate commissions from links contained on this page.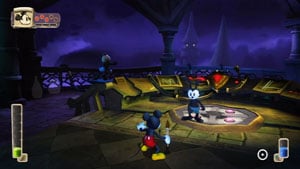 If you've ever been a Mickey Mouse fan, the look of this new game for Nintendo Wii will hook you instantly. The main environment isn't a cutesy rainbow-bright Disney world – it's a darker, more cinematic vision, with the level of painterly detail I associate with Pinocchio. As you play, you find yourself running and jumping through separate areas with their own unique art styles, drawn from the 80-year history of Disney cartoons (I find the black and white worlds particularly pleasing). And the characters are drawn from that same rich history, reviving old friends like Horace Horsecollar, Oswald the Lucky Rabbit and Captain Hook.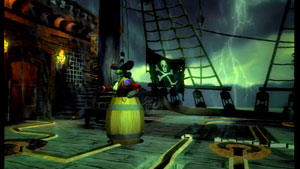 The gameplay combines typical run-and-jump platforming with an interesting new weapon – a paintbrush that can shoot either paint or thinner. Paint can fill in gaps in the animated adventure world, while thinner can remove objects. In a typical puzzle, there's a huge boulder blocking your way. You have to remove the path under the boulder by spraying it with thinner, then repair the path with paint to move ahead. You also use the paintbrush to fight enemies, defeating them with thinner or turning them friendly with paint – your choice of kind-and-gentle or destroyer-of-foes approach here affects the way the plot develops.
In my first few hours of gameplay I find myself with mixed feelings about Epic Mickey. Exploring new areas, meeting new characters and experiencing a developing story with some emotional heft drives me to continue. However, a camera that far too often refuses to show me the view I want to see and controls that feel sloppy and imprecise build the frustration factor till some very un-Disneyesque language accompanies the jaunty soundtrack.
I'm also a bit concerned that some of the evil characters may be a bit too intense for little ones, particularly the monstrous Phantom Blot that threatens to devour Mickey. I tend to be a bit conservative on that score, though. And there's no doubt that Epic Mickey is family-friendly in several important ways. Both adults and kids will quickly master the controls, and find the required skill level challenging but approachable. And it's a good game to play together, with your couch-mates suggesting strategies and areas to explore, and a thoroughly entertaining presentation that makes the game almost as much fun to watch as it is to play.
Discussion