We may earn commissions when you buy from links on our site. Why you can trust us.

Logitech Squeezebox Radio: Easy, Affordable, Delivers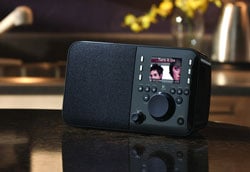 If you love the idea of bringing the world's music and radio stations into your home, Logitech has several Internet radio solutions for you. Our current entry-level favorite is the Logitech Squeezebox Radio for $199.
The Squeezebox Radio has an elegant high-quality look, almost classic sexy with big tuning dial and glossy black or red finish. Solidly built with simple buttons, it features a vibrant color display that shows album art, clear menus, and other information. Its single speaker delivers better sound that might be expected from such a small unit. Once it is set up, you will thrilled by the sound and your access to radio content from around the globe.
An intro to Internet radio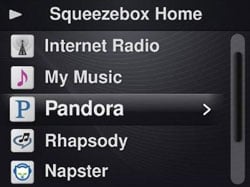 Internet radio, for those who haven't experienced it, represents all the various solutions and services for streaming music, talk shows, and radio programs over the Internet. The first time you use it, you may find yourself falling in love, and justifiably so! You get free access to an almost infinite variety of music from around the world. These can be accessed a variety of ways – from actual radio stations who stream their content over the Web, through free or subscription services that create their own "channels" of music genres, and through services that play your own music that you purchase or select. For example, choose BBC for morning wake-up, Ambient during the day, Acoustic Indie Rock for dinner, and Nature Sounds for bedtime.
With free services like Pandora, you can even create your own customized channel that plays the whole range of music that you like – free, if you don't mind hearing a few ads. Many people have experienced this kind of service through a PC; now these appliances let us enjoy it anywhere with wireless (or wired) Internet.
Setting up the Squeezebox Radio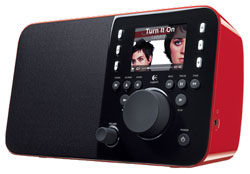 Logitech's Squeezebox Radio is easy to set up. Plug it in, and a harmonic piano phrase lets you know the device is awake and that the audio sounds rich. The menu on the display begins to walk you through set-up, which includes connecting to the Internet, downloading the latest software upgrade, and setting up your music preferences. Set up took me 15 minutes, including reading the instructions and hunting around for my network password.
Here's a tip: you don't need to install anysoftware on your PC, unless you want to stream your own digital music collection from your PC to the Squeezebox. With access to a whole world of music, there's no need to replay the same old tired songs on your hard drive. Better to just set up an account at a site like www.pandora.com, tell it your favorite songs and artists, and let Squeezebox Radio play your customized channel. You'll get more variety and less repetition. By skipping the PC-install and only connecting to the Internet, you also eliminate a step and some possible confusion as to where your music is coming from. It can be a little tricky remembering Logitech's nomenclature for the various music sources, whether streaming from your PC (SqueezeCenter) or the Internet (MySqueezebox).
If this is your first time with Internet radio, expect to do some fiddling to figure out your choices of services and channels. That part can easily take five minutes or all day, depending on whether you know just what you like, or want to sample a bit of everything out there.
In addition to all the expected features, you can link to your Facebook account to receive updates onscreen (handy for FB addicts), bookmark favorite songs as they are playing, and jump to Amazon to add albums to your cart.
It should be noted that while the majority of buyers love Squeezebox Radio, about 20% of Amazon buyers reported buggy performance. That was my own experience – the Internet-streamed music cut out periodically and I'd have to manually restart the system, and my presets would mysteriously disappear. My other Logitech Squeezebox model worked fine (a different model), so it wasn't a problem with the Internet. Just as mysteriously, when I loaned the Radio to friends to test in their places, they had no problems with streaming music and it worked perfectly. Thus, the buggy issue seems to be hit or miss, depending on your particular setup. Buy from a reputable seller that allows returns, and if you encounter problems, swap for another model such as the Logitech SqueezeBox Boom.
Bottom line
The Squeezebox Radio is a gorgeous device and excellent way to get into Internet radio.
Logitech Squeezebox Radio pros:
• Luscious all-in-one design with black finish, fabric-covered speaker, attractive dials and buttons, color LCD display. Solid, won't slide across the table when you press buttons on the face.
• Very good sound
• Nearly all the expected alarm, radio, and Internet features are there.
• (Normally) easy to set up and use.
• Can stream music from the Internet or your PC; can play from an external music source via the audio input jack (similar to a headphone jack) and included iPod wire.
• Interesting extras like Facebook integration and on-board nature sounds.
Cons:
• Practically useless without Internet connectivity, like most Internet radios. No AM/FM reception.
• No way to connect additional speakers.
• Radio alarm depends on uninterrupted Internet connectivity.
• Firewalls and such may complicate set-up.
• Possible buggy operation with some setups.
• Until the battery pack and remote control ship in spring 2010 ($49), must be tethered to a power outlet.

---
Discussion