Motorola Defy Review (T-Mobile)
Techlicious editors independently review products. To help support our mission, we may earn affiliate commissions from links contained on this page.
To say I was surprised by the Motorola Defy is an understatement. Here is a phone that advertises itself as water-resistant, dust-resistant and ready for those little bumps that life throws at you. So, naturally, I was expecting a bulky, heavy phone with all the styling charm of a Humvee. Instead, what I found was an exceptionally light, compact device that I would be happy to carry even without its rugged underpinnings.
While not the most advanced phone on the market spec-wise, and behind the ball in the OS department (it still runs Android 2.1), the Defy makes up for these drawbacks with some of the longest battery life I've seen in an Android smartphone.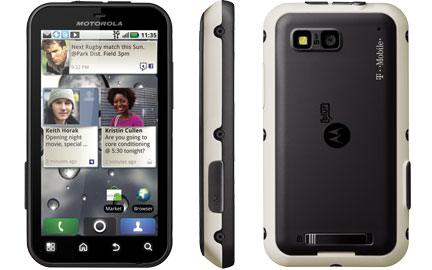 How it feels in the hand
The first thing you notice about the Motorola Defy is how light it is. At just under 4.2 ounces, it's as light as the Samsung Vibrant (the Defy is listed on the T-Mobile site as 4.6 ounces, which is incorrect). And, the Defy measures a mere 2.3" x 4.2" x .53", making it easy to slip into a front pocket or small purse.
The Defy's textured, rubberized back and sides feel comfortable and secure in your hand. Though the exposed screws around the edge take a little getting used to (whether they're there to make the phone more rugged or just to look more rugged I'm not sure).
Display and sound
The display on the Motorola Defy is a slightly small (compared to other Android phones) 3.7-inch 854x480 LCD touchscreen. Display quality was crisp and clear when viewed head-on, but even slight off-axis viewing caused colors to shift and made the display difficult to read.
As befits the Defy's rugged nature, the display is covered with Corning's super-tough Gorilla Glass, greatly reducing the chance of scratches or breakage.
Sound from the built-in speaker was fine and music through the headphone jack was perfectly acceptable as well.
Durability
I don't usually test durability when I review phones (it's usually safe to assume they're not very durable and leave it at that), but I had to make an exception for the Defy.
The Gorilla Glass display was, as expected, unscratchable. And a few drop tests didn't do any damage. I didn't go overboard because even if the Gorilla Glass holds up there are other components in the phone that can break. But let's just say that I wouldn't try the same experiments with an iPhone 4.
Motorola says the Defy is water-resistant to a depth of four feet—enough to protect it from an accidental drop into a sink or toilet. For obvious reasons, I opted to test the claim out in a sink.
As you can see from the video, the Defy came through the water-resistance test with flying colors. When I opened up the case afterward, no water had gotten past the protective rubber gasket.
Making calls
Call quality on the Motorola Defy was very good, with no sound quality issues on either end during calls in New York City. Unfortunately, the Motoblur interface does not let you look up contacts using the dialer keypad. You'll need to go into your contact list, instead, and scroll to find the person you want to call.
Web browsing & mobile hotspot
The Motorola Defy is still running the outdated Android 2.1, so has limited Flash capabilities and no mobile hotspot. Motorola has announced that they will be rolling out Android 2.2 shortly, and there are scattered reports of owners receiving over-the-air updates or purchasing the Defy with Android 2.2 installed. But unfortunately, that was not the case for me.
Speed for the Defy was typical of other T-Mobile 3G phones we've used, generally running download speeds of around 2Mbps, peaking as high as 3.4Mbps. Those results actually compare favorably with many of the "4G" phones we've tested, such as the MyTouch 4G and Samsung's newest Galaxy S 4G. Though I expect the speed gap will widen as T-Mobile continues to upgrade its "4G" network.
Camera and video recording
The Motorola Defy has a 5MP camera with an LED flash and can shoot 480p video. Camera quality was pretty good, though somewhat washed-out and noisy in low-light conditions. Video quality was only fair. Controls are basic, but easy to use. There is no front-facing camera for video chat.
Keyboard and navigation
The Motorola Defy uses Motorola's Motoblur overlay on Android, which provides various social networking widgets on your homescreen that I find more annoying than helpful. Thankfully, they can easily be removed. What can't be avoided is the requirement to create a separate Motoblur account when setting up your phone, which becomes just one more id and password to remember.
Motorola includes Swype on the Defy for super-fast on-screen typing.
The Defy's 800MHz processor is certainly not cutting-edge, but it gets the job done, with no noticeable lags during navigation or running apps.
Storage
The Defy comes with 2GB of internal memory and a 2GB microSD card, expandable up to 32GB.
Battery life
The Motorola Defy was among the top for battery life of smartphones we've tested. It easily lasted well over 24 hours under normal usage. Official talk time is 6.8 hours, with standby time of 9.9 days.
Pricing and availability
The Motorola Defy is available through T-Mobile for $99.99 with a new, two-year customer agreement. You can also pick it up for $29 on Wirefly.com or AmazonWireless— that's a pretty good price.
Should you buy it?
The Motorola Defy is a very good phone. I loved its light weight, small size and long battery life (at least by smartphone standards). And, as a mother of three kids who love to play with my phone, I especially appreciated its durability and water-resistance.
On the downside, the display is average, I'm not a big fan of Motoblur and it's still running Android 2.1. But with the rollout to Android 2.2 happening soon, I am comfortable giving the Defy a Highly Recommended rating.
Rating: Highly Recommended
Detailed Specs
Talk and Standby Time: Up to 6.8 hours talk time.
OS: Android 2.1 (Eclair) with Motoblur
Network: WCDMA 900/1200, GSM 850/900/1800/1900, HSDPA (Category 7/8)
Weight: 4.2 ounces
Dimensions: 4.2" x 2.3" x 0.53"
Battery: 1540 mAh
Display: 3.7" WVGA LCD (480 x 854)
Video: 480p video recording
Camera: 5.0 megapixel, Auto Focus, flash, digital zoom
Front-facing camera: No
Processor: 800MHz
Memory: 512MB RAM, 2GB on-board, 2GB microSD card included (expandable to 32 GB)
Wi-FI: 802.11 b/g/n
Wi-Fi Hotspot: No (probably when the Android 2.2 update is released)
Colors: Black/Linen
Discussion
New Articles on Techlicious