Review of the Motorola DROID X on Verizon
Techlicious editors independently review products. To help support our mission, we may earn affiliate commissions from links contained on this page.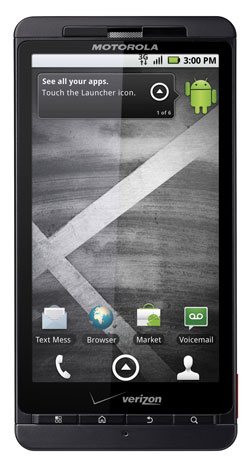 The Motorola DROID X, which launches today on Verizon and runs on Android 2.1, is the latest hot phone to hit the market this summer. Following closely on the heels of the MyTouch 3G Slide (T-Mobile), HTC EVO (Sprint), Apple iPhone (AT&T) and the Samsung Vibrant (also launching today on T-Mobile), the DROID X is looking to find its place in the sun.
How it feels in the hand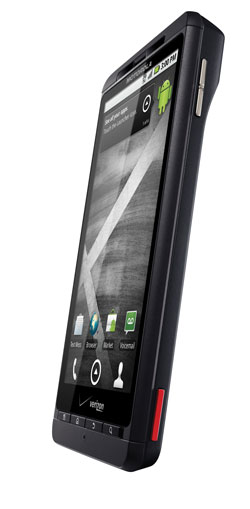 There is no getting around the fact that the DROID X at 5" high, 2.6" wide and 0.4" thick is a big phone. But it is well balanced and feels solid in the hand. If you have small hands or are looking to slide your phone into a pair of skinny jeans, you'll probably want to look elsewhere.
Display and video content
Similar to the EVO, the DROID X will appeal to people who want their cell phone to double as a video player. The DROID X brings to the table a high-resolution 854 x 480 4.3" display (same size as the EVO), a Blockbuster app that lets you download your favorite films and an NFL app that provides live streaming of games. Though currently, the selection in the Blockbuster app is a tiny fraction of what is available online or via DVD/Blu-ray.
While technically, the DROID X has a much lower-resolution screen than the iPhone 4 (960 x 640), I can't imagine most people wouldn't be happy with the DROID X. The screen is big, bright and plenty sharp, whether you're watching videos or reading email.
Web browsing
That large screen is a boon to web browsing, which I found to be quite fast and responsive on the DROID X. And, later this summer, the DROID X will be updated over-the-air to Android 2.2 and Adobe Flash Player 10,1, which will allow full Flash support in the browser. Take that, Apple!
Camera and video recording
Rounding out the DROID X's video capabilities is an 8MP camera with dual flash, 720p video recording and DLNA and HDMI output capabilities.
The camera, unfortunately, is yet another example of why megapixels are not the best way to measure performance. Colors on the DROID X were washed out, there was considerable picture noise and shutter response time was quite slow, especially in low light. In other words, while the photos were slightly better than most cell phones, it's nowhere close to replacing your digital camera. And it is already a step behind the Apple iPhone 4 in quality, which just launched with a 5MP camera, albeit one with a much better internal sensor. I did like the conveniently placed red shutter button on the DROID X, though.
Video recording is the same story—this is not the camcorder you want to shoot your wedding video. But as is often the case with video cameras, the best one to have is the one you have with you. So having the 720p recording capability is welcome.
The DLNA and HDMI-out are of limited use—they will allow you to stream your personal photos and videos to a TV, but not YouTube or Blockbuster videos.
Unlike the iPhone 4 and EVO, there is no front-facing camera, so video chat is not in the DROID X's future. Given the limitations of video chat over 3G networks, mobile video chat may over 3G may not be in the iPhone 4's future either, so the 4G-capable EVO is the current winner in this game.
Keyboard and Navigation
The large display of the DROID X allows for a nice, big virtual keyboard. I found the keyboard very easy to use, with fewer missed keystrokes than on smaller-display phones, such as the MyTouch 3G Slide. Since the DROID X also has built-in Swype, virtual typing was a breeze. With Swype you don't type each letter individually. Instead, you just swipe your finger across the letters to spell out each word. It's dead-simple to learn and, for me, was is much faster and more accurate than hunt-and-peck typing.
Navigation was very similar to other Android phones, with seven panels, each customizable with various widgets and apps. It's an intuitive system and, while it still doesn't quite have the smoothness of the iPhone, was quite responsive to my finger movements.
Mobile hotspot capability
One great feature of the DROID X is its mobile hotspot capability. For an extra $20 per month, you can use the DROID X to connect up to five other Wi-Fi devices—perfect for connecting a laptop, iPad or gaming device while on the road. The drawback is that, while in hotspot mode, you will drain the battery on your DROID X very quickly, so make sure you have a plug nearby.
Storage
The DROID X comes with 8 GB of onboard memory and a 16 GB microSD card pre-installed, and will support up to a 32 GB microSD card. Plenty of room to store your library of songs and whatever other doo-dads you want to load in.
Battery life
I didn't do extensive battery testing on the DROID X, but my limited experience with it indicates that Verizon's stated standby time of "up to 220 hours" has little reflection on real life situations. You should probably expect the battery to last about 24-48 hours under normal usage, which is pretty typical of the modern wave of smartphones, with power-hungry processors and large, bright screens.
Pricing and availability
The DROID X is available at www.verizonwireless.com and in Verizon and Best Buy stores beginning July 15 for $199.99 after a $100 mail-in rebate and with a new, two-year customer agreement. Current Verizon Wireless customers who have contracts ending by December 31, 2010, can upgrade to the DROID X at the $199 price, without penalty.
Should you buy it?
The DROID X is the best thing going on Verizon right now, especially with the Droid Incredible on backorder and rumors of it being phased out altogether. If you're looking for a phone that maximizes your video watching and browsing experience and want to stay with Verizon, the DROID X would be a great choice.
But the competition from other carriers is fierce, and no one phone is the run-away leader. So, if you're comparing the DROID X to the other phones at the top of this article, there is no "wrong" choice; what will work best for you depends on how much importance you place on factors such as size, camera quality, 4G speeds, hotspot capabilities and operating system (Android vs iOS).
Detailed Specs
Talk and Standby Time Talk time: Up to 480 minutes Standby time: Up to 220 hours
Band/Modes: CDMA 800/1900, EV-DO Rev. A
OS: Android 2.1, update to Android 2.2 late summer
Weight: 155 g / 5.47 oz
Dimensions: 2.6 (x) x 5.0 (y) x 0.4 (z) inches
Browser: Webkit HTML5 based browser; Adobe Flash 10.1 after update, pinch-to-zoom
Battery: 1540 mAh
Connectivity: Stereo Bluetooth2 Class 1.5, Version 2.1+EDR, 3.5mm, USB 2.0 HS, OTA, HDMI, Over the Air Sync, PC Sync, DLNA
Display: 4.3" WVGA (854 x 480)
Audio: MIDI, MP3, WAV, AAC, AAC+, eAAC+,
Video: 720p HD Capture, HD Playback via HDMI or DLNA, H.263, H.264, MPEG4, WMA v10
Camera: 8.0 megapixel, Digital Zoom, Auto Focus, Dual LED Flash and image editing tools
Memory: 8 GB onboard, 16 GB microSD pre-installed, supports up to 32 GB micro SD – total memory expandable up to 40 GB
Location Services: aGPS (assisted), sGPS (stand alone), Google Maps™, Google Maps™ Navigation, Google Maps™ with Google Latitude, Street View, and eCompass
Discussion