Review of the Motorola Photon 4G (Sprint)
Techlicious editors independently review products. To help support our mission, we may earn affiliate commissions from links contained on this page.
The Motorola Photon 4G is by far the best Android phone on Sprint. One could argue that's an easy statement to make, since Sprint's Android lineup has been largely uninspiring since they launched the HTC EVO 4G last summer. But the Photon truly is a great phone, marred only by spotty, and battery sucking, 4G coverage.
Similar to the Motorola Atrix on AT&T, the Photon also has the ability to double as a pseudo-computer, using an optional dock, keyboard and external monitor. Unfortunately, the Photon doesn't have the full laptop dock option of the Atrix, limiting this feature's appeal. And for those looking to travel overseas, the Photon has the added benefit of being a worldphone, with a sim card to operate on international GSM networks.
Any Sprint customer looking for a top-of-the-line smartphone should look no further than the Motorola Photon 4G.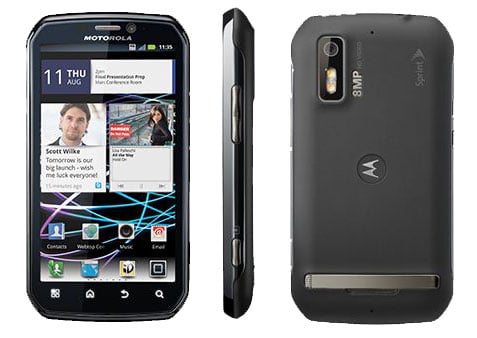 How it feels in the hand
The Motorola Photon 4G continues the trend of 4.3" display smartphones that actually feel very comfortable in your hand. While some may find it a little large at 5.00" x 2.63" x 0.48", the rounded corners and textured back make it easy to hold. It's also not the lightest phone at 5.67 ounces, but the weight is well balanced.
Also notable on the Photon are the large textured buttons on the side volume control and the camera shutter — a welcome improvement over the tiny buttons on Motorola's Droid X2, which almost taunt you with their inaccessibility. It would have been nice if Motorola had continued the textured effect with the top power button, as well.
Display & Sound
The Motorola Photon 4G has a high-resolution 4.3" "qHD" (960 x 540) display covered with nearly-unbreakable Gorilla Glass. The display was clear and bright, with great resolution. Colors were bright and accurate, and off-axis viewing was also very good, though the display gets washed-out in direct sunlight.
The built-in speaker was very good, but people on the other end said they had trouble understanding me with the built-in mic during speakerphone mode. Call quality was otherwise very good.
The Photon has a mini-HDMI out on the side so you can watch your content on your big screen, or you can purchase the optional HD Station ($99) that lets you connect up to three USB peripherals (more on that below). There's also a kickstand on the back of the Photon, so you can prop it up while watching.
Web browsing & mobile hotspot
The big letdown for the Motorola Photon 4G is the mediocrity of Sprint's 4G network, at least in my New York City testing. On those occasions when I was able to connect to 4G, download speeds averaged around 3Mbps, with a peak at 6.5Mbps. That's slightly faster than what I get on T-Mobile and AT&T's 4G network, but far below Verizon's 4G LTE.
The more frustrating issue was that I frequently lost my 4G connection, even in Manhattan, and Sprint's 3G network is far slower than T-Mobile or AT&T. The Photon also drains the battery extremely quickly while on 4G, meaning most users will want to keep 4G off until you really need it.
The Photon 4G can act as a mobile hotspot for up to eight devices. Using the hotspot requires an additional $30 per month fee from Sprint.
Camera & video recording
The Motorola Photon 4G has an 8MP rear-facing camera that takes average pictures for a high-end smartphone. Colors were accurate (if a little muted) and photos were detailed, but there was quite a bit of noise, even in good lighting conditions. As on the Atrix, controls are very basic, with just a handful of scene modes and not much else. There is also a dual LED flash.
On the front there is an .3MP VGA camera, which is unimpressive spec-wise, but actually took decent shots..
The 720p video recording from the Photon was pretty good for a smartphone. Video was smooth with none of the jiggliness or stutters common in other phones.
Keyboard & Navigation
The Motorola Photon 4G runs Android 2.3 Gingerbread, with several social media add-ins and other tweaks from Motorola. The good news is that none are obtrusive.
The 4.3" display offers a well spaced keyboard, with both Swype and a multitouch keyboard built-in.
The Motorola Photon 4G has a powerful dual-core processor that provided snappy performance in menus and programs.
Storage
The Motorola Photon Atrix 4G comes with 16GB of onboard storage and a slot for up to a 32 GB microSD card.
Battery life
The Motorola Photon's battery life was poor in 4G mode. The battery barely lasted into the evening with normal usage and took a long time to charge back to full power. Turning off 4G helped considerably, but turning 4G on and off for when you need it is a pain. Perhaps Sprint should consider an external toggle button on their 4G phones given that this has been a general issue with Sprint 4G devices.
Photon HD Station
Like the Atrix., the Motorola Photon 4G can double as a computer with its optional HD Station ($99). The HD Station has three USB ports to plug in a keyboard, mouse or other peripheral, and and HDMI-out for your monitor. Simply pop the Photon into the dock and the Photon will launch its webtop application. The webtop provides a windowed workspace to run all of your phone and Android apps, as well as a full Firefox 4.0 browser.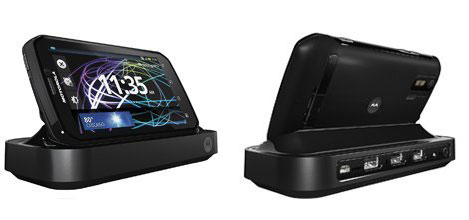 The HD Station dock and webtop software worked very well. But since you need the dock, monitor and peripherals to make it all happen, it's not a practical travel solution. There's also the limitation that there is no way to emulate multitouch gestures in Android apps, so playing Angry Birds becomes tricky when you can't shrink the screen to get the slingshot and target in the same view.
Pricing and availability
The Motorola Photon 4G is available for $199.99 from Sprint with a new, two-year customer agreement. Or you can pick it up from Amazon
for $179.99.
Should you buy it?
The Motorola Photon 4G is the best smartphone on Sprint, and offers the added flexibility of worldphone capabilities. From the way it fits in your hand, to its smooth operation, to the lovely 4.3" display, there's a lot to like.
Depending where you live, its 4G capabilities will either be one of the biggest benefits or biggest drawbacks. You'll pay an extra $10 a month, regardless of whether 4G is available in your areas, and taking advantage of the 4G speeds will put a significant drain on your battery.
I have a hard time figuring out the use case for the HD Station — it doesn't work well for travel and it's not going to replace a real laptop. But if you see the need, it's there for you.
Overall, I highly recommend the Photon 4G to Sprint customers.
Rating: Highly Recommended
Detailed Specs
Talk and Standby Time: Up to 9 hours talk time, up to 13.1 days standby
Band/Modes: WiMAX 2.5, WCDMA 850/1900/2100, CDMA 800/1900, GSM 850/900/1900, CDMA EV-DO
OS: Android 2.3
Weight: 5.67 oz
Dimensions: 5.00 x 2.63 x 0.48 inches
Battery: 1700 mAh
Display: 4.3" qHD LCD (960 x 540)
Video: 720p
Camera: Rear-facing 8.0 megapixel, Digital Zoom, Auto Focus, Dual LED flash
Front-facing Camera: .3 megapixel
Mobile hotspot: Up to 8 devices
Processor: 1GHz Dual Core
Memory: 1GB RAM, 16GB onboard storage and microSD slot up to 32GB
Discussion