The Best Android Phone - Summer 2014
Techlicious editors independently review products. To help support our mission, we may earn affiliate commissions from links contained on this page.
The beautiful HTC One M8 is comfortable to hold and has an intuitive interface, blazing fast performance and the best audio quality, making it the best smartphone.
HTC One M8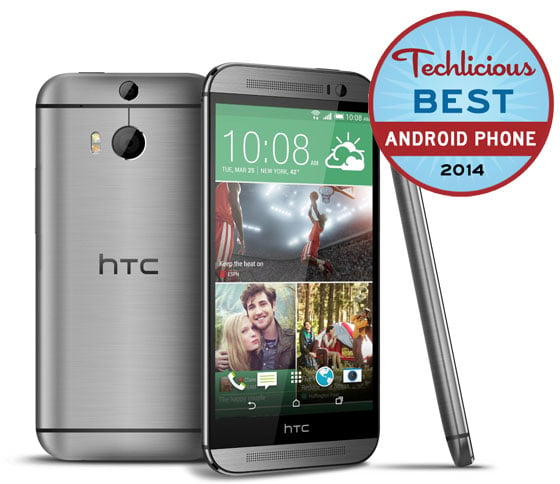 This year, a number of excellent new Android phones hit the market: the Samsung Galaxy S5, HTC One M8, Sony Xperia Z2 and LG G3. All of them have the ingredients of a great phone — big, beautiful displays, speedy performance, good cameras and long battery life — with only a few drawbacks between them.
I tested each of the new models and determined that the HTC One M8 is the most impressive of the bunch. It has the whole package down pat, including a gorgeous design, which makes it my pick for the best Android smartphone. Here's why.
Beautiful design
The HTC One M8 is the most beautiful Android smartphone out right now, hands down. It has one-piece aluminum case with sculpted edges that just oozes quality (unlike the plastic cases of its competitors). The aluminum unibody construction means the One M8 will likely make it more durable in case of an accidental drop.
The only other handset that rivals the One for beauty and premium feel is the Sony Xperia Z2 with it's glass back, aluminum accents, and waterproof design. While attractive, that glass back is far more prone to scratches than the One's metal. And the Z2's rectangular design offers none of the One's ergonomic comfort.
The phone's curved back of the fits naturally in the cradle of the palm, and rounded edges make for a comfortable grip. It feels better in the hand than the, Z2, Galaxy S5, or the massive LG G3.
However, the One's 5-inch display and the speakers that flank it mean that this is undoubtedly a big phone, so one-handed use could be easier, but it's not impossible. Compare this with the boxy Xperia Z2 or the 5.5-inch LG G3, both just a few millimeters too big for people who can't always use both hands.
Beautiful display
The One M8's 5-inch, full HD resolution display boasts rich colors and brightness that keeps the screen visible (and beautiful) out in the sun. It's on a par with both the Galaxy S5 and the Xperia Z2, though I prefer the One's vivid palette to that of either of those handsets.
Like the S5 and Z2 the One M8 has wide viewing angles, which can't be said for the G3. Even though LG packed a quad HD resolution (2560 x 1440) into that display, the difference between it and the One's 1080p resolution is only noticeable when the phones are side by side and you're looking really hard. Otherwise, the visual experience is much the same.
Commitment to audio quality
The HTC One M8 has a distinct advantage here thanks to BoomSound stereo speakers that flank the display. They have well-rounded sound for their size that's as good for music and video as for speakerphone calls and video conferences. The Galaxy S5 and the G3's tiny speakers on the back can't match the volume or come near the sound quality.
Sony comes close with two front speakers that direct sound forward instead of away from you and offer above average sound quality. It's just not as good or impressive as the One M8.
It's no exaggeration to say that these are "the best sounding smartphone speakers in the world," as Laptop Magazine does. The sound is loud and crisp with discernible depth. The speakers can't compete with any decent external speaker, but you won't need to use one every time you watch a YouTube video, share a song with friends or take a hands-free call.
Internal speakers aren't the only measure of audio quality in a phone. Most of the time, people listen to music through headphones. Here again, HTC is ahead of the competition. The BoomSound audio enhancements baked into the One M8 activate whenever you play music or video via any app, and the soundscape in all those situations is more impressive than every other phone I've tested. All the music I listened to sounded layered and well rounded, and the audio on games really popped.
Comparatively, the Xperia Z2 and LG G3 don't sound quite as great but does feature above-average audio quality. Again, music sounded well-rounded enough that I didn't have to go looking for an equalizer. I did have to turn the volume up past 70 percent to get the full effect and block out New York City street and mass transit noise; with the One M8, I didn't need to go much past 50 percent.
Surprisingly, the Galaxy S5 comes in a distant third in this area. Samsung used to make some of the best sounding MP3 players around, and previous Galaxy phones have featured excellent audio. The S5 doesn't sound bad; it's just clearly not as good as the other two phones. The audio here is pretty flat before you touch the equalizer settings; when I did, it didn't improve things much.
Another often overlooked aspect of phone audio is how well it sounds coming out of external speakers. Smartphones have the potential to be great media hubs as long as they can easily connect with other devices — "easy" being the key word. HTC created a media protocol for the One M8 called HTC Connect that works with a wide variety of speakers, media centers and HDTVs. All you have to do to send audio or video to HTC Connect device is swipe; no need to worry about pairing.
Smooth operation with Sense 6
Good smartphone design is as much about what happens on the screen as the physical case around the phone. HTC has done well in this area in the past, with a few stumbles along the way. The company's Sense 6 skin over Android 4.4 KitKat represents some of its best work.
Both Samsung, Sony and LG have been guilty in the past of making their skins too complex, too crammed with features and too aggressive in overtaking Android's own functionality. Realizing this, the companies are now going for simplicity — flat aesthetics, consolidated apps and fewer features people don't need. The skins still add useful functionality but with far less clutter.
All of the top phones are much better for these improvements, but HTC still scores highest. The One M8's Sense 6 is elegantly designed, easy to use and understand and blends much better with the base Android OS underneath.
As CNET puts it, the "elegant and intuitive" HTC Sense "runs rings around" the Galaxy S5's TouchWiz. Sense is pleasing to look at and enhances Android just enough to make it easy to use without overwhelming you with features and distractions.
In another nod toward ease of use, most of HTC's proprietary apps are available as downloads from Google Play, rather than being baked into the operating system. So updates to apps can come sooner, without waiting for the carriers to roll out their updates (which, too often in our experience, never arrive).
Solid performance and battery power
The One M8 isn't so different from other flagship phones on the inside, but it's still worth saying that the overall performance is more than satisfactory. Laptop Magazine noted in their testing "apps opened and closed in the blink of an eye," and "resource-intensive games such as N.O.V.A. 3 were buttery smooth and looked better than we've seen on most other smartphones."
Thankfully, this kind of performance doesn't have a huge impact on battery life. The HTC One can last around 16 hours or more and has two levels of power management that will keep the phone usable for hours even when it's down to the last 5 to 15 percent. It's got a bit more longevity than the Galaxy S5 and can match the Xperia Z2 with conservative use. The G3 isn't even in the same league as it can barely make it through a day. That should improve to be competitive with the Galaxy S5 and HTC One when we get a chance to test a unit designed to work specifically with an American carrier, but it won't improve to a point where it will be a standout feature.
Both the Galaxy S5 and the LG G3 have removable backs (not so for the HTC M8 or Xperia Z2), so once they start to lose their charge you can replace just the battery and not the whole phone. If you're not the type to upgrade your phone the second you're eligible for a discount, you don't want to be stuck with one that will only last half a day. Those of you who upgrade faster might not encounter this issue
Relatively weak camera
The One's camera is a big improvement over last year's model, due to the dual camera setup. The second camera captures depth information, resulting in sharper pictures and the ability to add interesting aftereffects, such as the ability to refocus your picture after you take it or add depth to images for a cool 3D effect.
Sadly, that second camera doesn't mean a bump in megapixels; there are still only 4. HTC calls them "ultrapixels" because they are larger than the pixels on other smartphones. These larger pixels let in more light and detail, but this improvement doesn't offset the fact that there fewer of them due to sensor size constraints. And that, above all, holds the camera back. There simply is less resolution to work with, which definitely shows when you crop or enlarge photos.
The HTC One M8 takes better pictures than a 4MP camera ought to and does well in low light, yet overall it lags behind the competition.
The One's pictures also have a cool blue cast to them, whether taken indoors or out. It's not as noticeable in low-light shots but results in unrealistic colors in pictures taken on sunny days. Low-light images often look washed-out or lack color depth, even though the Ultrapixels take in so much more light—the camera software just doesn't balance the exposure well. But when it comes to capturing details in mixed or low light, the Ultrapixels do well.
Both indoors and out, the LG G3 proved to be the most versatile on automatic, pulling in plenty of light without losing balance, rendering details without getting too noisy or grainy, and focusing quickly. The Galaxy S5 and Xperia Z2 tie for second place, and in bright light they are able to take pictures that are crisp enough to be printed.
Lack of good image stabilization on the One M8 means that videos come out shakier than I'd like. One bright spot is that the microphones are excellent, so audio is well balanced even when recording in loud situations.
Should the One's camera limitations be a deal breaker? That depends on how you use the pictures you take with your phone. If they're primarily shots of off-the-cuff moments for sharing on social media, the images the One M8 captures are good enough. If you intend to add filters to the pictures, you don't need the crispest, most detailed shots.
The camera app itself has several special features and options that can improve the quality in specific situations. I'm pretty impressed with the versatility of the Zoe camera feature that allows you to capture one shot, a group of shots or a video without having to switch modes. And HTC's Gallery app is one of the most impressive of any Android phone we've used. It organizes images in a way that makes sense and auto-generates movies using your pictures and videos that are easy to view, edit and share.
The HTC One M8: Our pick for the best Android smartphone
Declaring a winner for the best Android smartphone was not easy. All four of these have qualities that put them above and beyond the vast sea of Android phones on the market. The Galaxy S5 and Xperia Z2 are water-resistant, thus eliminating the fear of dropping them into water or even getting caught in the rain. The Xperia Z2 and the LG G3 are both beautifully designed and manage to fit big screens into not-so-big bodies. All three have great cameras, perform well, and come with a large featureset.
However, in almost every category, the HTC One M8 is just that much better. Both good-looking and comfortable to hold; easy to use; superior audio quality on every level; long-lasting battery. The camera isn't the greatest, but you'll still be able to have fun taking pictures. This is a phone that appeals to both the heart with its design and the head with its features, making it my pick for the best Android smartphone.
Price and availability
The HTC One M8 is available on all four major US carriers. AT&T, Sprint and Verizon Wireless have it for $199, and T-Mobile offers it for $0 up front with two-year agreement. It's also available unlocked and as a Google Play Edition (no HTC Sense 6) for $699.
In addition to the regular warranty and any warranty you might buy from the carrier, all One M8s are also covered under HTC Advantage, a program that includes customer service via phone, chat or email, free cracked screen replacement during the first six months of ownership and the promise of timely software updates for the first two years.
Runner up: Samsung Galaxy S5
Samsung Galaxy S5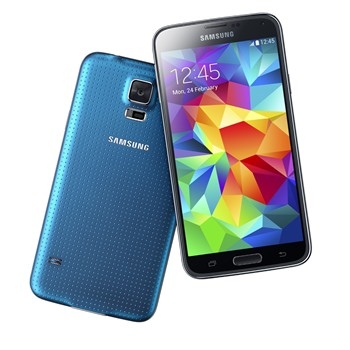 Samsung's Galaxy S5 comes in a close second in this competition. It's an excellent choice if camera quality or being able to replace the battery is important to you.
The S5 is made from polycarbonate plastic that doesn't feel cheap, but it doesn't feel premium either. The plastic construction does allow for a removable back (and allows you to use cases that replace the back while maintaining the phone's slimness), with a surface that's not as slick and smooth at the One's. It's also submersible, capable of coming away from a drop in a shallow bowl of water better than most phones.
The S5's 5.1-inch full HD display is beautiful and vibrant, the perfect canvas for Samsung's updated TouchWiz interface. TouchWiz is simpler, more streamlined and less cartoony than previous skin versions, but it still doesn't match HTC's Sense 6 for elegance and usability.
With a 16MP camera on the back, the Galaxy S5 can't help but take crisper pictures than the One, and the S5's indoor shots balance light and dark better. If you use your phone as an impromptu camera, the S5 captures detail extremely well.
At the outset, the S5's battery life is about the same as the One M8's. Once it starts to decline, you can simply replace the battery, increasing the overall longevity of the phone.
Like the One M8, the Galaxy S5 is available on all major carriers: $199 at AT&T and Verizon Wireless, $99 at Sprint and $0 down at T-Mobile.
Discussion