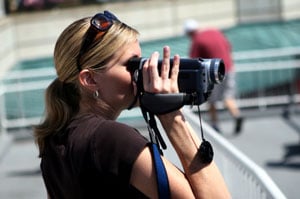 How do you capture those unforgettable moments in life that you want to share minutes, months, or even years from now? Using a digital camera's movie mode or a basic pocket-size camcorder is fine for everyday events, but for priceless moments like weddings, birthday parties and a child's first steps, you'll want to save those in higher quality.
You can find High Definiton video touted on digital cameras and basic pocket-sized camcorders, but often these models highly compress the video. And as the video becomes more compressed, you lose more detail, which can make shooting in HD almost irrelevant.
Compression determines the amount of data that is used to describe each frame. A good indicator of a camcorder's compression is the data rate. Pocketcams can use half to one third the amount of data that full-featured HD camcorders do (around 6 megabits per second vs 12 megabits).
In addition to having the best video quality, full-featured HD camcorders also offer some practical features you won't find on scaled-down models. Most have high-power optical zooms for extreme close-ups. Most pocketcams and cameras have low-power zooms, if they have any at all. Many full-featured camcorders also take excellent digital stills, up to 10 megapixels, so you only need to carry one camera. And many full-featured camcorders offer auto-focus tracking to keep your subject in focus and face detection technology, which automatically recognizes faces and then controls focus, color and exposure to make people look their best.
So while you can record video with a variety of devices, for those moments you want to relive over and over, go with a full-featured HD camcorder.