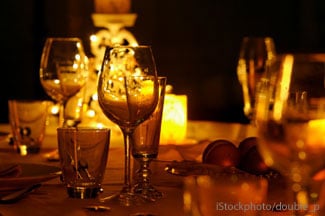 There are few times of year better for taking photos than the holiday season, with the whole family gathered together and your house decorated in the holiday spirit. However, holiday lighting can also make photo-taking a challenge—a beautifully lit tree throws causes the people around it to be underexposed, your roaring fire throws off the camera's white balance and low light makes a blur out of your intended subjects.
Avoiding movement blur and getting the right exposure can be tricky if you just keep your camera in Auto mode. But with a few simple tips (and a few slightly advanced ones), you'll be getting your own amazing shots this holiday season, even in the most challenging light.
1. Crank up the ISO
Nearly all digital cameras let you adjust the ISO setting, which controls the camera's sensitivity to light. The higher the ISO, the higher the sensitivity, which means you can shoot in darker places or take photos faster, which reduces the blur caused by camera shake. As with most camera settings, though, there's a trade-off—as ISO levels increase, you'll start to see more noise in your photos. This is an area where a more expensive camera usually does a noticeably better job, with interchangeable-lens cameras outperforming compact models.
Check out the Nikon D5100, expandable to ISO 25,600 equivalent, on

2. Use a tripod
If you're shooting still shots, as opposed to people or other moving subjects, a tripod is a tremendous assist. With the camera mounted securely, you can stretch shutter speeds to let more light in without raising ISOs to quality-crushing levels. The Joby Gorillapod offers super-flexible mounting options and has models for both compact and DSLR cameras.
3. Use a fast lens
Some camera lenses allow more light through than others, making them superior performers in low-light photography. The figure we're looking at here is the maximum aperture (the number after "f/" in the specs)–the lower the number, the better the lens performs. An f/2.0 or lower lens would be considered fast. You'll find 50mm f/1.8 lenses selling for under $150, greatly increasing your ability to get a nice sharp shot when shooting handheld in low light conditions.
Check out the point-and-shoot Canon Powershot S100 with a f/2.0 lens on

4. Optimize flash results
Ideally you shouldn't use a flash when trying to capture low-light scenes. However sometimes a room is just too dark to take a picture without added light and the flash can mean the difference between getting the shot and missing it entirely.
Using an External Flash. To really solve the low-light problem, you'll want an external flash unit with a head that pivots up and down. This enables a technique called bounce flash—you aim the flash up at the ceiling and it illuminates the room with natural-looking light, minimizing harsh shadows. Bounce flash units start at around $50. It's a worthwhile investment that will radically improve your indoor photography for years to come.
Using the Built-in Flash. Your basic camera flash produces a direct blast of light, creating harsh shadows. Try standing several feet away from your subject to lower the glare. If you're using the pop-up flash on a digital SLR, try a diffuser that mounts on top of your camera and creates more natural lighting
5. Set a manual white balance
When shooting indoors under normal room lighting, you're likely to find photos come out unnaturally orange (with standard tungsten bulbs) or greenish (with fluorescents). All but the cheapest digital cameras let you improve results by taking a manual white balance reading. The procedure is simple, even if the specific button presses vary from camera to camera. You aim the camera at a white surface (could be a white wall, or a sheet of printer paper works fine) and tell the camera "this is true white, adjust your color reproduction to match."
6. Use your camera's HDR setting
Many cameras now come with an HDR, or high dynamic range, feature in which the camera takes three images—one overexposed, one underexposed and one at regular exposure—and merges them together to reveal more detail in all areas of the image. It's great for shots where there is very little or no movement, like your holiday decorations or posed portraits.
Take a look at our Editor's Pick, the HDR enabled Panasonic DMC-ZS20, on