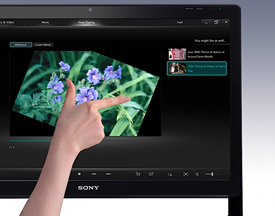 Touchscreen PCs aren't new, but the latest batch of all-in-ones delivers a whole new level of functionality, thanks to new screen technologies and Windows 7's ability to support them.
The new capacitve screens let you zip through menus with the barest of touches, like the iPhone. Plus they support multi-touch, which allows you to use more than one finger for gestures, such pinch to zoom (for getting a better look at that vacation photo) or using multi-fingered swipes to scroll (great for getting to the bottom of that "dinner party" playlist in a hurry).
Touch is perfect for quickly showing off photos and videos or looking up recipe information (virtually all the PCs come with special recipe book software)—tasks that you might do while milling about or that are quick enough that sitting down in front of the PC seems like a waste of time. And for other day-to-day tasks like replying to email, heavy Web browsing or using Office, you can always use the keyboard and mouse.
With touchscreen PCs, the computer itself mounts behind the screen, within the same housing, and the speakers are usually built-in. And with a wireless keyboard and mouse and Wi-Fi, the only cable you'll need is the power cord, making all-in-ones perfect for the kitchen or great room.