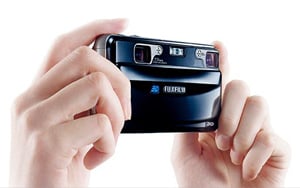 You see the world in three dimensions, but judging by your photos, no one would ever know it. From the least expensive to the most sophisticated, consumer digital cameras have had one major limitation: they could capture images in only two dimensions.
Fujifilm has broken through that barrier with the world's-first consumer digital camera that shoots both pictures and video in 3D, as well as in traditional 2D–along with a tabletop "3D viewer" LCD screen, and a 3D photo print service offered online.
The biggest innovations are in the camera, Fuji's FinePix REAL 3D W1 ($600). Dual lenses and two CCD sensor chips capture two images, which are then layered together by software running on a special chip called the Real Photo Processor 3D, forming the 3D image. This all happens automatically, in simple point and shoot fashion.
With two lenses and two sensors, the camera's 2D capabilities are enhanced. In the Advanced 2D Modes, the camera shoots two photos simultaneously with one push of the shutter button. Tele/Wide Simultaneous Shooting Mode takes both wide-angle and a close-up shots at the same time by changing the settings of the two lenses. Two-Color Simultaneous Shooting Mode creates two photos of the same scene with variations in tonality, by changing the processing signals on the two sensors.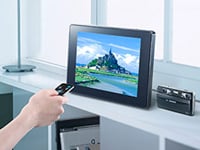 The LCD screen on the back of the camera is capable of displaying the photos in 3D without requiring the use of special viewing glasses. Alternatively, Fuji also is selling the FinePix REAL 3D V1 ($500), a tabletop eight-inch LCD screen that displays 3D photos—also sans glasses—as well as 2D photos, and plays videos and stereo audio.
You won't necessarily have to limit your viewing of photos taken with the W1 to just these Fuji products. The W1 also is compatible with 3D Vision, a technology system from graphics chipmaker NVIDIA that combines high-tech wireless glasses and computer software. So, any product that works with the NVIDIA 3D Vision system (see a list of compatible products here) will display 3D photos shot with the W1.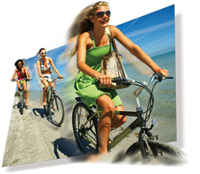 For producing actual 3D prints that you can hold in your hand, however, there is no choice; you'll have to patronize SeeHere.com, an online service owned by Fujifilm. Each 3D print costs $6.99 and arrives in approximately 15 business days.