5 Sites to Design Your Own Custom Products
Looking for the perfect gift and stymied on just what to get? We recommend a completely personalized gift from one of these sites that let you design your own custom products. But you don't have to design it for them. All these sites offer gift cards for you to give as presents so the recipient can tailor the gift to be exactly what they want. We call that a win/win.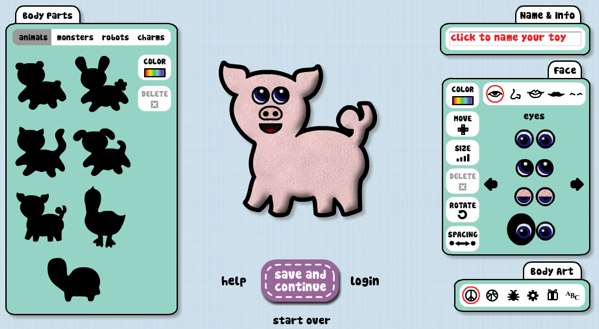 Best for kids: Happy Toy Machine Toy Builder
Instead of giving the kids on your gift list a store-bought plush toy, fire up their imaginations with a plush from Happy Toy Machine's Toy Builder. With a gift certificate, they can design their own plushling or smushimal that can be anything from a lobster to a robot.
By selecting shape, color, features and patterns, they can make a plush creation that's entirely their own.
Price: From $15 to $55, depending on the type, size and fabric of the toy
Gift Certificates: Available from $5 to $500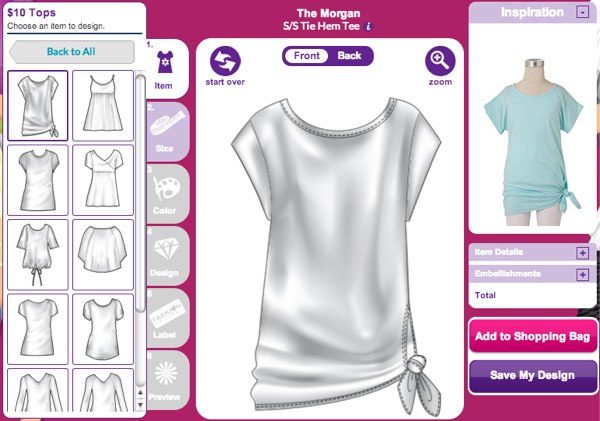 Best for young fashionistas: FashionPlaytes
Designed for girls ages 5 to 12, FashionPlaytes lets young designers create their own wardrobes—including tops, pants, skirts, dresses, jackets and even bags and other accessories.
Children can select their favorite styles and then pick colors and design elements to make their new garments just what they want it to be.
Price: Some garments start as low as $10 in any style or color; design embellishments range from $3 to $10 each
Gift Certificates: Available from $10 to $500
Best for shoe-shoppers: Milk & Honey
If you have someone on your gift list who simply can't get enough shoes, then a custom pair of shoes from Milk & Honey would be the perfect present.
Your gift recipient will be able to choose between 14 different shoe styles and pick out the perfect color, material and other design enhancements to create a high-quality pair of shoes that perfectly suit their style needs.
Price: A simple pair of flats starts at $150, with different styles going up to $250. Design elements can also add to the cost.
Gift Certificates: Available from $50 to $500
Best for jeans and jackets: MakeYourOwnJeans.com
If you're shopping for someone who's more interested in the perfect pair of jeans than the perfect pair of heels, MakeYourOwnJeans.com may be just the thing. Who says jeans can't be tailored like other high-end clothing?
The site goes beyond jeans with a variety of styles of pants, coats, shirts, suits and leather products. Your gift recipient can pick the perfect style, color, fabric and extras—then they upload their measurements and get a perfectly-tailored garment in the mail.
Price: Starts at $49 for jeans
Gift Certificates: Available in $50 only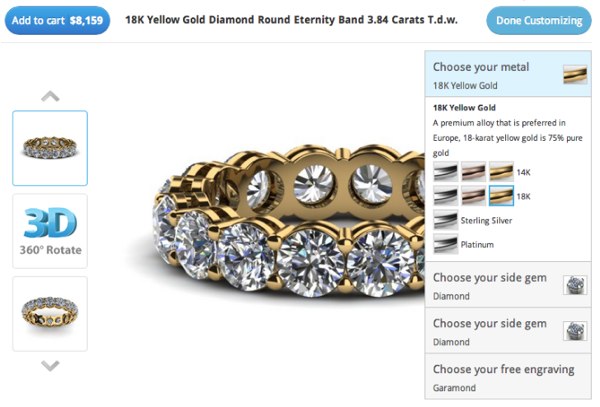 Best for jewelry-lovers: American Pearl and American Diamond
If jewelry is what she's after, American Pearl and American Diamond offer earrings, rings and necklaces with customizable designs. With countless styles on offer, one is sure to delight.
Your gift recipient can browse for the perfect item before selecting materials and gems to make it just right for them. But be warned, this is jewelry we're talking about so the price will be quite steep.
Price: A pair of pearl earrings start at $400 and prices go up with more elaborate pieces
Gift Certificates: Available from $25 to $50,000
Hopefully a gift card to one of these custom sites is the perfect present for your loved one.

Subscribe to the Techlicious Daily Email!
Get the Techlicious Guide to Great Photography as your FREE gift!
Discussion