What is Touch? It's a mini computer that plays music and movies, lets me surf the Web and check email, and run a variety of software applications, or apps. It looks pretty much like an iPhone and has almost all the same features, except phone service. For Internet access, it runs on WiFi—the same wireless connection you get at Starbucks or the airport. So it doesn't force me to give up the T-Mobile account I've had for 10 years and pay for a new cell phone contract. Plus, when my three year-old wants to play some of the apps I downloaded for him, I don't have to grab it away when the phone rings.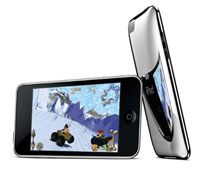 Other than the fact that I can sit on the couch and check my email or surf the web, what I really love are the applications, or, as they are fondly known, apps. If you don't have an iPhone, you may not know about all these cool little programs you can download and take with you anywhere. Some are free, some cost a minimal amount, usually 99 cents. If you're already familiar with it, you totally dig my vibe. If not, you simply must check it out. The one problem is that there are so many to choose from. What is actually helpful and what just clutters up your screen? To get you started, I've compiled a short list of some favorite applications.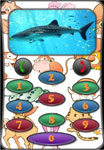 Kids Phone ($0.99) If you're a parent, you'll love the little games and activities to keep kids occupied. Currently, my pre-schooler's fave is something called KidsPhone. This cute little program lets you choose a theme—either animals or cars—and the screen comes up looking like a cellphone pad with whatever you chose. Touch a number on the phone and a different animal or car will appear on the virtual phone's display and make the appropriate noise. It's simple, yet attention-getting—just what we like.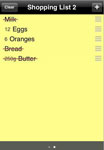 ShopShop (Free) Another app I use on a regular basis is called ShopShop. It's just an electronic shopping list that lets you key in what you need from the store. Once you get that item, just use your finger to cross it off the list. And every time you make a new list, your old items are stored in the program. So if you're constantly buying lettuce and toilet paper, you don't have to re-key it in. Fab.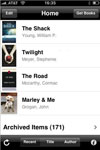 Kindle (Free) I couldn't live without the Kindle app. If you don't already know about Amazon's Kindle, it's an electronic book reading device that allows you to download your books using the built-in cellular connection (no subscription required) and read them anywhere. I love my Kindle, but sometimes forget to take it with me before I get on the subway or go to the doctor's office. So I adore having the Kindle application on my Touch. It automatically syncs with my Kindle at home, allowing me to pick up on the page I left off. You just swipe your finger across the screen to turn the page and make sure to add an electronic bookmark before you shut it down. The app will again sync with your Kindle at home so you won't have to find the page you left off on your own.