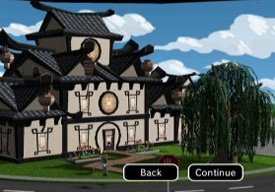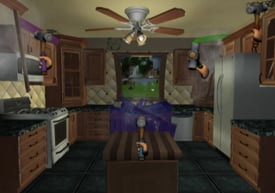 Always wanted to design a house that would live up to your fantasies? Or maybe you've been watching a little too much TLC? If you answered yes to either of these questions, you are simply going to adore the new video game, Our House: Party! by Majesco. Made for the Nintendo Wii, this game brings your creativity out for some DIY, letting you complete home improvement projects to build a virtual house that will be the shining gem of your neighborhood.
Use your Wii Remote and Nunchuk to build your house one room at a time, and there are a series of minigames that let you work on bedrooms, kitchens, bathrooms, dining rooms and even gardens. You can compete in these games with up to three other people. Paint, build or demolish walls, move furniture, tile the floor, even mow the lawn. Complete each game and your house expands—so the better you do, the nicer your home.
And for a little reality (and branding) thrown in for good measure, you'll shop in a virtual Home Depot to pick up needed tools and materials. You'll also be able to pick the type of house you want to customize—be it Victorian, gingerbread or contemporary.
So if you're ready to build the house of your dreams without taking out a second mortgage, this is your chance. And you can kick your husband's butt in the process. Then show off your home on a virtual street using WiiConnect24.