If you haven't already downloaded the iPhone/iPod Touch Cooking Dash app, you should really check out this highly-addictive game. It will get you cooking food and taking care of your very own diner—all as a highly motivated ex-stockbroker named Flo.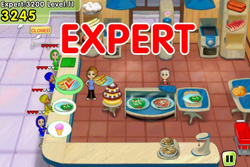 A sequel to the well-received Diner Dash, it fits in the popular Time Management category, which includes other games that let you run and/or work at a business: like a running a hotel or pizza parlor, or even a babysitting service. And Flo is an appealing character, who jumps into her cooking role because her head chef has left the diner to appear on a popular reality TV show (Top Chef anyone?).
Your job is to keep your customers happy and comfortable by providing fast, accurate service. Slow down and you'll lose clientele. Lose too many and you won't meet your daily quota for the day and will definitely not move to the next level. There are over 50 levels of play and five different restaurants to master.
The controls for the game are easy, simply touch and/or drag everything. First you seat diners and take their order (which they give through thought bubbles). Then you have to find the food, cook it and get it on a plate before it burns. After customers have eaten, you tap them to get them checked out—but you can't seat another one until the dishes are collected.
You can chuck wrong orders, but you'll lost points for wasting food! There are also ways to get bonuses, like matching colors of patrons to seats and serving food that's perfectly cooked. You can use the money you've earned to deck out your kitchen with new cooking machines and décor.
Yes, Cooking Dash is easy to jump into and learn, but it's also skill-based and gives you a reprieve from your every day responsibilities. Colorful and bright, this game is challenging and promises to hold your attention for many hours to come. $2.99 Buy now on iTunes