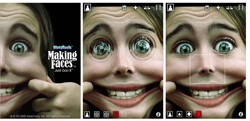 Looking for an app to keep you,or your kids, busy for a good, long while? Making Faces, available on Apple iTunes ($0.99) is a sure thing. Created by Just GOO It! MetaTools, it basically allows you to take any photo and enhance, alter and animate it any which way you'd like.
Just take or import a photo, then the fun begins. You can zoom in, rotate or even crop the image, then use the app to apply any of the 10 built-in effects—like putting a smile on someone's face, lifting their eyebrows, pinching their nose or squeezing their cheeks. All changes appear in real time.
Up the ante by clicking on the included Movie icon and you'll be treated to an animation of what's been done to the image. And of course, you can share all this with others by posting it to your fave networking site—like Facebook or MySpace.