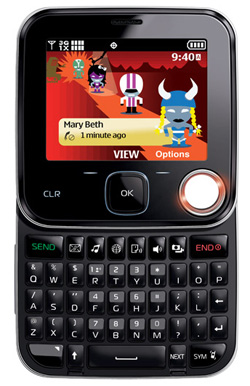 Verizon's latest communications-centric phone, the Nokia 7705 Twist, swivels open to deliver a full QWERTY keyboard in a bite-size (2.7-inch square) package. The swivel point in the lower right corner of the phone doubles as a "Contact Light" ring, which glows in six different colors to let you know who is calling or who left a message.
The built-in camera takes 3MP stills or video, which you can then immediately share on your blog or social networking page with the Post to Blog feature. A mirror is revealed when the phone is open for taking self-portraits or just checking your teeth after a meal.
As one of Verizon's 3G models, it can browse the web and access all of Verizon's media services, including V CAST Music with Rhapsody and V CAST Video.
The shiny black phone comes with Xpress-on Covers in black and purple, weighs just 3.4 ounces and gets 270 minutes talk time. Available from Verizon for $99 (after $50 mail-in rebate, with a two-year contract).