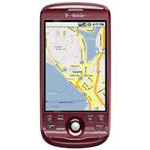 T-Mobile's answer to Sprint's Palm Pre and AT&T's iPhone lands in stores today, the myTouch 3G with Google. It's a smartphone that uses the up-and-coming open platform called Android.
The myTouch is an upgraded version of the first Android smartphone, the G1. It's smaller, sleeker, slimmer and lighter, thanks in part to its lack of a physical keyboard. So if you want a real keyboard, this isn't for you. More memory is included: 4 GB as opposed to the G1's 2 GB (you can also add more through the microSD card slot), and the myTouch works with Microsoft Exchange for easy syncing with work email. You can shoot and play back video and take 3.2 MP stills, and sharing on sites like Picasa and YouTube is just a few touches away.
T-Mobile is making sure this device is all about you. To start with, you can choose from hundreds of interchangeable hard shells, skins and cases to make it more fashionable. You can even upload your own picture or image to have a shell customized.
More importantly, you can also customize the myTouch with more than 6,000 apps (many of them free). T-Mobile has made it easy to get started with its AppPack, a list of free recommended applications. After that, jump into Android Market, which you can access directly from the phone.
So how does the myTouch stack up against the Palm Pre and iPhone? The iPhone is still the 800-pound gorilla with 50,000 apps, a more refined virtual keyboard and more onboard memory. Palm Pre is more comparable, with fewer apps and a smaller screen, but a real keyboard and more memory. Bottom line, the myTouch is a good option for T-Mobile customers who are looking for a highly customizable phone.