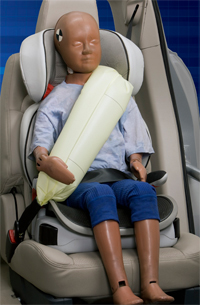 Blend one part seat belt with one part airbag, explode, and what have you got? Answer: the inflatable seat belt.
Ford Motor Co. has developed the world's first inflatable seat belts for rear seat passengers, which it says will expand during an accident to cover more of the passenger's torso, helping to reduce head, neck and chest injuries—particularly among children and the elderly, who can be more vulnerable in accidents because of their physiology and biomechanics.
But even as they add a measure of protection for larger kids and adults, they will pose no danger to infants facing backwards or to toddlers and smaller "tweens" in seats that are secured with the seat belts looped behind them, Ford assures. The technology was developed over a 10-year period that included extensive testing with both forward- and rear-facing child seats, never with any consequences, says Srini Sundararajan, technical leader for biomechanics and occupant protection, at Ford's passive safety and advanced engineering research department in Dearborn, Mich. Although a child seat may shake when the inflatable belt deploys, the seat will not move, he says.
Unlike the front passenger airbag that can be switched off with the press of a button, the inflatable seat belts are always on whenever they're buckled. However, they will expand only when the front seat belt pretensioner is triggered—which generally occurs when the vehicle experiences a sudden 8 mph change in velocity, Sundararajan explains.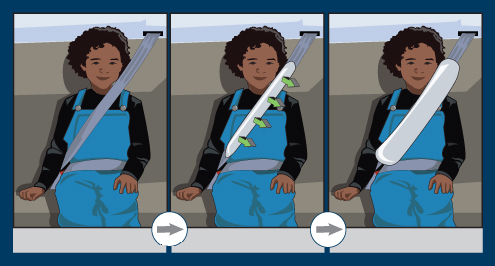 The way the belt inflates is unique: A cylinder housed below the rear seat sends cold compressed gas through the buckle to a tubular airbag within the seat belt, which breaks through the belt fabric and expands sideways, growing the width of the coverage area to about nine inches from the belt's standard two inches—all in just 40 milliseconds. And the entire length of the belt expands, from the buckle to the d-ring (attached to the side of the car).
As a result, crash force energy is diffused over five times more area of the body compared with conventional seat belts, so pressure on the chest, and head and neck motion, are reduced. Plus, the larger belt size better restrains the passenger.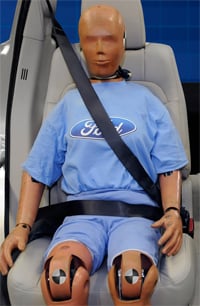 The inflatable seat belt's thicker edge and padded feeling also should make it more comfortable in everyday use, and the automaker hopes this will help increase usage of rear seat belts. Today, only 61 percent of rear seat passengers buckle up, compared with 82 percent of front seat passengers, according to the U.S. National Highway Traffic Safety Administration.
Ford plans to offer these new seat belts first as an option, costing about $400, in the next-generation Ford Explorer that goes into production next year. The feature will be rolled out in other Ford vehicles later, and a company spokesman says other automakers are expected to follow very quickly with similar inflatable seat belts of their own.
Ford introduced the original car seat belt, in 1955.