We may earn commissions when you buy from links on our site. Why you can trust us.

Are Kid-Friendly Netbooks from Disney and Nickelodeon Right for Your Kids?
Kids want to play on grown up computers as soon as they can crawl onto your lap, and there are great websites that are designed just for toddlers (See Pre-reading Sites for Toddlers). But when should a child have his or her own computer? For most kids, it's somewhere around eight or nine-years-old. At that age kids can read well enough to run a software program without a parent parked next to them and they enjoy communicating with friends and family.
Buying a separate netbook for your child has two advantages. If they do managed to get a virus or otherwise break the computer at least it's not your laptop loaded with family photos and important spreadsheets from work. And, some netbooks designed specifically for children come with robust parental controls that allow you to track what your child does and block them from accessing potentially harmful content.
Nickelodeon and Disney both released such netbooks recently, through partnerships with Dell and ASUS respectively. A close look reveals two very different machines.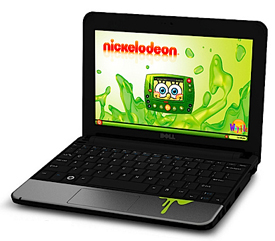 Dell Inspiron Mini Nickelodeon Edition ($329)
The Dell Inspiron Mini Nickelodeon Edition is more or less the same as the company's Mini 10v, but with a slime themed paint job and Windows interface. That's not entirely a bad thing though. The Nickelodeon Edition, for only $30 more than the standard Mini 10v, gets a fun paint job and 15 months of McAfee security (normally an $89 option). It does have some Nickelodeon specific content, like a Nick.com desktop gadget, educational games from Whyville.net and a free Nick Game of the Week, but is otherwise no different than its non-slimed sibling. In addition to the slime covered model, Spongebob and iCarly branded models are planned but currently not available through Dell.
The Dell Nickelodeon Edition leaves the parental controls up to you, but adds 15 months of McAfee security and 12 months of Computrace LoJack for laptops, if your child has a habit of leaving things behind. However, any computer can be set up to be kid-friendly. Set up your child with a "Standard" Windows user account, turn on parental controls to select the applications they can run (by title or game rating) and when they can run them, and install an Internet parental control program, like NetNanny.
The Dell has a 160GB hard drive, which should provide plenty of room for photos, movies and any applications your child needs for schoolwork.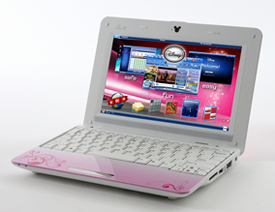 Disney Netpal ($349)
Disney is targeting a much younger audience with its Netpal (a modified ASUS Eee PC), and one that parents want to keep better tabs on. The Netpal, available in "princess pink" or "magic blue," uses a customized interface that makes the netbook easier to navigate for youngsters and keeps them out of the system's more sensitive parts. A "gadget tray" resides on the desktop that provides access to Disney applications, including music and photo editing. Fifteen different desktop widgets are available, including a digital memo pad, stopwatch and a calculator. And, the desktop can be customized with more than 10 themes inspired by franchises like Cars, Club Penguin, Disney Princess, Hannah Montana and JONAS The Series.
The Netpal also offers fine-grained controls over what kids are allowed to do and when. There's an array of child-friendly websites that the Disney browser launches right out of the box, and will only let children visit new sites you personally approve. While the robust parental controls allow you to block certain applications, like games, from being run during particular times of the day, like when your child should be doing homework.
The Disney Netpal comes was a 16GB solid state drive (SSD). An SSD has no moving parts, and can withstand bumps and drops—making it perfect for a young child. But 16GB is not a lot of space, so you will only be able to store a few movies and larger programs, such as Microsoft Word, will take up a significant percentage of your drive.
Other Options
There are of course other, less specialized options. You can pick up an unmodified ASUS Eee 1000 in black or white, with a larger display and bigger battery than the Disney Netpal, for only $299 through Toys "R" Us. So if the extra content isn't a lure and you're comfortable setting up your own security, a regular netbook may be the way to go.
For older kids, it may be worth investing in a more powerful system that will carry them through their school years. Check into the Gateway EC1430u ($550) or Dell Inspiron 13 ($585). Both have Pentium Dual Core processors and 3GB of memory, which is what you should be looking for in an entry level product.
Regardless of which type of laptop you select for your child, the safest place for a kid to use a computer is in the same room as an adult. So make use of the laptop's portability to make sure your child is with you while using the computer.
---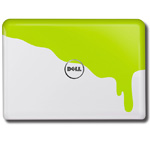 Dell Inspiron Mini Nickelodeon Edition ($329)
Good for slightly older children (think 9 and up) who might be put off by the slightly more childish and locked down Netpal. The included security package and parental controls come at a good discount.
Buy Now at Dell.com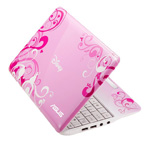 Disney Netpal by ASUS ($349)
The powerful parental controls make this ideal for younger kids (manufacturer lists ages 6-12) growing up in the Internet age who still need some of mommy's protection and guidance. The seemingly endless pool of Disney content to pull from means this PC may not get boring until your little one starts dating.
Buy Now at Amazon.com
Discussion