Cool, Colorful and Comfortable: The JBL / Roxy Reference 430 Headphones
Techlicious editors independently review products. To help support our mission, we may earn affiliate commissions from links contained on this page.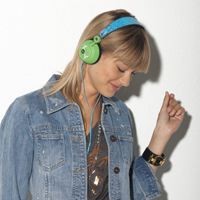 Headphones have taken a turn for the more fashionable with companies like Skullcandy and Monster (with Beats by Dr. Dre) making this accessory more palatable. For the ladies, though, it's never really clicked. That's why I'm liking the JBL/Roxy collaboration on the new Reference 430 headphones. Cool, colorful and comfortable, these over-the-head headphones have given me a new appreciation for on-the-go music.
I admit I'm a little biased. Ever since puberty, I've loved the surfer-influenced fashion of Roxy. Though I may not be able to pull off the tiny bikinis or short shorts anymore, I still dig this label's laidback and colorful designs. So when I pulled out the bright blue and green headphones from the package, I couldn't wait to take a walk with my iPhone and my favorite tunes.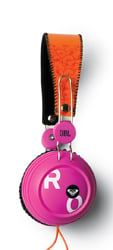 As mentioned, they come in an over-the-head form factor. The ear cups are green and have the Roxy logo painted in black and white while the headband is blue with a funky ivy-type scrawling (they also come in pink and orange). Both are nicely padded in black felt and you can adjust the size via steel loops that slide along the band.
When I first put these headphones on and walked out of the house, I was transfixed. I can't promise you high-end audio, but I can promise you an above average listening experience—both in comfort and sound.
The ear cups felt nice and the headphones didn't give me a headache like some of my over-the-head hair accessories do. I had to adjust the headphones to the smallest setting, but once that was done, they fit nicely.
JBL did a nice job with sound balance and left out any distortion. Though other reviewers haven't been impressed by the bass (saying it is underwhelming), I had no problems with it.
I tend to carry my headphones in a diaper bag or a trash-bag-size pocketbook, so I don't have a problem with the size. But I can see how some gals might want something that folds up and can be more easily stowed (the ear cups do rotate, but it doesn't change the basic form factor).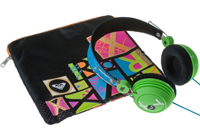 A pretty nylon carrying case is included in the $70 price tag, which I always have on hand to protect them from the likes of a half-eaten lollipop or loose baby wipes. The headphones don't feel solid, which makes me wonder how well they'll hold up in the future.
All in all, I was pleased with this product. I think the marriage of style and function is a happy one and it's a good purchase for everyday listeners who want to get a little more oomph from their portable music.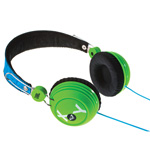 JBL / Roxy Reference 430 Headphones
Buy Now
Discussion