Updated July 28, 2009 to reflect waived fee for Verizon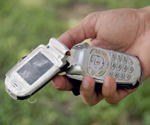 It's going to happen sooner or later. You're going to misplace that cell phone—and all your contacts. We're talking about all the phone numbers and email addresses you have stored on it. Thankfully, the carriers have got your covered with wireless online backup services that sync your phone's contacts over the Web. Here's what AT&T, Sprint, T-Mobile and Verizon have to offer:
AT&T's Mobile Backup ($1.99 a month) Works on many phones. Contacts can be easily updated online where you can edit and import contacts, and then click a button to update everything back to your phone's address book.
Sprint's Wireless Backup ($2 a month) Works on many phones. You can edit your contact information on the Wireless Backup website, which then automatically updates to your phone.
T-Mobile's Mobile Backup (free) Works on almost all current phones. It allows you to edit your contacts online and update them to your phone. T-Mobile will move a customer's contacts from one phone to another for free, even using older phones that weren't originally synced to Mobile Backup.
Verizon's Backup Assistant ($1.99 a month, fee waived if enrolled in My Verizon) Works on most phones. Edit your contacts online, as well as restore your contact list to a new or replacement phone.