The Best Headphones for Working Out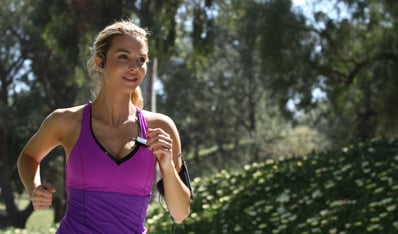 When I work out, I have to have music. It pushes me to finish a run when I'm not feeling strong or pick up the pace when I feel good. It drowns out the grunts of the guy lifting weights next to me. And, it takes me out of my everyday life
So I always make sure I have a good pair of headphones that's suited to my workout. My environment largely dictates the pair I'll use. For instance, I need to hear ambient noises when I run in the park or on the streets of New York City. It's a matter of personal safety. But if I'm at the gym, I try to block everything out.
In-ear headphones are best at keeping out ambient noise, while on-ear headphones and earbuds (like the ones that came with your iPod) allow you to hear what's going on around you.
In addition to the style, you'll want a pair that's water-resistant or waterproof, if you sweat heavily or don't mind being out in a light rain. Otherwise, a regular pair should be fine.
So with sound quality and moisture in mind, I've picked out the best headphones for working out.
Outdoor sports
It's easy to hear ambient noises with the AfterShokz headphones. That's because these headphones sit in front of your ears not on or in them. Instead of sound waves traveling the usual way through the ear, small conductors send music through facial bones into your inner ear. The resulting sound is clear and crisp, similar to hearing your own voice.
Price: $40.28 on Amazon.com
Swimming
Even though the Monster iSport Immersion Headphones with Control Talk are built to withstand a jump in the pool, a run in the rain and heavy sweat, you'll want to put them on anytime, just to enjoy the sound quality. The in-ear style seals out water down to 1 meter for up to 30 minutes. There are five different size eartips plus stabilizers to ensure a proper fit, which is especially important for swimmers. Other extras, include a flat, no-tangle cord, shirt clip and carrying case.
Price: $130.27 on Amazon.com
Indoor sports/Walking
Shockingly light, the critically-acclaimed Etymotic hf3 in-ear headphones have a wide dynamic range that lets you hear more of your music. You get interchangeable silicon noise-isolating ear tips as well as ear tips made of sponge-like foam, which allow in some ambient noise. Plus, its Awareness app (free on iTunes) listens for sounds louder than normal background noises and either lowers the music or vibrates your iPhone when the app hears a loud noise. The headphones have an in-line mic and support iPhone's Voice Control and music navigation.
Price: $149.00 on Amazon.com
Wireless
You won't have to deal with dangling headphone cords when you wear the Plantronics BackBeat Go Bluetooth Wireless Stereo Headset. You get a solid stereo listening experience and clear Bluetooth conversations. The behind-the-neck band is loose and rubbery, so the incredibly-light earbuds speakers will sit comfortably on any head. Plus, the included stabilizers provide the best fit of any wireless headphones we've tried.
Price: $89.72 on Amazon.com

Subscribe to the Techlicious Daily Email!
Get the Techlicious Guide to Great Photography as your FREE gift!
Discussion