How to Start a Blog
Techlicious editors independently review products. To help support our mission, we may earn affiliate commissions from links contained on this page.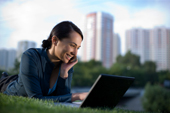 If you surf the Internet, you've probably come across at least one blog. There are thousands out there, from the big established news blogs like The Huffington Post to smaller personal blogs like quietcountrylife.com, which chronicles the culinary adventures of Deb Szajngarten. You may have even progressed to the point of wanting to have your own blog.
Getting Started
Before you start blogging, you need to think about what you want to communicate in your blog. Do you want to keep friends and family updated on what's going on in your life? Are you going to share your thoughts on specific topic with the whole world? Do you plan on posting a lot of pictures and videos, or will the focus be on written content? Do you want it to be private and accessible only by people you select, or do you want it to be completely open to anyone who can browse the Internet? Answering these questions will help you determine what blog service is best for you as well as help you plan the layout and look of your blog.
Getting a blog started only requires a computer with Internet access and a web browser. No special software or expertise with editing pictures or videos is needed to post pictures and videos to your blog. Though, you should be aware that pictures and videos can take up a lot of storage space, if you don't shrink them down for the Web. And there are plenty of free blogging services out there. Some are specialized for specific types of blogs, like blogging your baby (see "Blogging Your Baby"). You'll have more flexibility, though, with a general blogging service.
The Blogging Services
Blogger
Blogger is a free blogging service offered by Google. You can create a blog using your existing Google account or start from scratch with a new account. Blogger lets you create a custom URL to make it easier to find your blog, and the service comes with a number of free templates to spice up your blog's look. One nice extra you get from Blogger is the ability to update your blog from a cell phone, using a dedicated email address. From a computer, you simply post and manage your blog through any browser on a Mac or PC.
If you want to generate income from your blog, Blogger also offers easy integration with Google's AdSense service to create and place ads. And if you want to keep your blog private, you can adjust the settings so only people you designate by email address can access it.
You are allocated 1GB for pictures stored on the Picasa site, and unlimited storage via Google Video, with a max size of 100MB per video (about 30 minutes of medium-quality video). 10GB of more storage will cost you $20 per year and you can go all the way up to 400GB of storage for $500 per year. With an average photo taking up about 3MB of space, the free storage available allows you to post over 300 pictures to your blog without bothering to resize them.

WordPress
WordPress lets you create a custom URL and has a number of free templates to help give your blog a special look. You can also make your blog only accessible to certain people, or make certain entries private. A web browser on your computer is all you need to create posts and manage your blog. You can also publish new posts by sending them to a special email address
Think you might want to create a full-fledged website one day? Wordpress can be expanded by adding pages to do things like post more information about yourself, providing samples of your work, and more. If your blog grows into a website you'd like to move somewhere else to host, you can simply export your WordPress blog in a compatible format.
WordPress offers 3GB of free storage for your media, plus options to purchase more, starting at just under $20 per year for an additional 5GB. If you need more, it will cost you $90 annually for an additional 25GB. WordPress will automatically place ads on your blog, though the income they generate goes to WordPress. You can opt to eliminate ads, but you'll have to pay an extra $30 per year.

LiveJournal
With LiveJournal, your blog's URL will be based on the user name you select when you create the account, so choose wisely. There are also a number of templates and layout styles from which to choose. You can create posts and manage your account through any web browser, or download a LiveJournal client application to your computer and work through it instead.
You can also post on-the-go from another computer or your cell phone via a special email address or text message, though you'll need to have a Plus or paid account to do this.
A free Basic account offers you unlimited text blogging but very limited media hosting—with space for only 6 "userpics" (which are avatars or icons you can upload to represent you, your moods or interests). You'll probably want to upgrade to a free Plus account, which automatically places ads on your blog but gives you up to 1GB of photo storage plus up to 15 userpics. There are also additional upgrade options that give you more media storage for a fee.

Discussion