Apple today unveiled new three new iPhone X models (pronounced iPhone ten), including the largest iPhone ever, the XS Max, and a new entry-level iPhone, the XR. All the new Apple devices are powered by new, more powerful and more energy-efficient chips that enable longer battery life and enhanced first-ever features, rather than the usual minor improvements in the company's second-generation "S"-labeled upgrades.
The new iPhone X models are:
iPhone XS, with a 5.8-inch "Super Retina" OLED screen, starting at $999, available in 64GB, 256GB and new 512GB capacity in silver, space gray (black) and a new "true" gold finish
iPhone XS Max, with an iPhone-largest 6.5-inch "Super Retina" OLED screen, starting at $1,099, also available in 64-, 256- and 512GB capacities in the same three finishes
iPhone XR, with a 6.1-inch "Liquid Retina" LCD starting at $749, available in 64GB, 128GB and 256GB capacities and in white, black, blue coral, yellow or red.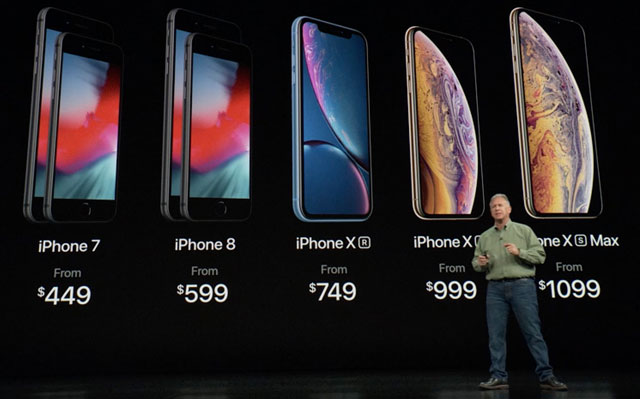 Pre-sale on the two iPhone XS models will begin Friday and become available a week later on September 21; the iPhone X R will go on pre-sale on October 19, available a week later, October 26.
Apple also lowered the price on its existing iPhone models; the iPhone 7 will now start at $449 and the iPhone 8 at $599.
iPhone Upgrageds XS, XR Improvements
Physically, the screens on all three new iPhones X phones are edge-to-edge top-to-bottom with gently curved edges. Both iPhone XS models are made from surgical stainless steel and what Apple claims is its most durable glass formulation, while the iPhone XR is constructed of aerospace-grade aluminum and glass. Screen resolution remains the same 458 dots per inch as the original iPhone X with the same Dolby Vision and HDR10 compatibility for higher-contrast video.
For global travelers, all three new iPhones are dual SIM models, enabling each phone to contain two phone numbers for home or local use.
All three new iPhones are powered by Apple's 7-nanometer-thin A12 Bionic chip, the thinnest smartphone chip ever. As with all Apple chips, the A12 is designed specifically for the new iPhone which enables tighter hardware/software integration than Qualcomm's chips which are deployed in a multitude of varying Android phones. The A12 Bionic contains 6.9 billion transistors that can perform 5 trillion operations per second, compared to "just" 600 billion operations in the last generation Apple iPhone chip.
The A12's enhanced processor power for both data and graphics means apps launch 30 percent faster – and faster FaceID – and use just a tenth of the energy as previous chips. As a result, the iPhone XS adds a half-hour more battery life than the original iPhone X and the XS Max 90 minutes more, while the XR will operate 90 minutes longer than the iPhone 8 Plus.
More processing power also means more functions, especially for improving low-light camera performance and enhanced augmented reality (AR) effects for gaming and shopping.
One striking new photo function on all three new iPhone X models is an adjustable depth of field for photos taken in Portrait mode, which blurs the background while keeping the subject in focus. Blurred backgrounds – the so-called Bokeh effect – can now magically be blurred more or sharpened using a simple on-screen slider. The iPhone XS and XS Max have dual rear cameras, while the XR has a single wide-angle camera. That means the two XS models have a 2x optical zoom. The net for all models is a 7MP front camera and a 12MP rear camera.
The new iPhone models also are more waterproof. Both XS models are IP68 rated, which means they can be submerged up to two meters for up to 30 minutes, and the iPhone XR is only slightly less IP67 rated for submersion up to one meter (last year's iPhone X was iP67), and all are constructed of more recycled and bio-based metals and plastics.
All three iPhones will run Apple's upgraded iOS 12 operating system, which will be available to install on previous iPhone models this coming Monday, Sept. 17, 2018.
[Image credit: Apple, Stewart Wolpin/Techlicious]