It's past time to ditch the standard toothbrush, as the newest smart electric toothbrushes can get your teeth cleaner than basic brushing. At CES 2022, Oral-B is continuing to improve its lineup of iO Series smart rechargeable toothbrushes with the new high-end iO10 with smartphone-free brush coaching as well as two new budget-friendly models under $100.
All of the iO Series electric toothbrushes clean your teeth with an oscillating and rotating motion combined with micro-vibrations. But they go well beyond basic brushing: they make sure you're brushing just the right amount in six zones in your mouth and have pressure sensors to ensure that you aren't using too much (or too little) pressure.
The iO10's biggest upgrade is in the charging base, which now has a timer and lights that indicate where you should be brushing and whether you're applying the right amount of pressure. While the iO9 had similar features, you could only get brush mapping when you connected the brush your phone, which wasn't exactly convenient when brushing. With iO10, the lights on the base will indicate where you need to brush, and they'll turn red if you're using too much pressure (the lighter blue on the base in the photo below shows the zones with adequate brush time, while the darker blue zones need more time). With seven smart brushing modes, including special modes for sensitivity and tooth whitening, you just need to follow the iO10's guidance for ideal at-home cleaning.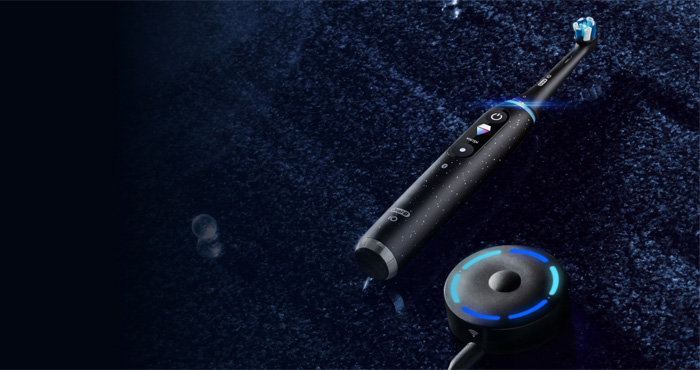 There's no pricing information for the iO10 yet, but we expect it cost at least as much as the iO9 model, which currently retails for $299. We don't know exactly when it will be on sale, but you can sign up now to be notified when the iO10 is available. The brush will be available in two colors, speckled white and cosmic black.
If the iO10 is out of your price range, both the iO4 and iO5 will be priced at less than $100. Both have the same iO brushing technology as the iO10, but fewer smart features. The iO4 only has four brushing modes and no guidance beyond timing on how long you brush, while the iO5 has five brushing modes and offers guidance via the Oral-B app. While they're fairly pared down from the iO10, they can still improve your oral health over a manual toothbrush. There's no specific pricing for the two brushes yet, but expect to see them on store shelves later this year. These brushes will be offered in a wide range of colors, with white, black, pink, blue, and lavender options.
[Image credit: Oral-B]
Elizabeth Harper is a writer and editor with more than a decade of experience covering consumer technology and entertainment. In addition to writing for Techlicious, she's Editorial Director of Blizzard Watch and is published on sites all over the web including Time, CBS, Engadget, The Daily Dot and DealNews.