Android's built-in messaging client — the concisely-named Messages app — has always been a little behind the curve. But this week, Google has taken a big step towards catching up with the competition by launching a web-based Messages app that you can use on your computer. It's a feature other messaging apps have had for a long time: Facebook Messenger started supporting web and mobile in 2011, Apple Messages did the same in 2012, and WhatsApp joined the crowd in 2015. It's a huge convenience, letting you access messages without resorting to your tiny smartphone screen (and send them without resorting to your tiny smartphone keyboard).
But Facebook Messenger and WhatsApp both require users to have an account with those services, limiting the number of people you can talk to. Apple Messages (on phone or desktop) allows broader access, seamlessly switching to SMS messages (i.e. regular text messaging) when sending to people who aren't iPhone users. However, using Apple Messages to send ordinary SMS text messages has a downside: while iMessages are sent over a data connection, SMS messages are sent through your cellular carrier via your phone, which means the app needs to be paired with your phone to send them. As long as your phone is connected to a cellular or Wi-Fi network, it's fine, but if your phone is turned off or broken, you can't send a text.
With Android Messages, all messages are sent via your cellular carrier using RCS, a text messaging format that allows for modern conversation features like group chats, read receipts, and the ability to send audio, video and high-resolution photos. Basically, it has all the features you expect from a messaging app but that aren't available in an SMS message. Because these RCS messages are sent through your cellular carrier, Android Messages on the web needs to be paired with your smartphone to work.
That isn't a tremendous problem (unless you manage to break your phone), but using your cellular carrier comes with another snag: your carrier has to support RCS. While most carriers offer some support for RCS, not all of them support the RCS Universal Profile that makes every carrier's RCS messages compatible with every other carrier's RCS messages. Right now Sprint is the only US carrier that fully supports Universal Profile. T-Mobile plans to add it soon, while both AT&T and Verizon both offer their own RCS systems. This can mean odd behavior when sending messages to people on other carriers, like falling back to simple SMS text messages. And if you want to send messages to someone using an iPhone? Apple hasn't announced plans to support RCS in iOS, so you'll probably be sending SMS messages to them, too.
Uniting all of the carriers into a single messaging network is an ambitious plan. Android Messages may not be perfect just yet, but even with its flaws, Messages will be a single app that lets you talk to any of your friends with a cell phone number. That's a lot more convenient than jumping from Facebook Messenger to WhatsApp depending on who you're talking to.
Is Android Messages as good as Apple Messages?
Android Messages covers all of the basic features you need in a messaging app. You can send photos and videos, chat in groups, share emoji and stickers, and even transfer money (via Google Wallet). They're all things you can when you send Apple iMessages (though it sends money through Apple Pay).
With the introduction of Messages for Web, Android is adding a few new features — but again, they mostly mimic what's already available elsewhere. A new button lets you search for and send GIFs, Smart Reply offers responses you can send with a single tap, and you can preview links in conversations. Apple Messages can already do all of that, as well as add fun animated effects to your messages (including the increasingly-popular animoji), annotate pictures, and send handwritten notes, all right from the app. They're hardly must-have features, but they do add flair to your messaging.
The big problem with Android Messages is the fact that its messages aren't encrypted. Apple's iMessage, Facebook Messages and WhatsApp all offer end-to-end encryption, so your private messages stay private. That's because these services are data services. Android Messages uses RCS through your cellular carrier, which means they are subject to the legal restrictions that prohibit end-to-end encryption (i.e. authorities can get a warrant and go through your messages). Some people may not care about that, but for others, it may be a deal breaker.
There is one thing in Android Messages that's new and useful: the ability to easily copy one-time-use passwords into password fields. Confirmation codes like this are often texted to your phone, but you usually have to swap from your messaging app to the app you're trying to log on to (and sometimes back again) so you can enter them. That nuisance will soon be gone. When you get a password like this, you'll tap once to copy it and once to paste it into the password field. It's a great feature — but it's also being added to Apple Messages in iOS 12, so it won't be an advantage for long.
Android has a perfectly good messaging client, even though it's not doing anything groundbreaking. And since most Android phones come with Messages pre-installed (except for Samsung devices, which have their own messaging app), it doesn't take much effort on your part to try it out. You probably already use Messages to text friends who don't use other messaging apps. Now you just have a reason to use it more.
How can I use Android Messages?
On your phone, you'll want to update your Messages app to access the latest features. Then, if you want to use it on your desktop, open your web browser and navigate to Messages for the web. There are no complicated settings to configure, just:
Open the Messages app on your phone.
Tap the more options menu and select "Messages for web."
Use your phone to scan the QR code shown on the webpage.
Click "remember this computer" on the webpage if you want to stay logged in.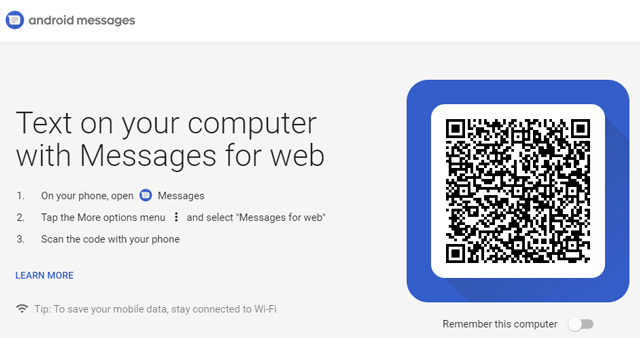 And that's all. You should be able to see all of your text messages as well as send new ones, directly from your web browser.
Android Messages for web is available now, with all of its new features coming out sometime this week.
[Image credit: Google]