A dishwasher is a handy household appliance, letting you skip the tedious household chore of washing dishes — and they're an eco-friendly way to clean, too. But dishwashers also take up a lot of kitchen space, and if you live in a small space — whether that's a tiny urban apartment or an RV traveling cross-country — you may not have room for a dishwasher. That's where Bob the mini dishwasher comes in. This ultra-compact dishwasher is around the size of a microwave, so it's easy to sit on a countertop or even tuck under the sink, and unlike a conventional dishwasher it doesn't need a water hookup. Instead, Bob has a tank you can fill and it uses less than a gallon of water per load. That makes it a breeze to add a dishwasher anywhere you want one.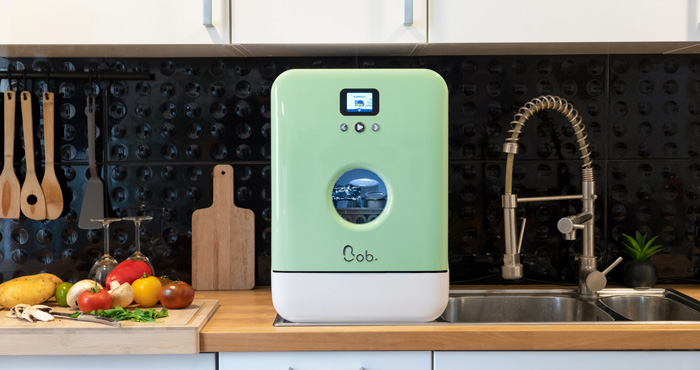 Bob is designed to handle the dishes for a small household of one or two people: it can wash about two place settings or 16 glasses at once. With so few dishes, you may be inclined to hand-wash, but Bob is a lot more efficient, because washing dishes by hand can take up to five times as much water. Bob uses less than a gallon of water per load, while large dishwashers — even brand new, Energy Star certified models — can use up to five gallons per load. Even five gallons is relatively efficient when you wash a full load of dishes, but fully loading the dishwasher can be difficult for small households. That makes this petite dishwasher, which measures 13.4" x 19.3" x 19.3", an ideal solution. It also cleans your dishes quickly. A quick wash cycle on a full-sized dishwasher typically takes over an hour, and a standard wash cycle will take twice that, while Bob can wash the dishes in 20 minutes.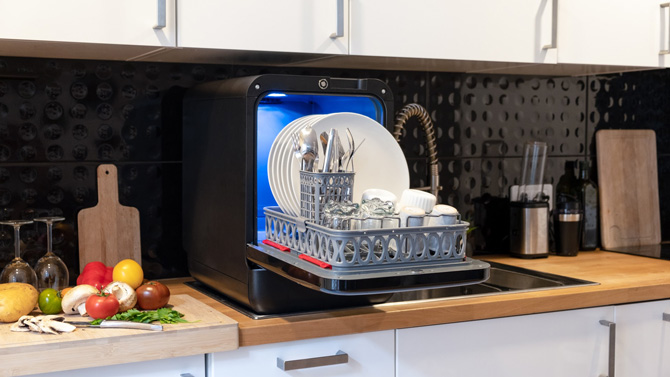 But Bob's most interesting feature may be its UV cleaning mode. There are UV sanitizing devices like PhoneSoap that are designed to keep smartphones and other small objects germ free, but Bob has an optional UV module that turns the entire device into a UV sanitizer. Bob Ultraviolet uses UV light to disinfect items – there's no water used in this wash mode – so you could easily disinfect masks, keys, and other household items. This is an add-on that costs $54, but we think it's a handy feature to have in a modern household.
Bob is designed to use special cassettes of dishwashing detergent that slot into the front of the unit. These cartridges contain concentrated detergent with rinse aid and they're good for 30 dishwashing cycles — and when it's empty, you can return the cartridge for a refill. It's convenient as well as eco-friendly: just pop in a cassette at the beginning of the month and you don't have to worry about it. You can get a pack of three standard dishwashing cassettes plus one machine cleaning cassette for about $30. But if you don't want to bother with special soap, you can also use normal dish detergent.
There are two models of this mini dishwasher. The Bob Minimalist does the basic dishwashing job and is available in black or white for pre-order for $299 (or $399 if you don't pre-order). The Bob Custom has a wider array colors, with 12 different door colors with a white or black body, and a few more tech features. It has a 3.2" color LED screen to display information on, like the status of the current dishwashing cycle or reminders to replace the cassette, plus WiFi connectivity for software updates and future features. It also has a washing cycle specifically for glassware and even lets you create custom washing routines. This is also the only version of Bob that you can add UV disinfection to, which is a worthwhile feature. This high-end Bob is available for pre-order for $399 (or $499 if you don't pre-order), with an additional $54 to add the UV feature.
Though Bob is already available overseas, it will be coming to the US this year. You can pre-order Bob now from Daan Tech, and it will ship late this summer.
[Image credit: Daan Tech]
Elizabeth Harper is a writer and editor with more than a decade of experience covering consumer technology and entertainment. In addition to writing for Techlicious, she's Editorial Director of Blizzard Watch and is published on sites all over the web including Time, CBS, Engadget, The Daily Dot and DealNews.