In the market for a new tablet? If you need to run Windows apps like a standard computer, your best option is one of Microsoft's Surface tablets. Their Type Cover keyboards are slim and attach directly to the tablet (so there's nothing extra to lug around), serving as a comfortable keyboard and trackpad. That means it's easy to type (and use all of those Windows apps). Surface tablets are the perfect way to take Windows on the go.
There's just one problem: price. The Surface Pro starts at $799 (check price on Amazon), and if you want the keyboard it adds an extra $159. It's not a device you can really call budget friendly.
That's why Microsoft has added the 10-inch Surface Go to the lineup. It's is the smallest and lightest of Microsoft's Surface devices at 8.3mm thin and 1.15 pounds for ultimate portability — and it's cheapest Surface tablet, too. It's about the size and weight of a standard iPad, meaning it will slip easily into a purse so it can go wherever you do. And with 9 hours of battery life, it can keep up with you all day. For just $399, it's a great entry-level Windows device.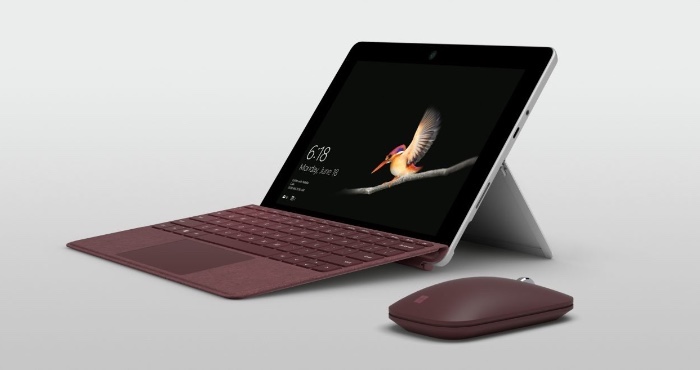 That low price-point does come with some trade-offs, though. It has a somewhat older Intel Pentium Gold processor and an eMMC drive (instead of an SSD), both of which are slower than the alternatives you're likely to find in that price range. Though you can upgrade the Surface Go's specs, it will bump the price to $549, which goes beyond what most of us would consider budget-friendly. And the Type Cover is extra, adding another $129 to the price. Still, it offers plenty of performance for most everyday tasks, and for a relatively budget price.
But if you've decided you can do without Windows? If you're on a budget, you may be tempted by Amazon's low-cost Fire HD 10 which starts at $149 (check price on Amazon) with keyboard cases starting around $35 on Amazon or Apple's base-level iPad 9.7-inch is pretty affordable, starting at $329 (check price on Amazon) with keyboard cases starting around $30 on Amazon. Both gadgets offer portability, great battery life, access to plenty of apps, and cost less than a traditional laptop. If you're just looking for mobile computing at a reasonable cost (or plan on doing a lot of typing), a Chromebook may be the answer. These ultra-portable laptops aren't very powerful, but they can handle basic computing tasks and are perfect for doing work on the go. You can get a nice Chromebook, like the Lenovo Flex 11, for just $259. The point is, you have a lot of options for portable computing, even if you don't have a lot of cash.
So do you really need a Surface Go? If you have to run Windows apps, but don't have the budget (or the need) for high-end performance, the Surface Go is perfect. If you don't need Windows, there are great tablet (and even laptop) options in the same price range to consider. And if you do need Windows and more power than the Surface Go offers, you're going to have to just save up for the higher-priced Surface Pro.
You can pre-order the Surface Go now for $399.99. It ships at the beginning of August.
[Image credit: Microsoft]