With fall around the corner, it's time to start thinking about changing your skin care regimen to take into account the cooler, drier weather. But how will you know if those changes are actually making a difference? H20+ Beauty's MiLi Moisture Meter takes skin moisture readings to let you know.
The MiLi Moisture Meter pairs with your smartphone to deliver readings of skin moisture levels to the MiLi Pure app (free for iOS and Android). To take a reading, you turn on the device and then press it against your skin for five seconds. The app then gives you the moisture percentage and a rating based on your skin type, age and gender. There are four zones that you are prompted to check: your hand, eye area, face (cheek) and neck. Each area has ranges which land you in dry, normal or hydrated territory. A chart makes it easy to see what your average reading is and how your readings change over time. You'll also receive skin care tips with your results.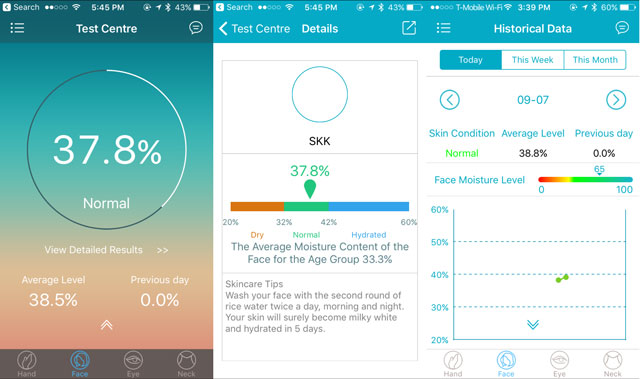 H20+ Beauty sent me a sample of the MiLi Moisture Meter to try, along with their Oasis Hydrating Treatment. The device is very easy to use. Once you've initially paired the MiLi, it re-pairs within seconds of turning on the device. And if you remove the device before the five-second reading is complete, you'll be prompted to retry. It's foolproof.
While vacations and travel this summer made my skin care routine a little erratic, I was pleased to find that I stayed in the "normal" zone. I'll be curious to see how my moisturizers hold up this winter.
The MiLi Moisture Meter is available as a stand alone product for $59 on h20plus.com (or $39.95 on Amazon) or at a steep discount, packaged with a range of the company's Oasis skin care products, including the 8 fl. oz Oasis Body Gel Moisturizer ($29 with MiLi), 1.7 fl. oz. Oasis Hydrating Treatment ($45 with MiLi), 1.7 fl. oz. Oasis Ultra Hydrating Cream ($49 with MiLi).
[Image credit: Suzanne Kantra/Techlicious]