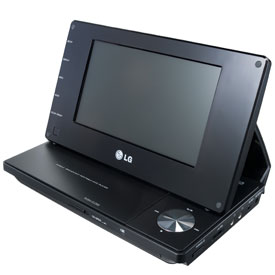 The transition to digital TV (DTV) broadcasting last year meant old-fashioned televisions with analog tuners could no longer receive free channels "over the air" without a converter box attached—a particularly vexing problem for owners of small, battery powered portable TVs that could be used at tailgating parties or in the back seats of cars. Lugging along a converter box with a TV that's small enough to hold in your hand defeats the whole idea of portable TV.
So, the TV industry came up with a better idea: A new "Mobile DTV" technology standard that paves the way for next-generation portable TVs, which can receive free over-the-air DTV broadcasts directly. Both broadcasters and TV manufacturers agreed to the standard a few months ago, and this year hundreds of local TV stations nationwide are expected to begin using this new technology to tailor their broadcasts specifically for portable digital televisions.
Now, here comes the first battery-operated portable TV based on the new technology—the LG DP570MH Mobile Digital Television.
Priced at $249 and approximately the size of a small book (9.5 by 6.5 inches), it features a seven-inch wide screen, stereo speakers and a built-in DVD player, and has a clamshell design that allows the screen to be tilted to optimize the viewing angle. It also plays audio CDs, and will display photos (.JPG format) and play digital audio files (.WMA format) from a source connected to its built-in USB 2.0 port. Two earphone jacks allow a couple of back seat passengers to share the viewing and listening.
Battery life is up to two-and-a-half hours in TV mode, or up to four-and-a-half hours when playing a DVD and the device comes with AC and car power adapters.