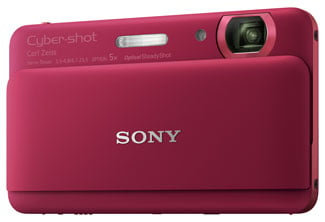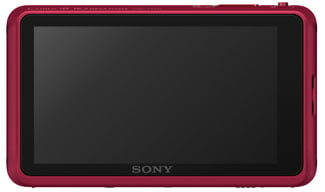 Sony's latest addition to its slim sliding-front camera family is the Cyber-shot DSC-TX55, a 16.2-megapixel model featuring a 3.3-inch OLED touch-screen display.
The major technological advancement here is the oddly named "By Pixel Super Resolution" system. Most cameras today offer some kind of digital zoom, which goes beyond the camera's optical zoom range by blowing up the pixels in the middle of the image sensor. Problem is, this approach cuts down on picture quality and/or resolution. According to Sony, their new system uses sophisticated mathematical algorithms to produce high-quality full-resolution images even with a digital zoom range that's double the camera's optical zoom. In the case of the TX55, the camera has a 5x optical zoom, but employing By Pixel Super Resolution provides up to 10x effective zoom.
In addition to expanded zoom range, By Pixel Super Resolution lets users take 12-megapixel stills while shooting uninterrupted 1080p video.
Also new to Sony, if not the industry, are built-in photo art effects, including Toy Camera, Pop Color, Soft High-Key, Partial Color, Miniature, Rich-Tone Monochrome and HDR (high dynamic range) Painting. Unlike some competing models, these effects are shown on the screen while shooting so you know what you're getting before pressing the shutter.
The camera body is exceptionally thin at just 12.2mm (less than half an inch). It takes Full HD video, 3D images using two shots through a single lens, and panoramic photos by simply pressing the shutter and sweeping your arm across the scene. The latest SteadyShot image stabilization system combines optical stabilization with electronic compensation for vertical and horizontal handshake, to cut down on camera jiggle when shooting video.
The TX55 will sell for about $350 when it arrives in September.